Grimm's 3D Metal Printing Tales
Conversation with 3D Material Technologies
Wednesday, May 3, 2017
In this edition of Grimm's 3D Metal Printing Tales, we talk with Ashley Nichols, general manager of 3D Material Technologies (3DMT), who shares his metal additive-manufacturing (AM) thoughts, observations and recommendations. Nichols believes that metal AM is a real, powerful solution that is experiencing strong growth. Yet, he recognizes that many actions must occur for it to reach its full potential. Chief among these are the need to understand the new opportunities created and the need for a shift in mindsets and expectations.
Hype is Real, Evidence is Obscure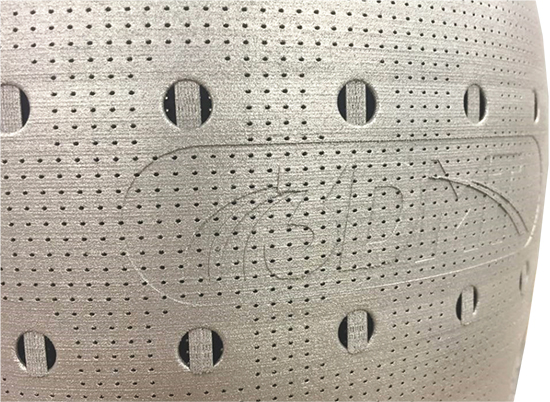 3D Material Technologies (3DMT) utilizes metal AM for prototyping and short-run production for aerospace, defense, medical and industrial customers. "It [metal AM] is overhyped, but it is real," says Ashley Nichols, 3DMT general manager. "It is a real industry that is growing quickly and is here to stay. It isn't a fad. At 3DMT, we are making production parts, and that is all the proof I need."


For Nichols, there is a lot of truth in the hype surrounding metal AM. However, he is quick to note that he does not believe the big, bold, brash claims that AM will revolutionize, disrupt and displace in a broad sense. Yet, he sees on a daily basis the powerful advantages and opportunities for significant change that the technology presents. This is the real and positive aspect of the hype that he welcomes.

"It [metal AM] is overhyped, but it is real," says Nichols. "It is a real industry that is growing quickly and is here to stay. It isn't a fad. At 3DMT, we are making production parts, and that is all the proof I need."

He comments that although the hype is waning, production programs are ramping up in increasingly larger numbers.

But therein lies a problem. Beyond a few high-profile applications, such as GE's fuel nozzle, few are talking about their plans or their successes. Most view metal AM as a competitive advantage, so these companies are unwilling to share any details of their actions or results. This gives those that are trying to filter through the hype, in order to discover what is real, little proof of the value from use-case evidence.

Nichols isn't able to fill that information void either, because his customers don't want their successes disclosed. Like so many others, they want to enjoy the competitive advantage of getting an early start on this manufacturing alternative.

Want More of the Same? Don't Use AM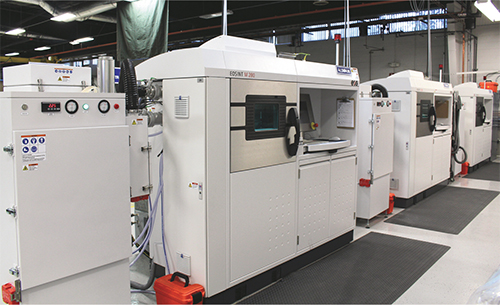 3DMT boasts a roster of 15 metal printers and can work with a range of
materials, including steels, aluminum and titanium alloys.
Hype is also a source of frustration for Nichols, who finds that many take a look at the technology without understanding and leveraging what makes it different.
"If you are content with a current process and an existing design, don't dabble with metal AM just because it is the cool, new thing to do," he says. "If a company asks us to print a component designed for a conventional process with the only goal being to improve lead time, cost often will be a deal breaker."
Nichols' advice is to look to metal AM when settling for status quo because there are no better options, or when open to change that results in big gains.
"If you are happy with what you are getting," he explains, "stick with it. But if there is a need to improve, metal AM may be a great alternative."
The challenge, according to Nichols, is that companies enter into metal AM considerations with the understanding that the process can print anything. But that doesn't mean that everything is a candidate for printing. To be a good candidate, Nichols cites three pillars for metal AM success.
Three Pillars of AM Success
Ideal metal-AM jobs have three interconnected characteristics in the areas of design, lead time and production volume.
The first, crucial pillar is design flexibility. Nichols, who uses the term 'flexibility' rather than 'freedom' to acknowledge that there are some design limitations, finds that rethinking a component's structure is critical to success.
"Without design modifications to improve performance, reduce cost and decrease time, the value of metal AM is severely undermined," he says.
In discussing design flexibility, Nichols also resists using the term 'complexity.' In his experience, design complexity leads people to think only of sophisticated, high-value components. His experience shows that the larger opportunity is to modify simple parts, maybe by adding just a few key features, to address performance needs or customer demands.
About 3DMT
3D Material Technologies (3DMT) utilizes metal AM for prototyping and short-run production for aerospace, defense, medical and industrial customers that need the speed to market of AM or the design freedom allowed by the process.
3DMT is part of ARC Group Worldwide, a global AM and 3D printing service provider. In addition metal injection molding, ARC provides metal and plastic 3D printing, plastic injection molding, machining, thixomolding and metal stamping, and also supplies tooling and flanges.
Equipment:
11 EOS M280
1 EOS M400
2 Concept Laser M1
1 Concept Laser M2
Materials:
Inconel
Titanium
Aluminum
Maraging steel
Stainless steel
Cobalt chrome
Custom alloys by development
The second pillar is the speed that results from elimination of tooling and other fixed assets. Successful companies use this lead-time reduction to rapidly deliver first articles, significantly reduce time to market and quickly incorporate design changes. When combined with design flexibility, this trait opens the door to the third pillar.

Low-volume production often is cited as a critical factor for success, but Nichols sees this pillar differently. He believes that the success factor is high-mix, mid-volume production. Unlike traditional manufacturing, where long, unchanged runs are the norm, metal AM opens the door to timely, affordable production of multiple designs that cater to specific customers or customer segments.

"High-mix, mid-volume is a big differentiator," Nichols says. "With 10, 20 or 50 production designs, annual production rates in the hundreds of thousands are justifiable."

The Next Frontier: Everyday Applications

"Applications are moving into the realm of the conventional space," says Nichols. "It isn't just about high-value, complex parts such as the GE fuel nozzle anymore."

He predicts that during the next year or two, the largest consumers of metal AM-machine time and materials will be those in the more industrialized industries that are tackling routine, ordinary parts.

When asked for real-world examples and company names, "I can't say," Nichols responds. "It goes back to the competitive advantage that companies don't want to reveal. But trust me, the evidence is substantial."

What does Nichols mean by 'conventional space' and 'industrialized?'

"Think of something as basic as a flange," he explains. "With high-mix capability and design flexibility, it can be customized with an integrated tube, each one with a different flow path to meet the needs of the specific customer. Maybe add a bit more value by making the component in an exotic alloy."

Production-Ready, Today

3DMT primarily manufactures production parts. Although its prototyping business is growing, production work is increasing at a much faster rate. Nichols attributes this to two factors: 3DMT's business model and metal AM's strengths.

3DMT is a subsidiary of ARC Group Worldwide, which offers a portfolio of AM technologies. ARC focuses on production work and is best known as a leader in metal injection molding. This orientation aligns 3DMT with production work. Nichols also notes that being a prototyper has its economic challenges stemming from the need for many one-off orders, each with significant upfront, preparatory work.

The other reason for a higher volume of production orders: The components can leverage design flexibility, a key AM strength. Because a prototype should represent what ultimately will be manufactured, it is unwise to leverage design freedom to modify the structure of a component that will not be produced via AM. According to Nichols, if a component is designed for other processes and cannot be changed, the value of metal AM is seriously undermined.

OEE Must Improve

Overall equipment effectiveness (OEE) represents a key metric in mainstream manufacturing. An OEE of 100 percent signifies no scrap, no downtime and no delays. Nichols states that an OEE score of 85 percent denotes worldclass, and this is achievable with conventional manufacturing processes.

Nichols believes that OEEs range from 40 to 50 percent for those performing metal-AM production work. He also notes that metal AM-machine manufacturers have not presented him with OEE data.

"They are good machines," he is quick to point out. "I believe that in two to three years we can get to an OEE of 75 percent, and while not in worldclass territory, it would be acceptable," he says.

Upward Spiral with Production-Ready Machines

As OEEs and other performance measures improve, Nichols foresees growth and advancement. When reliability, dependability and predictability improve, metal-AM machines will have a lower operating cost. When passed on to clients, the savings will increase the number of projects where the technology is financially justifiable. This increases the number of suitable opportunities, which in turn increases demand.

More demand then creates the need for more metal-AM machines. This increase provides more profit to the machine manufacturers that they can then allot to machine optimization and efficiency improvement. The cycle repeats, creating the upward spiral of progress.

Quality–Questioning the Unknown

Quality control represents the final hurdle to metal AM adoption. Those that desire the advantages of metal AM can move past this hurdle; those that resist this new technology use it as a justification to stick with established manufacturing practices.

According to Nichols, the question of how to validate and qualify hangs over metal AM when used for production. He believes that this simply is a matter of maturity. Being new, having many unknowns and lacking standards, people are seeking much more information to get comfortable with the technology. Essentially, it is a matter of not knowing what questions to ask and what to measure, which leads to a request for more validation.

At 3DMT, the approach is to use conventional inspection methods to qualify the traditional concerns, such as dimensional accuracy, internal porosity or stress cracking. According to Nichols, "We are selling a part, not a process, so these quality-control procedures work."

His experience is that the quality-control question does not impede adoption for those that strongly desire the advantages of AM and are willing do whatever it takes to make it work. On the other hand, the naysayers, those that don't want to change, use this unknown as a weapon to defeat the initiative.

"It is all about attitude, mindset and goals," Nichols says.

My Thoughts

"Metal AM isn't perfect, and it isn't a panacea," Nichols says. "But with the right applications and the right designs, we are changing drastically the way things are manufactured. Metal AM is going to change conventional manufacturing."

I could not agree more. While this is a strong statement, which if taken out of context could imply sweeping change and disruption, the caveats and considerations offered throughout the conversation provide the balance needed for understanding metal AM's opportunities, and challenges, in the near term. I especially agree with his position that we must break free of conventional thinking to see the full potential.

Nichols also states, "We need to ask if it makes sense to 3D-print a specific component for a specific application." If the answer is "No," he suggests continuing to make the part as has always been done. He wisely notes that if the answer is always "No" and there is no apparent need for 3D printing, companies run the risk of falling behind on a technology with a steep learning curve.

In the vein of changing minds, I believe that when the answer is that 3D printing does not make sense, it may be wise to pause for a moment and ask a new question. Companies can find the value today if they ask, "What would make this a good print job and how would we benefit?" 3DMP

Have a difference of opinion or insights that you would like to share? Contact Brad Kuvin, editor, to schedule an interview.
---
Reader Comments
There are no comments posted at this time.