Article
Caterpillar's Grand AM Plan
Wednesday, May 3, 2017
Caterpillar employs more than 10,000 engineers, and, according to additive manufacturing (AM) product manager Stacey DelVecchio, "it's critical that AM becomes an integral part of the design systems that our engineers use. AM must become part of their toolset, and we're hard at work building the infrastructure to make that happen."
One of the challenges facing DelVecchio, who has been directing Caterpillar's AM factory since its inception early in 2015: How can her team encourage Caterpillar designers to consider AM?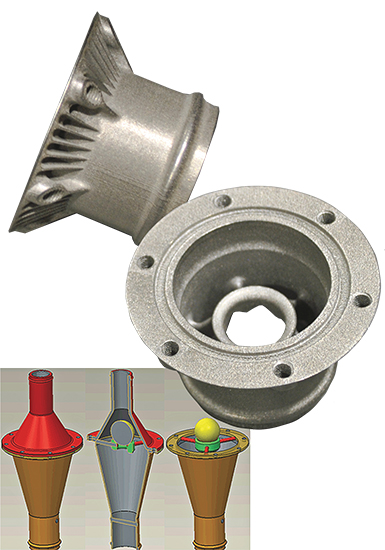 This ball check valve was redesigned for 3D metal printing by a Caterpillar engineer in England working in the industrial power systems group. The AM part replaced a welded design comprising nine separate parts (bottom) that had several leak points. The AM part is less expensive to produce than the fabricated assembly, and it functions better in service. A key to the project's success was developing, through several design iterations with DelVecchio's team, the fin structure that eliminated the need for support structures.

"This is a big culture challenge that we're working on," she says. "We want our engineers to be creative and innovative, yet we do not require them to use AM. We want them to learn all about the capabilities AM provides, and consider it as they design new parts and assemblies."

Toward that end, her team of 10 in the AM factory have sponsored AM summits, sharing their knowledge and success stories with the company's engineers. With a rich history in using stereolithography, via an inhouse rapid-prototyping lab launched in 1991, Caterpillar leadership decided to up its AM game in 2014.

"That's when the technology reached a point where we believed we could expand beyond rapid prototyping," DelVecchio explains. "We wanted to be a leader in the efforts to move AM into manufacturing. This is game-changing technology—something Caterpillar wants to be involved in. We are committed to staying on the leading edge of manufacturing technology, and the investment in AM fits that mission."

Hence the launch of the AM factory, located in one of several buildings on the Caterpillar research and development campus in Mossville, IL. The AM movement is organized under several concurrent work streams: design for AM, printing of low-volume service parts, AM of prototypes and tooling, developing partnerships, and fortifying the AM factory first as a laboratory for engineers to learn on production-capable equipment, and then as a mini production facility.

A Focus on Design for AM

To continue its mission to bring design engineers into the AM fold, in mid-2016 DelVecchio's AM team developed a more targeted workshop. It was aimed at those Caterpillar design groups that appeared best-prepared to start focusing on design for AM, and take the next steps.

"We want them to get a better understanding of the parts and applications that provide the best opportunities to look at AM," DelVecchio says. She understands the processes employed by design engineers, having worked mostly in component design for the company since 1989. "We want to give our engineers the tools they need to design for AM. We will coach them as needed, but they know their parts better than anyone."

The team's focus will be on complex designs, lightweighting opportunities and part consolidation (in part to eliminate leak paths). "While some people think of our end products as being really large equipment," says DelVecchio, "I see all of the individual components. Part management is critical—we never want our customers to be concerned about our components."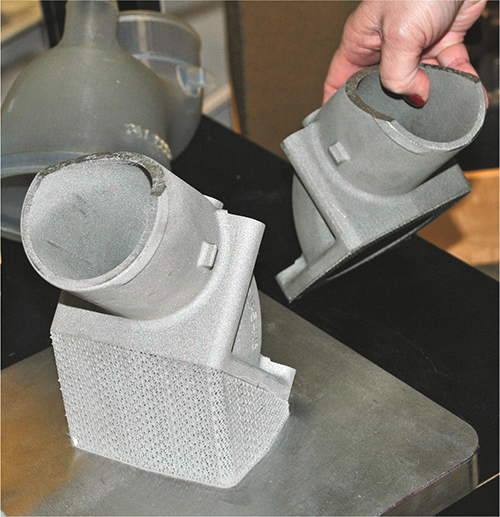 Designed to minimize post-processing: a curved pipe section that serves as an air-handling part on the intake side of an engine-test rig. The Caterpillar AM factory team printed the pipe from 17-4 stainless steel on a 3D Systems ProX 300 machine SLM, without internal supports.

To help facilitate the knowledge gain needed to design for AM, in March of this year Caterpillar forged a partnership with FIT AG, whose engineers are well-versed in the technology. The initial focus is on designing AM parts in titanium and aluminum. FIT, based in Germany and with U.S. offices in Boston, MA, has provided AM and rapid-prototyping services for more than 20 years.

"FIT has a lot of expertise in metal-AM design," DelVecchio continues. "Two of its engineers will work here with my team, initially on heat-exchanger applications. They also have extensive experience with engine-related applications (through Formula One projects) that we can leverage. And, their medical-related expertise will help us better understand support structures."

Design Competition Spawns Metal-AM Production Project

Bringing Caterpillar designers and engineers into the AM movement took a big leap forward when DelVecchio and her AM team, early in 2016, launched a global, corporate-wide design-for-AM competition. The challenge was for the engineers to design a part (within their design control) for AM that could actually go into production. The winning design: a ball check valve, designed by an engineer in England working in the industrial power systems group.

The valve is used on a thermal-test rig used to evaluate thermomechanical capabilities of engine components, which are thermally stressed to evaluate failure modes. The resulting AM part replaced a welded design that had several leak points. It's less expensive to print than the fabricated assembly (of nine parts) that it replaced, and it functions better in service.

One key to the project's success, accomplished through several design iterations with DelVecchio's team, was the elimination of supports to avoid post-processing.

"Post processing can really be cost-prohibitive in AM," DelVecchio says, "and can otherwise take a good AM part out of the profitable category. That's an ongoing focus here—to find ways to print parts with minimal supports, and being self-supporting was critical to the success of this part. The ball check valve is a great example of collaboration, in terms of identifying parts that can be successfully redesigned for AM."

The plan moving forward, then, is for the AM factory to conduct AM design competitions quarterly. In the meantime, DelVecchio will seek to forge closer relationships with the company's chief engineers, to encourage them to light the AM fire under their individual design teams.

Caterpillar's Ryan Lozier a Featured Conference Speaker

Caterpillar AM engineer Ryan Lozier will provide an informative presentation on Caterpillar's additive-manufacturing journey at the upcoming 3D Metal Printing Experience and Tech Tour, produced by 3D Metal Printing magazine, August 16-17 in Schaumburg (Chicago), IL. Attendees will be able to interact directly with industry experts, learn about the latest technology developments for 3D metal printing and hear case-study applications. They'll also participate in exclusive plant tours to engage with company representatives and view metal-AM machines in action.

Learn more and register to attend: www.3dmpmag.com/conference.


The bigger challenge, she says: Printing service parts without redesigning the basic part, yet making it cost effective to print with minimal post-processing. "We have 600,000 part numbers in our system," says DelVecchio, "and there's plenty of opportunity for AM to get in there and support our machines in the field. However, we must be able to minimize or eliminate post-processing requirements."

Toward that end, DelVecchio showed us a production metal part that it recently printed, optimized to minimize post-processing: a round cross-section curved pipe that serves as an air-handling part on the intake side of an engine-test rig. The Caterpillar AM factory team printed the pipe from 17-4 stainless steel on a 3D Systems ProX 300 machine, without internal supports.

Hub-Spoke Strategy Balances Engineering and Production

In addition to the ProX 300, the 4500-sq.-ft. AM factory operates a new SLM 280 2.0 machine equipped with dual 400-W lasers and with a 280 by 280 by 365-mm build envelope. There's also a well-equipped polymer room that houses a 3D Systems sPro 60 SLS machine, FDM machines from Stratasys and Objet, and a new Carbon CLIP (continuous liquid interface production) machine.

"On the metal side, we'll focus on stainless and tool steels," DelVecchio shares. "We do not expect to print any aluminum here—that has special requirements better left to our partner, FIT."

DelVecchio describes the plan to use the inhouse AM factory for process development and "limited" production runs, with support from a network of service bureaus, as a hub-and-spoke arrangement.

"As Caterpillar continues to develop AM applications and opportunities," she says, "we'll hone in on our inhouse sweet spots as one of the production spokes, while serving as the hub of the research and development work. Other spokes include some of our facilities around the world that operate AM equipment, as well as a network of service bureaus we work closely with. We also have several metal machines working at our subsidiary, Solar Turbines (which prints metal parts for its gas turbines).

"We will rely on the service bureaus as our capacity becomes limited," DelVecchio continues, "and use them based on their material and process capabilities, and their response times. Having the machines, capabilities and knowledge base here allows us to analyze the potential applications for AM—for new part designs and for service parts. But we may not necessarily build substantially more production capacity moving forward. The plan is to work closely with our design groups and purchasing people so that they come to our AM team first, so that we can evaluate projects and decide whether to print parts here, or find the right supplier with which to work." 3DMP
See also: Caterpillar Inc.
---
Reader Comments
There are no comments posted at this time.