Article
Additive and Finishing--You Name It, They Have It
Friday, February 10, 2017
Established by the Weber brothers, Corey and Donovan, in the summer of 1994 in their Southern California garage, additive-manufacturing (AM) service bureau Forecast 3D has grown to become one of the largest privately held businesses of its type. At the start, the brothers focused on developing a proprietary room-temperature-vulcanizing (RTV) casting process in conjunction with stereolithography to create high-quality prototypes and short-run production parts.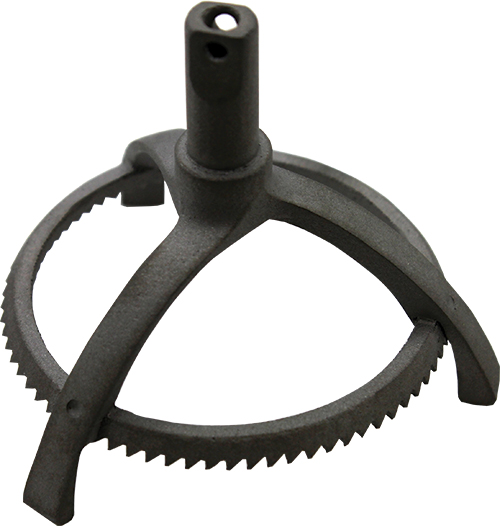 Forecast 3D recently produced this surgical instrument used for orthopedic shoulder replacement, built of 17-4 stainless steel via the direct-metal-laser-sintering (DMLS) process. The twin 400-W lasers on a new DMLS machine were able to build the part overnight, whereas traditional machining of the same part would have taken weeks.

From their very first project of ruggedizing the Apple Newton to working with many top companies and designers today, the excitement of rapid technology adoption and industry growth continue to drive the brothers' passion. And, as various AM processes debuted, Forecast 3D researched, tested and reviewed which technologies would enhance its service offerings and best speak to its customers' needs. Adopting these new technologies has kept the company at the forefront of innovative prototype and short-run production.

Today, Forecast 3D occupies a 50,000-sq.-ft. facility in Carlsbad, CA, and its 100 employees tend 30 machines tied to multiple AM (see What's On the Menu at Forecast 3D sidebar), CNC machining and post-processing operations. Customers include those in the medical, aerospace, automotive and consumer-electronics sectors. Beyond that, Forecast 3D supplies nearly any industry that develops products, from highly customized trophies for a nonprofit organization to championship-winning race cars.

New Dual-Laser Printers Speed Metal-Part Production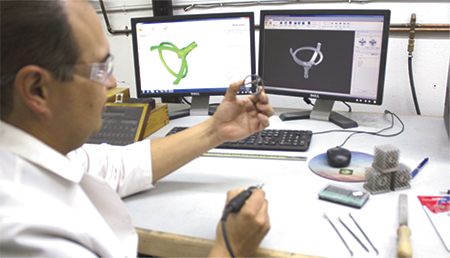 Finishing is a top priority at Forecast 3D in its mission to deliver quality parts. The orthopedic surgical instrument shown on the previous page provides an excellent example. Post-build, the company employed its vast inhouse finishing capabilities, including heattreating, welding, grinding and CNC machining, to deliver the final tight tolerances.

Forecast 3D continues to invest in technology to stay ahead of the curve, and metal AM certainly is hot on the list. Two years ago, the company added a twin-laser selective-laser-melting machine, the model SLM 280 HL, through SLM Solutions NA, Inc., Novi, MI, and this past January it added a second 280 HL machine.

"We are excited to receive our second SLM 280," says Jim Gaffney, Forecast 3D lab manager. "The dual-laser setup helps expedite part production and greatly reduces our lead times. I am consistently impressed with the progress of the AM technology—from the advancements in material development to the latest topography-optimization software."

What's on the Menu at Forecast 3D?

Additive-manufacturing (AM) leader Forecast 3D employs a multitude of processes to produce products for an array of markets. Here's a rundown:

• Direct metal laser sintering (DMLS)/selective laser melting (SLM), which uses a high-power laser in an inert atmosphere to create fully dense metal-alloy components one 30-micron layer at a time.

• ProCast RTV, Forecast 3D's flagship service, which includes what the company claims to be the largest prototype casting chamber in the United States, to produce large, void-free nonmetallic castings in volumes to 1200 cu. in. The process is ideal for highly aesthetic colored and textured production cast components.

• Hybrid tooling, a unique casting process employed by Forecast 3D, to yield tight-tolerance rapid-prototyped components at higher quantities.

• Stereolithography (SLA), long considered the primary rapid-prototyping process as well as the debut process for Forecast 3D, which employs a high-power laser to cure a photopolymer epoxy resin in 0.004-in.-thick layers.

• Fused deposition modeling (FDM), which extrudes thermoplastics via a heated print head to produce highly functional, robust prototypes with high heat tolerances.

• PolyJet, which uses an inkjet-style print head to deposit multiple materials and colors in high resolutions.

• Selective laser sintering (SLS), employing nylon-based powders to additively manufacture robust prototypes.

• CNC machining, a subtractive-manufacturing process, which finds a complementary home in Forecast 3D's suite of AM offerings.

• Multi-Jet Fusion, a brand-new technology from HP that promises part build 10 times faster than other processes, with no sacrifice in detail.


Within this process—commonly referred to by many as direct metal laser sintering (DMLS)—each of this machine's twin 400-W lasers create a small melt pool to bind alloy powder one 30-micron layer at a time. Meanwhile the recoater blade deposits a new layer of powder in both directions, resulting in faster build times. Ideal for low- to medium-volume production and prototype building, each machine provides a 280 by 280 by 350-mm build envelope. The integrated build processor and open software architecture offers freedom for users to control system parameters for running standard builds, according to SLM Solutions' officials, or allows them to optimize the process and design to meet strict production needs. Another machine feature: closed-loop powder handling, which minimizes metal exposure for the operator.

With the DMLS process, Forecast 3D builds with a variety of materials including stainless steel, aluminum, cobalt-chrome, titanium and nickel-based alloys. The process itself enables the company to construct parts with highly complex internal structures and fine geometries, making tolerances of ±0.001 in. achievable.

"With regular machining or standard manufacturing, it is difficult to achieve some geometries," says Larry Tinker, Forecast 3D general manager. "The design freedom, accuracy and speed of our SLM machines enable us to offer faster lead times and increased flexibility of materials."

As an example, for a medical customer the company recently produced a surgical instrument used for orthopedic shoulder replacement, built of 17-4 stainless steel. Check out the design, build, and finishing processes—including grinding, CNC machining and bead blasting to deliver the final tight tolerances, all performed inhouse—at youtu.be/wazzqYOf0Hs. Using Forecast 3D's DMLS services enabled the client to bring its complex design to life. The part was built overnight, whereas traditional machining of the same part would have taken weeks.

"As the engineering community continues to develop a greater understanding of the process, we are seeing part designs shift from traditional manufacturing methods to parts designed specifically for additive technology," Gaffney says, "thus developing more efficient production at lower costs with little to no waste of materials."

Finishing a Top Priority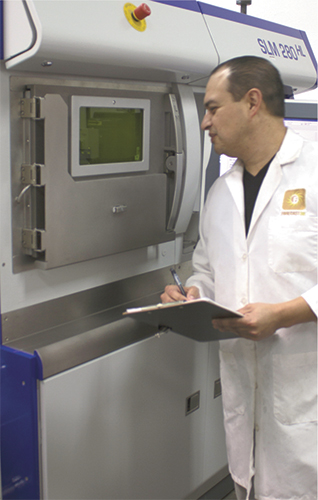 Always looking to employ the latest metal-AM technology to stay ahead of the curve, Forecast 3D recently added two dual 400-watt-laser DMLS machines (one pictured here) to its roster, both 280 HL models from SLM Solutions. In addition, for production of thermoplastic and composite parts, the company has just installed an HP Jet Fusion 3D printer, using HP's new Multi-Jet Fusion process that controls part properties voxel by voxel (the 3D printing equivalent of a pixel). The machine can print parts at speeds as much as 10 times quicker than other processes, according to HP officials.

As the AM industry is well aware, finishing is where a viable, accurate, quality part ultimately takes shape. Forecast 3D takes that observation to heart, as the company's multitude of finishing processes—overmolding; decorative painting; shielding to protect against electromagnetic and radio-frequency interference; chrome, gold, copper and electro plating; dry-transfer rub-ons; silk screening and several others—and avowed deep-rooted passion for craftsmanship can attest.

"For additive metal parts, post-processing and bench finishing with the right tools and tact is an important part of the process," explains Forecast 3D co-founder and chief operating officer Donovan Weber. "Utilizing the craftsmanship of a jeweler combined with the expertise and rigid approach of a machinist, you take on each geometry as its own unique study for your first build, to ensure that setup and execution is handled correctly. Subsequent production runs then allow you to fine-tune the approach."

Adds Tinker: "In general, 3D-printed parts are highly accurate, but they have visual layer lines and supports. The difference between a beautiful part and an engineering sample comes from our craftsmen who finish the parts. We have passionate teams of folks that can turn engineering samples into showroom pieces of art."

Technology Addition Continues

As 2017 unfolds, Forecast 3D continues to add AM technology. On the way is an HP Jet Fusion 3D printer, using HP's new Multi-Jet Fusion process. This process controls part properties voxel by voxel (the 3D-printing equivalent of a pixel). The improved level of control enables production of thermoplastic and composite parts with high precision and optimal mechanical properties. The result is fully functional prototypes and end-use parts printed at speeds as much as 10 times quicker than other processes, according to HP officials.

"We're very excited about our new HP Multi-jet Fusion process as the latest innovative additive process technology in the industry," says Tim Collins, Forecast 3D vice president of business development. "The new HP process will offer exceptional durability, faster builds and great value for our clients."

As new technologies blend with the company's existing capabilities and experience, Forecast 3D looks to continue and expand on its significant footprint in the AM industry.

"Our experience with additive metal printing goes back to 2006 as one of the first companies to bring the technology into North America with the EOS M270 series AM machine," Donovan Weber says. "Between our CNC capabilities and our additive experience, we are uniquely qualified to apply our experience to best practices in the additive metal arena." 3DMP
See also: EOS of North America, Inc., SLM Solutions NA, Inc., Hewlett Packard
---
Reader Comments
There are no comments posted at this time.