Article
Educated AM Customers Are the Best Customers
Friday, November 3, 2017
In 2012, management at independent, nonprofit, applied-R&D organization Concurrent Technologies Corporation (CTC), Johnstown, PA, made the strategic decision to add additive manufacturing (AM) to its list of services. The firm has a rich history in developing advanced metalworking technology—CTC opened in 1987 as Metalworking Technology Inc. (MTI), to operate the U.S. Navy ManTech National Center for Excellence in Metalworking Technology (now called the Navy Metalworking Center). Staffed with experts in materials testing, heattreating, welding and other processes, the move to metal AM seemed logical to management.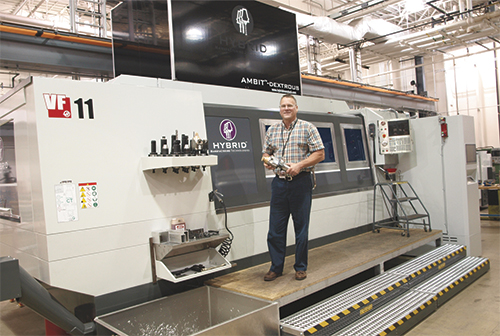 "We believe that the ability of the hybrid machine," explains Sabo, "will open many doors to new business in the repair arena, in particular of large parts." The machine features a Haas VF11 multiaxis machining center with a 10-ft. bed and dual-powder-feed arrangement, outfitted with an Ambit multitasking system (from Hybrid Manufacturing Technologies) that allows a variety of processing heads to dock to the spindle. That includes, in this case, a cladding head (shown here in Sabo's grasp) that combines a 1000-W fiber laser and a powder-feed setup.

So notes CTC executive director William Altergott, who oversees the firm's advanced engineering and manufacturing business unit, adding that CTC has built a solid team of AM specialists, joining its hundreds of engineers and scientists with expertise in design, rapid prototyping, joining, machining, etc. Leading the AM team is senior director of additive manufacturing and materials Ken Sabo, who explains the process he used to quickly get his department up and running.

"I read the 'Wohlers Report' cover to cover," says Sabo, harking back to early 2013, "and I traveled the country to learn about the various processes and equipment offerings. In 2014 we purchased our first metal-AM machine, an SLM laser powder-bed machine."

Sabo and Altergott are quick to point out, however, that their AM business unit's priority from day one involved much more than just making parts. Its goal is to support its AM customers in their efforts to make smart, informed AM-business decisions. So, before CTC ever started printing parts, it provided customers, beginning in 2008, with engineering and design support for AM components. The AM team helped them, for example, develop procedures for testing their materials and builds, seeding defects and identifying the correct nondestructive-testing techniques to find those defects.

"We perform a lot of work for the U.S. government's prime contractors," Altergott tells 3D Metal Printing. "Teaching them how to buy AM parts is our primary concern, especially when it comes to qualifying AM as a replacement for other manufacturing processes. Many of these companies, in fact, have their own AM machines. We find ourselves helping them understand where the AM processes make sense, and where conventional manufacturing still is preferred."

Prototyping and Internal R&D

Most 3D metal printing performed on CTC's SLM machine supports prototype projects for customers; it also uses the machine for internal R&D projects. "This includes," says Sabo, "conducting design-of-experiments projects to develop parameter databases, to understand what parameters impact build quality and surface finish, to study powder recyclability, and to examine post-processing techniques. We've learned a lot from these types of projects in the last 3 years."

Examples of lessons learned, per Sabo: How to adjust powder-feed parameters to accommodate post-process machining, and how to develop and adjust the path of the laser as it melts ("or welds," says Sabo) the powder to optimize build quality.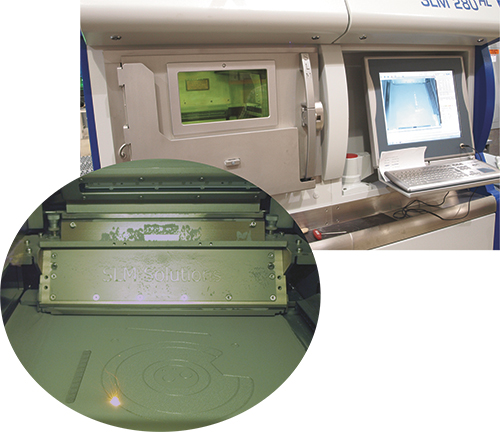 Long before Ken Sabo and the rest of the CTC AM team decided to make a decisive move into metal AM for repair and rebuild work, it acquired, in 2014, this SLM laser powder-bed machine. CTC uses the machine mostly for customer-part builds (65 percent), as well as for internal R&D projects. Sabo expects to add a second laser powder-bed machine to the ranks by year-end.

"We've looked extensively at laser-path parameters to determine where to deposit successive beads, how much to overlap the beads and how wide to make the beads," he explains. "Defining the hatch spacing, width and overlap, in addition to beam power, are critical parameters to understand and optimize. We know, for example, that if we weld too hot or travel too slowly, the weld scavenges powder from in front of the laser beam and globules of metal can form—an undesirable condition."

Another noteworthy lesson-learned, this one from a project for an outside customer: The post-build heattreating process and procedure can markedly affect the strength and shape of the part, particularly true with larger parts.

"On one recent project," Sabo explains, "we were developing builds that initially exhibited high strength but unacceptably low ductility. We investigated various heattreating procedures, recognizing that not all powders react the same to AM and subsequent processing, including heattreatment. Performance of 17-4 PH stainless-steel powders, for example, is sensitive to powder-grain structure, powder-size distribution and the atomization process used to produce the powder. Thus, tighter controls are needed during powder production and use for AM than for other processes, such as thermal spraying."

Project Examples

In addition to internal R&D and prototype efforts, CTC's AM team also supports LRIP (low-rate initial-production) activities for its customers. These projects, averaging small part runs of 500 to 1000 typically, also can, as they grow in scope and revenue generation, lead to work for CTC's for-profit affiliate, Enterprise Venture Corporation (EVC).

"EVC's mission," says Altergott, "is to transfer the advanced technology development emanating from CTC into the industrial base. As such, it leads nearly all production efforts here, as well as software sales, and also provides engineering services to our customers."

Sabo walked us through projects the CTC AM team has completed over the years, recognizing the proprietary nature of most of them.

Among them:
Supporting an NMC project to study electron-beam melting (using a Sciaky 3D printer) of Ti-6Al-4V, including validating nondestructive evaluation processes on full-scale AM parts.

An America Makes project for nondestructive testing of direct-metal laser-sintered parts (with the expectation to influence the standardized inspection process), including seeding defects and investigating methods for identifying those defects. The parts used for this work were printed by GE.

A U.S. Army project to evaluate forward-deployed AM, and to identify the process and equipment most capable of being shipped to the front lines in a container.

An Air Force Research Laboratory project investigating the use of laser powder-feed coatings for repair of gas-turbine engine parts.
Focus Shifts to Repair/Rebuild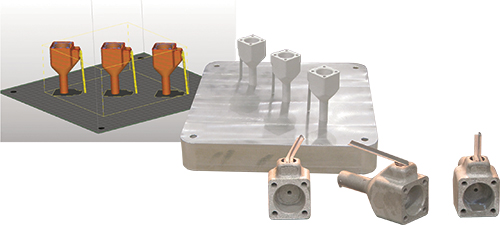 CTC printed these parts—energy-recovery parts for a reverse-osmosis system, from Type 316L stainless steel—on its SLM laser powder-bed machine.

The last several months have welcomed some big changes to the CTC AM group, as it looks to expand beyond new-part builds and internal R&D projects with laser powder-bed processing, and move into repair and rebuild applications.

"About 65 percent of our AM work right now is building parts and fixtures on the SLM machine," says Sabo, "the rest being internal R&D projects. We don't want to abandon R&D, especially applied R&D—we want to continue to push the envelope and help advance the technology for our customers. However, at the same time we hope to conduct more production-ready projects for our customers. And, we do learn quite a lot by developing processes and procedures to make real parts for them.

Where There Are R&D Engineers and Scientists, There Are Patents and Publications

Hundreds of scientists and engineers work at Concurrent Technologies Corporation (CTC) and for its for-profit affiliate Enterprise Ventures Corporation, with expertise in material science, welding, nondestructive testing and a host of other disciplines. As their combined efforts turn more and more to the world of AM, it's to be expected that portions of their work become published and patented.

Two recent examples: CTC employees wrote a chapter, for a recently released textbook titled, "Cybersecurity for Industry 4.0," on cybersecurity needs related to direct digital manufacturing (DDM). And, CTC engineers recently were awarded a patent for "Additive Manufacturing Using Metals from the Gaseous State."

In the book chapter, CTC's IT advisor Scott Zimmerman, along with a few others, addresses cybersecurity threats to the DDM community. A case study details a security assessment performed on an AM system, and presents protocols and recommendations for security best practices for DDM systems. Order the book at www.springer.com.

In addition, CTC's patent involves using carbon monoxide in an AM process to react with any of 18 different metals. The reaction creates a more complex gas at elevated temperatures, according to a press release, allowing the metal to deposit onto hotter substrates to create the finished part.

"That said, we see the appetite growing rapidly for metal AM in repair applications and for rebuilding of large parts—these are exciting, emerging opportunities," he continues. "To that end, earlier this year we purchased two new metal-AM machines designed to address the repair and rebuild market: a hybrid AM machine combining machining with powder-fed laser cladding; and a high-pressure cold-spray machine that also deposits powder—fed through a heated inert-gas supersonic nozzle. I see repair applications for metal AM as being faster to market than the building of new parts. The processes should be simpler to qualify, and have shorter development cycles. We believe that the ability of the hybrid machine will open many doors to new business in the repair arena, in particular of large parts. Key market opportunities include oil and gas, nuclear and DoD work."

Two New Machines

Sabo specified the hybrid-AM system to offer the largest part capacity he could find. It features a Haas VF11 multiaxis machining center with a 10-ft. bed, outfitted with an Ambit multitasking system (from Hybrid Manufacturing Technologies) that allows a variety of processing heads to dock to the spindle. That includes, in this case, a cladding head that combines a 1000-W fiber laser and a powder-feed setup. The process: Use the cladding head to build up material—on new parts or to repair worn or damaged surfaces, then switch to a milling operation to finish the part.

The CTC cold-spray setup, designed to deposit metal powder at temperatures below the base-material melting point, is a compact, portable VRC Metal Systems Gen III Max machine, which uses three 15-kW heaters to accelerate the process gas. As the gas accelerates, metal powders are introduced into the gas stream, achieving supersonic particle velocities. The system mounts on wheels for mobility; CTC locates it in a controlled-environment, soundproof booth that includes a wet-vacuum system to safely dispose of unfused airborne powder. Operators manipulate the deposition head manually, or they can mount the head to a robotic arm. It can be used to spray a litany of powder materials—aluminum, copper, nickel, titanium and others—for part repair and near-net part production, and for applying performance coatings. 3DMP
See also: Concurrent Technologies Corporation
---
Reader Comments
There are no comments posted at this time.