Grimm's 3D Metal Printing Tales
Conversation with 3T RPD Ltd
Friday, November 3, 2017
For this column, I interviewed Dr. Ian Halliday, CEO of 3T RPD Ltd, who joined the company in 2005 and within two years had realigned its focus to series production. Entering into metal additive manufacturing (AM) when demand was small, Halliday has experienced, first-hand, the challenges of change. Adding his years of experience from the automotive industry, he shares his thoughts on change management and the challenges to metal-AM adoption.
Just the Beginning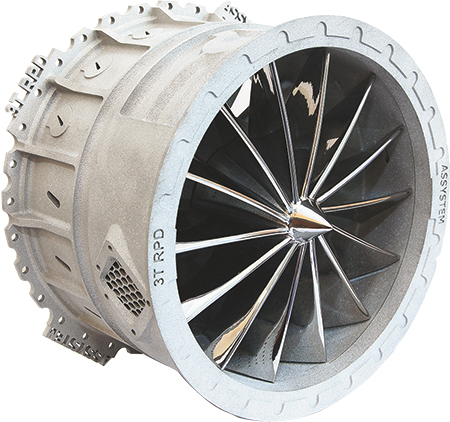 3T RPD manufactured this aerospace-engine casing combining multiple components built using metal AM.

Back in 2007, in conjunction with its new strategy to focus on production applications, 3T RPD took on metal AM as part of its long-term strategy. According to Halliday, "We looked at metal versus plastic, and to me it was obvious that metal was going to be the future for additive manufacturing of series parts."

Halliday notes that he was extremely optimistic about how rapidly other people would realize the obvious. "I think this is where the over-optimistic engineer in me comes out, because when it came to the time scales, I didn't forecast that it would take as long as it did to get to where we are today, especially in the aerospace industry, a target for 3T RPD.

"We are at the beginning," he continues, "and yet 28 years ago, we thought that was the beginning."

While all industries adopting metal AM are more or less at the beginning, according to Halliday, some remain at the starting line while others have advanced. With this in mind, 3T RPD has targeted the aerospace, motorsports and automotive industries, as well as industrial markets such as oil and gas.


"You have to build an infrastructure around the technology (metal AM), one that adapts to it and with it. Success, then, requires much more than a metal-AM machine and a skilled operator."

Dr. Ian Halliday, CEO of 3T RPD Ltd.
"We changed our focus toward those who were more likely to want to use additive manufacturing," Halliday says. "These industries are more aware and have realistic expectations."

Yet, even the aerospace industry, which appears to be leading the way in production applications of metal AM, is just out of the starting blocks. Halliday says, "It is about waking up a giant. It's a long, slow and sometimes delicate process. Yet, it's going to be a massive, massive industry."

Although the medical industry is on pace in terms of awareness and expectations, and the firm does do some medical work, Halliday says that the impediments and associated litigation risks have motivated the company to seek opportunities elsewhere.

Change Takes Time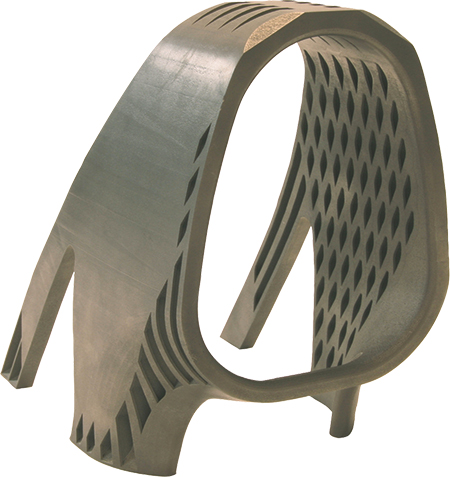 This titanium 3D-printed Formula 1 concept roll hoop was optimized for strength and weight.

Long ago, Halliday learned a simple lesson in change management when he spearheaded CAD/CAM and five-axis CNC initiatives at Rover Group. That lesson: change takes three times longer than expected. Halliday recalls, "I managed a computer-aided design through computer-aided manufacturing strategy that included additive and subtractive. I thought that it was clear-cut, but it took another five to 10 years to implement the strategy.

"When you can see the possibilities," he continues, "it's hard to adjust for the fact that others may not. Therefore, you have to start from where they are—take several steps back, put yourself in their shoes and work forward. That takes a lot of time."

This lesson applies to metal AM, according to Halliday. "You must arrange an awful lot of other things just to get your one thing sorted," he says, "but the time to implement change largely is a people factor. The technology is just a vehicle. To implement change, we must start reorganizing how people think about the things they already are doing, and find someone brave enough to believe in what the change offers. The barriers most often are people-related—they are mental barriers or simply process or risk barriers."

About 3T RPD Ltd

3T RPD Ltd provides metal and plastic AM services globally. It focuses on AM production, providing a complete end-to-end service that includes design, new-product introduction to aerospace, R&D, training, AM build and all finishing and specialist post-processing requirements. It reportedly is the United Kingdom's largest production-AM provider, supplying roughly 50 percent of the U.K. plastic-AM market and 40 percent of the metal-AM market.

3T RPD serves clients in several industries, including aerospace, architecture, automotive, medical, fast-moving consumer goods and marine.

The company earned AS 9100 Rev C registration for the production of metal parts using AM in April 2012. It also holds ISO 9001:2008 and ISO 13485:2003 Medical Devices accreditations, and is the first AM company in the United Kingdom to hold all three quality standards.

To succeed with metal AM, Halliday suggests managing those barriers by helping people find opportunities while addressing the potential risks that they may not see. This requires overcoming two key forces: resistance that comes from people content with their current process and who don't see a need to adopt a new technology or process; and, according to Halliday, a scarier force—the all-in believers that see metal AM as a tool for everything, a solution that can solve all problems. "I can sympathize with both types of people, but don't agree with either," says Halliday. "We must understand that managing change requires encouragement and support of people who were very happy with the status quo and don't want to change. It is a hand-holding exercise where you walk alongside someone, rather than push them or expect them to follow you wherever you go."

Walk, Don't Leap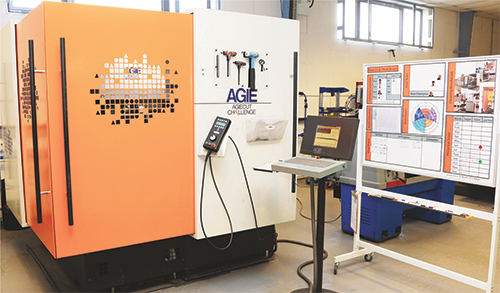 EDM, part of the complete process chain offered by 3T RPD, features 5S workplace organization for process efficiency.


After breaking through the mental barriers of the resistors and the go-getters, the guidance continues when managing change and implementing metal-AM projects. Understanding, excitement and enthusiasm can lead people to attempt giant leaps toward the end goal. For example, the newly initiated may have set their sights on series production with metal AM, when their starting point should be basic models in plastic.

"Often, when I see someone attempt a giant leap forward, they fail," says Halliday. "And, if it is a high-profile metal-AM failure, they may turn their backs on the process and not revisit it for years. That can be a huge issue."

To increase the odds of success, Halliday recommends a steady progression, without skipping a step, which leads individuals through basic, intermediate and advanced concepts. "Although this progression may seem tedious, it is more likely to yield success," he says.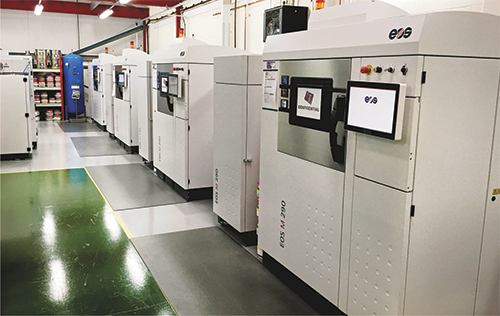 3T RPD operates 12 EOS DMLS systems, and reportedly represents 40 percent of the metal-AM market in the United Kingdom.

Halliday adds that, understandably, nobody wants to accept anything less than what they currently have, at least initially. "In aerospace, you have a process [metal AM] that produces parts from the same material that look the same, yet you have to go right back to the beginning to prove that the parts actually are the same."

Because of limited experience, employees may try to characterize every aspect of metal AM, often using established processes as the baseline. They don't know what questions to ask or what parameters much be controlled. "Because they are unsure, quite understandably, they try to tie down a whole load of stuff that they don't know much about. This holds up progress," says Halliday. "In reality, all that's needed is assurance that metal AM can repeatedly deliver the right material, with satisfactory mechanical properties and accurate part dimensions."

Fortunately, Halliday has seen an evolution of this mindset, at least within the more advanced industries. "Today, more companies are looking for assurance of control over what matters, which is great," he says. "They get what they want, much more quickly."

Infrastructure Needed

For those seeking to implement change, whether through metal AM or any new technology, Halliday draws on his experience to offer another key insight.

"You have to build an infrastructure around the technology, one that adapts to it and with it," he says. Success, then, requires much more than a metal-AM machine and a skilled operator; success requires people, processes, procedures and equipment to support AM operations, and upstream and downstream activities.

3T RPD Ltd

Metal AM Portfolio Equipment
1 EOS M 400
6 EOS M 290
4 EOS M 280
1 EOS M 270
Materials
Aluminum (AlSi10Mg)
Cobalt chrome (Co28Cr6Mo)
Nickel alloy (In718)
Maraging steel (1.2709)
Stainless steel (316L, 15-5PH)
Titanium (Ti6Al4V, TiCP)
Beta material development
"If you narrow-mindedly focus on buying and installing a metal-AM machine, you don't see the full spectrum. It is only later that you realize that success demands a sound infrastructure," Halliday says, "that's built on activities such as powder management, porosity measurement, heattreatment validation, post-processing and quality systems."

The ultimate goal, then, is to develop a complete process chain that takes companies from design consultancy and materials development, all the way through to heattreatment, EDM work, CNC machining, specialist finishing and quality assurance.

"What we have done over the past 10 years," reflects Halliday, "is build an aerospace-production-capable AM business."

According to Halliday, strong R&D capabilities also must be part of the AM infrastructure. "Our R&D team supports the process chain to make us better at what we do," he says, "and enables technical excellence. We believe that is critical to our success." R&D efforts at 3T RPD address materials development, as well as investigation of build parameters, finishing techniques, testing and powder management.

Ideal Parts and Projects

After overcoming the barriers to change, AM companies then must seek the ideal candidates for metal AM. Halliday says, "Choosing the right parts is the first and most important step, without question, and understanding the benefits of producing the parts with AM. Where are the benefits coming from? Is it mass, lead time, multifunctionality, complex geometry? Identify the challenges, and then select the parts where AM can help the most."

Avoid the trap of thinking that metal AM is a solution for every challenge. "If you can combine conventional techniques and additive, then you start to really get the big benefits, Halliday stresses. He then concludes:

"Don't expect parts to be perfect out of the metal-AM machine. Always allow for post-processing activities."

Commentary

Throughout my conversation with Ian, I nodded my head in agreement with his observations and insights. He presents an accurate assessment of where we are (early days) and what barriers lie before us. I even agree with his statement that metal AM for series production of aerospace components will become massive. The only question I have is, how many years will pass before we reach that level of use? I guess that is hard to predict because there will be a tipping point when we shift from moderate to massive use that will be fueled by the conservatives accepting metal AM. However, when will we reach that critical mass?

The answer, I believe, lies in the "slope of enlightenment," as described in the Gartner Hype Cycle (a method for graphically representing the maturity and adoption of technologies and applications, and understanding how they may potentially help solve real business problems and exploit new opportunities). As more evidence comes forth, conservatives will be enlightened without having to invest their time and money to discover the truths. With this readily available information and evidence, the need to cajole the resistant and reign in the 'all-in believers' will evaporate. Likewise, the need to prove repeatable performance across all parameters will disappear. Instead, everyone will understand what must be controlled, what can be ignored, and what should be considered.

Like Ian, I am frustrated that after 28 years, we have only just begun. However, with a glass-half-full mentality, at least we've started, and are progressing to a bright AM future.

3DMP

Have a difference of opinion or insights that you would like to share? Contact Brad Kuvin (bkuvin@pma.org), publisher/editorial director, to schedule an interview.
---
Reader Comments
There are no comments posted at this time.