Tech Update
3D Hybrid Solutions and Multiax Team to Launch World's Largest Metal 3D Printer
Friday, November 3, 2017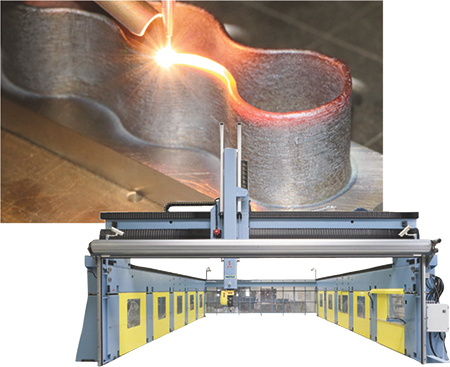 3D Hybrid Solutions, Inc., Seal Beach, CA, provider of metal-printing tools for CNC machines, announced a joint venture with Multiax International, Brugnera, Italy, builder of large-format five-axis CNC machines. The collaboration targets the large-scale metal-AM market with what is believed to be the world's largest 3D metal printer, having a printable space in excess of 500 m3. It also will be one of the fastest, with speeds beyond 20 lb./hr. The addition of a metal-printing tool for a CNC machine addresses the inherent need for post-machining of 3D metal parts, while bringing added benefits such as machined internal features and five-axis printing.
"Hybrid manufacturing is the future for medium to large-scale metal additive manufacturing," says Karl Hranka, founder, 3D Hybrid Solutions. "The infrastructure costs and paired value makes hybrid the obvious answer. Some of engineering's greatest feats are happening now because hybrid has the ability to economically furnish parts made with blends of dissimilar metals and composites."
3D Hybrid Solutions: www.3dhybridsolutions.com
Multiax: www.multiax.com
See also: Multiax
---
Reader Comments
There are no comments posted at this time.