Industry News
Renishaw's Innovation Fest Highlights AM Advancements
Friday, October 27, 2017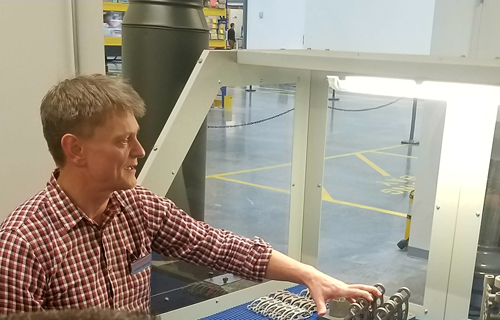 Stephen Anderson, AM business development manager-USA for Renishaw, Inc., describes some of the company's latest 3D-printing technology at its Innovation Fest, held October 25-26 in West Dundee, IL.

Renishaw, Inc.'s new 133,000-sq.-ft. office and warehouse facility in West Dundee, IL, served as host for the company's Innovation Fest, held October 25-26. The event, including technical presentations, and up-close looks at the company's technology offerings across various manufacturing disciplines, drew a large number of customers and manufacturing professionals. 3D Metal Printing was on hand to get a closer look at Renishaw's latest additive-manufacturing (AM) offerings and its U.S. Additive Manufacturing Solutions Center, part of the company's network of global Solutions Centers, opening over the next year.
Renishaw had a variety of state-of-the-art equipment on display at Innovation Fest, including the RenAM 500M additive system designed for serialized production, which debuted in 2017.
This AM setup builds complex metallic components directly from CAD using metal-powder-bed-fusion technology. The RenAM 500M is first in a family of products based around Renishaw's optical systems and control technology and offers efficient, ergonomic design and safety features, as well as intuitive and automated capabilities, according to company officials. The machine manufactures parts within a 250 by 250 by 350-mm build volume and uses a high-powered ytterbium fiber laser to fuse fine metallic powders together to create parts. Inline sieving allows powder to be recycled and re-used in a single process under an inert atmosphere, and the patented high-capacity twin SafeChange filter system captures process emissions.
For more, visit www.renishaw.com/additive.
---
Reader Comments
There are no comments posted at this time.