Article
Spotlight on Additive Manufacturing at IMTS
Friday, August 5, 2016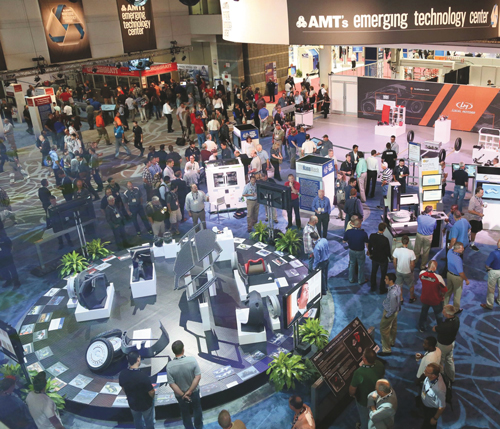 IMTS 2016 is the 31st edition of the premier manufacturing-technology show in North America. More than 2000 exhibiting companies will occupy 1.3 million sq. ft. of exhibit space at the McCormick Place complex in Chicago, IL. New this year is an Additive Manufacturing pavilion in North Building, B Hall.
IMTS 2016 lands September 12-17, 2016, in Chicago. It's the 31st edition of the manufacturing technology show and will welcome more than 2000 exhibiting companies that will occupy 1.3 million net sq. ft. of exhibit space at the McCormick Place complex. Among the technologies on display:
Metal Cutting: contains everything from machining centers and assembly automation to flexible manufacturing systems and lathes.

Tooling & Workholding Systems: jigs, fixtures, cutting tools of all types and related accessories.

Fabricating/Laser/Additive: home to waterjet, plasma-arc and laser-cutting and welding systems, arc- and resistance-welding equipment, heattreating apparatus, additive-manufacturing equipment and more.

Other pavilions at IMTS include Abrasive Machining /Sawing/Finishing; Controls & CAD–CAM; EDM; Gear Generation; Machine Components/Cleaning/Environmental and Quality Assurance.
Complementing the metalworking solutions on display at IMTS are five additional co-located shows:
Industrial Automation North America

Motion Drive, & Automation North America

Surface North America

ComVac North America

Industrial Supply North America
IMTS is held every even-numbered year in Chicago and attracts more than 114,000 buyers and sellers from more than 112 countries. Among this year's exhibitors are several displaying additive manufacturing technology in a new Additive Manufacturing Pavilion. See it all in the North Building, B Hall.
Exhibitors (as of this writing):
Manufacturing-industry professionals from all over the world attend IMTS to see more than 15,000 new machine tools, controls, computers, software, components, systems and processes that can improve their efficiency.




ExOne N-75

3D Systems S-9119, N-68

3rd Dimension

Industrial 3D Printing N-64

Cideas Inc. N-67

Concept Laser N-87

DM3D Technology, LLC N-66

EnvisionTEC, Inc N-83

EOS of North America, Inc. N-79

GPI Prototype & Manufacturing

Services Inc. N-62

HP Inc. N-91

Hybrid Manufacturing

Technologies N-63

Linear AMS N-61

Optomec Inc. N-73

Proto Labs N-72

Sciaky, Inc. N-65

SLM Solutions NA, Inc. N-71

Stratasys N-60

Vader Systems, LLC N-85

voxeljet America Inc. N-7097
"Additive manufacturing is incredibly dynamic, and in order to see new materials, new design ideas and new production techniques, you need to attend IMTS 2016," says Peter R. Eelman, vice president of exhibitions & communications at AMT—The Association For Manufacturing Technology, in an IMTS press release. Eelman emphasizes that the term additive manufacturing encompasses a collection of diverse technologies that includes material providers, 3D printers and associated equipment such as sintering furnaces, design and production software, scanners that capture points to create a parametric design, and 3D printing service centers.
"The Additive Manufacturing Pavilion showcases essentially every component necessary for a manufacturing cell," he says. "In addition, the technology has progressed so far that you'll also see it on the show floor. Several of the leading machine tool providers will demonstrate hybrid machines that integrate 3D printing and traditional machine tool capabilities."
(For a roundup on hybrid machines available to manufacturers, check out senior editor Lou Kren's article beginning on page 26 of this issue.)
Show dates and hours:
September 12-17
East and West Halls: 9 a.m.-5 p.m.
North, C and South Halls: 10 a.m.-6 p.m.
Additive Conference a Homerun
In addition to the new pavilion, IMTS introduces a special 1.5-day Additive Manufacturing Conference to this year's programming. Slated for Tuesday and Wednesday, September 13 and 14, in the SKY Ballroom B (Room W375-B), the Additive Manufacturing Conference covers processes, applications and materials, and give attendees practical knowledge on how to implement them in their facilities.
Cost: $650 advance (advance pricing through August 12, 2016), $725 standard. Topics Include:
Lightweighting

Robotic additive manufacturing

Combining additive and subtractive manufacturing

Software

Automation.
Registration to the Additive Manufacturing Conference includes full access to the IMTS exhibit halls for all six days.
Learn more and register to attend at www.imts.com. 3DMP
---
Reader Comments
There are no comments posted at this time.