Article
There's a Dearth of Operators Trained in 3D Metal Printing
Thursday, October 20, 2016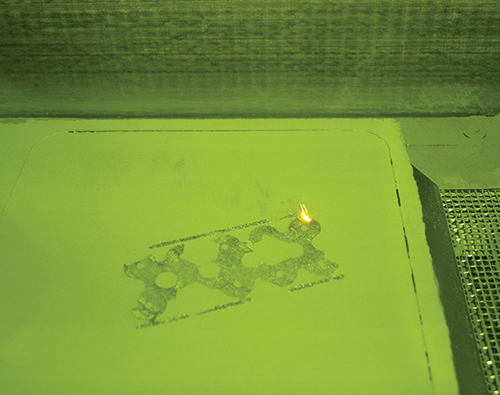 Printing parts such as this at the UL AMCC (shown is an aluminum build on a 3D Systems machine) gives students opportunities to learn best practices, such as designing the part to enable part clamping for downstream operations—note the added siderails. Students also learn to avoid some of the common causes of build failures: dirty lens, over-support, excess cross-section and more.

"We train operators for our CNC machines, we should train for additive manufacturing as well."

Words of wisdom from a man who has worked in additive manufacturing for nearly 20 years—Ed Tackett, director of educational programs at the new Underwriters Laboratories (UL) Additive Manufacturing Competency Center (AMCC). Located on the campus of the University of Louisville (KY), the UL AMCC opened on February 16, 2016, and already has trained several dozen operators in the ins and outs of 3D metal-printer setup, operation, troubleshooting and maintenance. And, of course, safety—a topic of extreme importance to Tackett and to his counterpart at the new facility, Paul Bates, general manager of the UL AMCC.

"Metal additive manufacturing is rapidly moving into factory-like settings," Tackett says. "Safety measures are in place for every other manufacturing process; we need users to treat their metal-printing systems similarly. There are unknown dangers to powders, in particular, so we're preaching to students the importance of wearing nitrile gloves, fireproof lab coats, eye protection and even positive-pressure respirators when dealing with powders."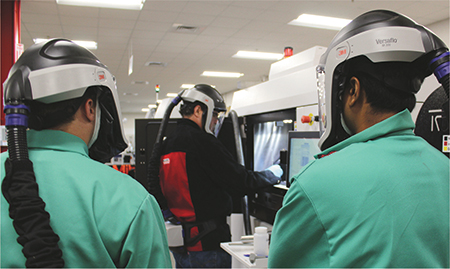 The UL AMCC houses two 3D metal-printing machines, including the EOS model shown. Here, students learn the importance of safety, particularly when handling metal powders. They're wearing 3M Versaflow positive-airflow respirators.

Fire-hazard reduction and firefighting procedures even receive attention when Tackett instructs students at the AMCC, discussing topics such as the use of antistatic mats underneath the printers, and the wearing of antistatic shoes by operators.

"We're working with OSHA to develop standards," Tackett shares. "Companies using this equipment need safety plans in place for storage and handling of the metal powders, personal protection and training. For example, aluminum and titanium powders cannot get wet, so you can't store them near overhead sprinkler heads."

Wet-Separator Maintenance

Tackett and Bates can't talk enough about the need for safety training in the metal-additive space, and I'm sure much work will be done soon to more clearly define roles and responsibilities. But Tackett, as we toured the AMCC, clearly stresses one last point: The most dangerous machine in the operation of a metal-printing system is the wet separator, used to clean up spilled powder. Over time, sludge can build up in the bottom the separator and clog the unit.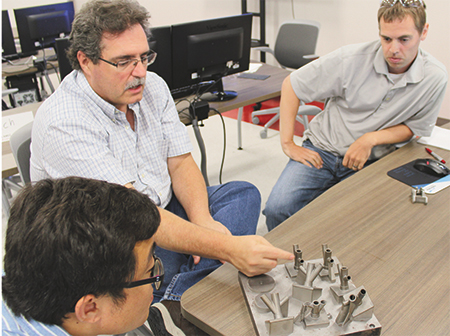 UL AMCC director of educational programs Ed Tackett discusses the importance of support-structure design and part orientation on the build plate, keeping in mind stress buidup in the part during build, as well as consideration of downstream operations —support removal and part finishing.

"Maintenance procedures for the wet separator are not always well-defined," Tackett says, "so we teach this in our classes. Before every use, you have to verify that it's working properly, by performing a suction check. And, every week the user should break down the machine and clean it. Then, you have to know how to safely and properly dispose of the contaminated water. Waste disposal with 3D metal printers can be a significant expense; you need to account for that, which is another subject we cover in our classes."

Tackett then notes the AMCC's development work with a local filter company, Kinetic Filtration (see accompanying sidebar), to develop a system for separating the fine metal powders from the wet-separator liquid. "Following the proper testing by local, state and federal agencies, the wet-separator liquid may then be eligible for gray-water disposal," Tackett says.

Moving on From Safety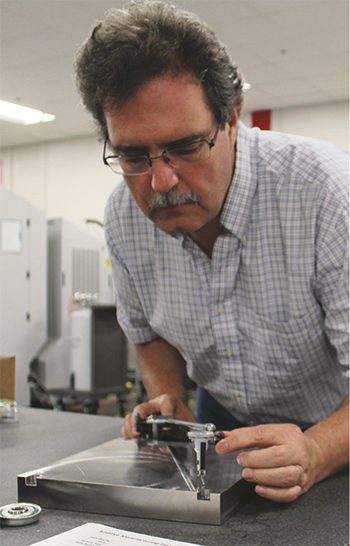 A critical processing variable, and one that is easy to control and that will have the biggest impact on build quality, is build-plate flatness and how level it is in the machine. Companies should, for example, surface-grind the top of the plate to within 5 microns corner to corner.

Of course, Tackett's week-long curriculum covers much more than just safety, diving deeply and broadly into nearly every aspect of metal-additive manufacturing, including part and support design, machine setup, and troubleshooting.

"There are some 120 different variables that affect the actual build," Tackett says. "And, even if you achieve a good build, without proper planning for downstream finishing operations you still can wind up with a very inefficient process."

A key component of the AMCC's curriculum deals with part and support design for optimizing downstream operations—support removal and part finishing. In addition to its two printers, the 15,000-sq.-ft. facility also houses equipment for machining, metrology and powder handling.

"Don't leave it to the machinists to 'figure it out,'" warns Tackett. "Plan the build for wire-EDM or bandsaw-cutting of supports. Consider how the printed part will be fixtured for machining. Considering all of these factors during design can avoid the need to develop special fixtures for holding the part in downstream operations."

Build-Plate Checklists

When it comes time to build the 3D metal-printed parts, the most important processing variable, in Tackett's mind, and one that is easy to control and that will have the biggest impact on build quality, is build-plate flatness and how level the platform is. Companies need a process to validate their build plates before every build, Tackett stresses. They should, for example, surface-grind the top of the plate to within 5 microns corner to corner.

The AMCC even provides students with a pair of checklists for this activity—one for platform leveling and one for build-plate inspection. For inspecting surface roughness of the build plate, the checklist requires measurement at five locations on the plate—at each corner and in the center.

Other checklists provided to students address STL-file prep and load (19 steps), and machine setup (21 steps, including cleaning the chamber and window, sanding and cleaning the build plate, inspecting the recoater, and leveling and tightening the build plate).

Other key aspects to AM-machine setup to help ensure sound builds, according to Tackett, include testing the incoming powder for particle-size, among other characteristics; and ensuring the purity of the argon gas entering the build chamber.

"Powder particle size dictates laser-power density across the surface of the build," he stresses, "which will impact scan spacing. Every batch of powder should be tested for particle size, as well as composition and NFPA explosiveness. This is particularly true when onboarding new suppliers—'Trust but verify' is a good approach."

As far as ensuring optimal gas purity in the build chamber, Tackett suggests as a best practice to use stainless-steel supply lines with Swagelok (or similar) fittings. "That's the ideal setup for reactive metals," he says.

"We're currently working with gas-apparatus supplier Concoa," he adds, "to develop gas-handling systems specifically designed for additive manufacturing."

3D Metal Printing spied evidence of that project during our visit to the UL AMCC—a prototype leak-proof manifold developed by Concoa for handling high-purity nitrogen. "It has a security feature on it," explains Tackett. "Once you set the line pressure, the plant manager can pull the key to prevent anyone else from adjusting it."

We also spied a new argon manifold that allows the operator to check argon flow and purity while the system operates, and upload that data to an SPC report, "to provide complete traceability," Tackett notes.

Industry Trends

Wet-Separator Maintenance Solution

During our visit to the UL AMCC, we spied a newly developed system for simplifying wet-separator maintenance that enables efficient recycling of the trapped metal powders, and of the wet-separator liquid. Developed by Kinetic Filtration, a Louisville, KY, manufacturer, in conjunction with the AMCC, the wet-separator maintenance kit includes its patented Hazo-loc filter, which attaches to the liquid outlet of the wet separator and traps the metal particulate. Also included in the kit is a 30-ga. drum to collect the filtered water; a drain funnel for the top of the drum; a pressurized water rinse and spray unit; and quick-release clamps.

With proper use of the kit, manufacturers can avoid hefty fees for disposing liquid hazardous waste, while minimizing wet-separator maintenance time. And, they'll minimize employee exposure to potentially harmful substances.

In addition to providing insightful gems regarding best practices and training tips, Tackett and Bates note trends promising to impact the 3D metal-printing landscape—now and into the future. First and foremost, they agree that the primary barrier to rapid acceptance of metal printing for production applications is a lack of qualified operators. And, of course, training operators is their mission.

"We're here to help manufacturers minimize the learning curve and get their metal-AM machines up and running, producing good parts, as quickly as possible," says Bates. The center has two machines for training (from EOS and 3D Systems), with plans to soon add machines from other OEMs.

"Right now we see too many applications in the field where engineers are running the machines," Bates continues. "The industry needs trained operators so that engineers can focus on designs and other engineering-related tasks. And we need technicians trained in a variety of skills, including CNC machining of supports and parts, leveling and finishing of build plates, and inspection of gas lines and other tasks related to servicing the equipment. There's a whole support network of labor that needs to be developed."

"Is the Juice Worth the Squeeze?"

As far as potential applications leading to expanded use of 3D metal printing, Tackett, who for 18 years worked as director of The RapidTech Center at the Henry Samueli School of Engineering at the University of California, Irvine, offers up one of his favorite sayings:

"Is the juice worth the squeeze?"

The University of Louisville has some 40 researchers working on additive-manufacturing projects, all aimed at helping make the "juice worth the squeeze." That is, finding ways to leverage the process and the machines to ensure that AM outperforms other conventional manufacturing methods, so that resulting parts are stronger, lighter and perform better in service, without necessarily costing more to produce.

"Yes, there is an opportunity to additively manufacture legacy parts," Tackett says. "But in these cases you're likely looking at redesigns to make the parts more printable—optimize the design for AM.

"We also see expanded application for consolidating several welded or otherwise assembled parts into one additively manufactured part—that can be the Holy Grail," he continues. "I've seen good examples of this in the aircraft industry, where maintenance procedures requiring the machining of several custom parts for a complex assembly can take 6 to 8 weeks, with the aircraft grounded during that time. Using metal-additive manufacturing to produce one consolidated part to replace the entire assembly often can reduce that aircraft-on-ground time to just three days."

A final point, regarding the ever-popular lattice structure often associated with 3D metal printing:

"In design, we can go through all sorts of redesign to perfect the lattice, and in many cases it's worthwhile—you can optimize the strength-to-weight ratio. But, understand that creating the lattice stresses the machine; there's a lot of on-off cycling of the laser. So, we have to ensure that the "juice," or the lattice, is worth the effort. Does it add value, or does it just look cool?" 3DMP

See also: UL LLC
---
Reader Comments
There are no comments posted at this time.