Article
The Right Prescription for Medical
Thursday, October 20, 2016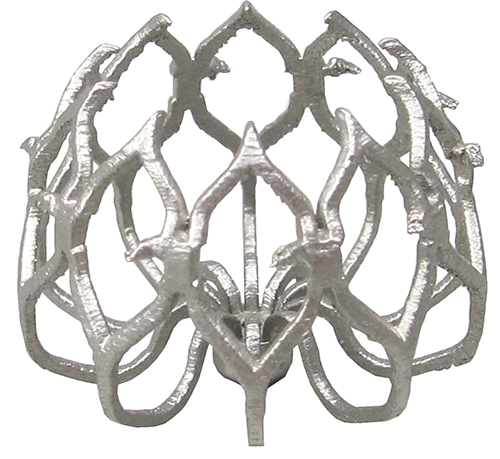 GPI Prototype & Manufacturing Services is a rarity in the world of 3D metal printing. As service bureaus continue to be gobbled up by large manufacturers in efforts to bring additive-manufacturing expertise inhouse to leverage process knowhow and production capacity, this private Lake Bluff, IL, company has remained independent. Not only that, but GPI has the capacity to produce in quantity, another rarity.
"Only a couple of service bureaus that I'm aware of can offer production quantities via 3D metal printing," says Adam Galloway, GPI president. "Only about 10 have five or more 3D metal-printing machines. With our lineup of 10 units, we can produce five, 10 or 50 builds for a dedicated customer while still having the capacity to perform custom and prototype work."
Anatomical-Model Producer Branches Out
The company most often works with medical customer—a natural given that it's an outgrowth of GPI Anatomicals, formed in 1980 to provide anatomical models to the medical industry. As technology advancement paved the way to this foray into 3D metal printing, earlier advancement first led GPI down this path.
"Constructing our anatomical models required sculpting," explains Galloway. "Three medical sculptors would design the models in clay," a meticulous, time-consuming process, with added time and difficulties as changes are made.
The advent of digital sculpting, enabled by improved computer-processing power, changed that equation.
"Digital sculpting allows users to make changes very quickly without destroying the original sculpture," he continues. "With an Objet machine, we could make changes and print the result in a resin. We started printing the masters that we used to make injection molds, a process that marked our entry into 3D printing. Today, GPI Anatomicals performs digital sculpting for all of its anatomical business and uses 3D printing for all of its masters."
With its new-found expertise and capability, in 2007 the new GPI Prototype & Manufacturing Services sought out its long-time anatomical customers and medical contacts for new business in 3D-printed prototypes and even added a new, larger printer. But, by then the market was flooded with plastic-printing suppliers and the new business was slow in coming, according to Galloway.
From Resin to Metal—A Major Shift
At this point GPI decided to take a big risk, entering the 3D metal-printing market in 2009 with its first EOS machine.
"We quickly saw the benefits of going that route," Galloway says. "I'm guessing that we were one of only about 10 companies at that time offering metal-printed prototypes. As our business grew we added machine after machine and now we are one of the largest solely owned 3D metal-printing companies in the country."
The company houses six EOS machines including two each of the M 270 and M 280 models, and two M 290 models that feature large build volumes of 250 by 250 by 325 mm. Also, GPI recently added three 3D Systems machines, a ProX 320 dedicated to titanium builds and two other ProX models, to go along with another ProX already inhouse. With the recent purchase, the company announced an engineering collaboration with 3D Systems. Engineers from both companies, including GPI's inhouse metallurgical engineer and metals application engineer, are working together on process testing and machine testing with GPI providing real-time customer feedback. The collaboration aims to further develop direct metal laser melting (DMLM, the process employed in 3D Systems' metal-printing technology) build parameters to help increase its adoption by end-users.
GPI's equipment roster prints parts from an array of materials including aluminum, three types of stainless steel, maraging steel, titanium and cobalt chrome. The company's numerous printers and ability to print in many materials, along with its on-hand inventory of these materials, has helped it carve out a niche as a quick-turnaround supplier.
Today, medical represents about one-third of GPI's business, and continues to provide new opportunities, especially since the company earned ISO 13485 medical-device quality certification. With its large metal-printing lineup, GPI and its 25 employees can take on production, but currently the bulk of its medical business is of the prototype and proof-of-manufacture variety.
"Production requires the correct application, customer and program," says Galloway, noting that education of customers is key to opening up more opportunities for 3D metal printing on a volume basis. "When we first started out with 3D metal printing, most of our customers were not educated on the process. But now we are seeing customers with entire departments and perhaps five or 10 engineers focused on redesigning parts for additive manufacturing. Before, someone would come in and say, 'My boss told me to look into 3D printing.' Now, many customers come in knowing exactly what they want to do. Education about the process has been a huge industry change in the past five years."
AJ Salvatori, GPI medical-account executive, agrees and notes that medical applications have adopted 3D metal printing in a big way.
"Aerospace was pretty much alone in getting up to speed and identifying 3D metal-printing opportunities as recently as five years ago, but medical has come on strong," he says.
Education Needed
For his part, Galloway would recommend that students strongly consider entering the 3D-printing field.
"Want a job out of college? Go into additive-manufacturing engineering," he offers. "Right now we can't find engineers in Chicago with backgrounds in 3D printing."
Currently, many engineers have their roots in other manufacturing disciplines, and as has been pointed out extensively in the pages of 3D Metal Printing, 3D printing with metal is a whole different animal, from design to final product. The industry is making strides in educating AM-savvy engineers, and GPI is providing an assist. The company has connections with Northwestern, Northern Illinois, and University of Illinois in providing curriculum and identifying prospective employees, and is partnering with America Makes and Carnegie-Mellon on another education initiative. 3DMP
See also: GPI Prototype & Mfg Services
---
Reader Comments
There are no comments posted at this time.