Morf3D, Siemens Advanta Form Technology Partnership for Morf3D ADMC
April 7, 2022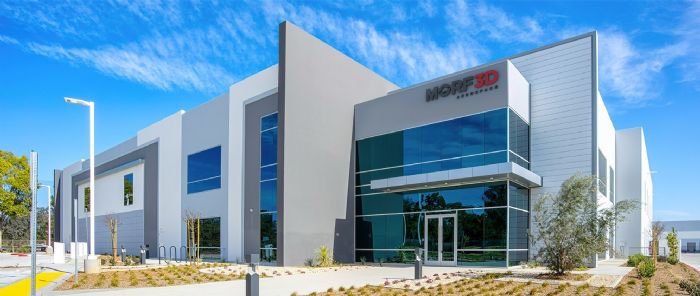 Morf3D, Inc., a metal-additive manufacturing (AM) subsidiary of Nikon Corp., has announced a partnership with Siemens Advanta, where digital planning for Morf3D's Applied Digital Manufacturing Center (ADMC) in Long Beach, CA, will evolve into ongoing technology-development partnering.
Siemens Advanta, the IoT consultancy and solutions-integration arm of Siemens, will leverage design and simulation software from Siemens Digital Industries to develop a scale-up plan and bottleneck analysis, as well as explore novel manufacturing and logistic concepts for the ADMC.
Nearing completion, the 90,000-sq.-ft. ADMC will harness applied research, advanced engineering and application development, serial production, and, most significantly, new industry partnerships to drive the industrialization of digital manufacturing in high-growth markets. Siemens Advanta also will validate material flow and space demand for the ADMC based on a digital twin of production. From initial efforts, Siemens Advanta's work at the new ADMC will transition into additional ongoing software innovations and onsite personnel support.
"In working with Morf3D and its new ADMC, we look forward to helping optimize additive manufacturing capabilities for the aerospace industry," says Rani Shea, CEO of Siemens Advanta, North America.
The ADMC is projected to be one of the largest aerospace AM-solution integrators in the United States. At peak, the center will be home to 150 multi-discipline engineers, researchers and technicians.
"We constantly are thinking about how to further our industry, and this partnership with Siemens Advanta gives us a great sense of optimism for the future," says Ivan Madera, Morf3D Inc. CEO. "Morf3D is experiencing growth at a rapid rate. We wanted to make sure that our factory was flexible and that we had a team able to understand the challenges that we might face, not just today, but in the future, too."
Technologies: Software