Successful Missile Part Via Simulation
August 17, 2018
Additive manufacturing (AM) has changed the paradigm of product fabrication. Traditional methods of subtraction, welding and fastening have required engineers to design parts that can be built. AM, however, allows engineers to build parts that can be designed. Recognizing this potential, the U.S. Missile Defense Agency (MDA) challenged the American manufacturing community to leverage advancements in AM technologies to reduce cost and shorten delivery lead times of noncritical parts for missile defense.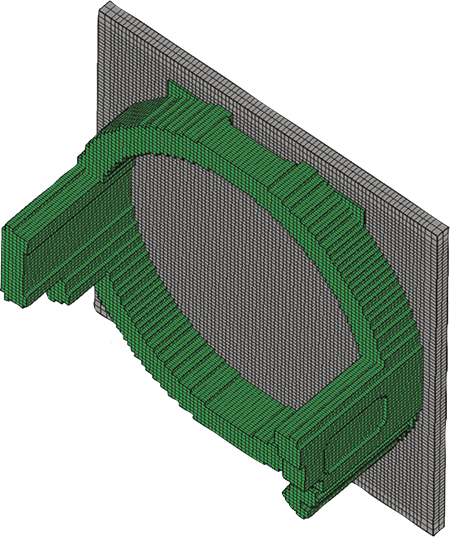 Using simulation software resulted in development of a cost-effective noncritical flight part with minimal trial and error. Shown is the proposed part, a camera-mount ring, during the simulation process.

These advancements include an AM-simulation toolset, Genoa3DP, from AlphaStar Corp., that addresses material and process modeling and, with the help of sensitivity analysis, can identify an optimal build solution.

In response to this challenge, AlphaStar, in cooperation with the University of Dayton Research Institute and Raytheon Corp., undertook a study that investigated the laser-powder-bed-fusion (LPBF) process in manufacturing a noncritical part, a camera-mount ring used on target vehicles and sacrificed during missile tests. The mounting ring, difficult to manufacture via traditional methods due to unique design characteristics, was considered an ideal AM candidate.

The study team selected Inconel 718 for the build and proceeded to print solid and hollow cylinders to assess the material quality for AM use. Density measurements identified a maximum value of 8.22 g/cm3, and determined that, at energy levels surpassing 82 J/mm3, the melt pool would become unstable and trigger porosity. Similarly, energies below 82 J/mm3 would result in an incomplete melt and solidification, leaving voids.