Big Cooling Benefits
Specifically, the design-for-AM process and use of nTopology software resulted in conversion of the housing's formerly empty shell into a conformal cooling channel to improve thermal management of the high-power-density generator. To achieve this result, the project's engineering team removed unnecessary material from areas not bearing significant loads, thus creating a hollow shell with a variable wall thickness. The entire process reportedly required only a few simple design blocks in nTopology, was performed almost instantaneously without errors, and took less than a day's work before the part was ready to manufacture.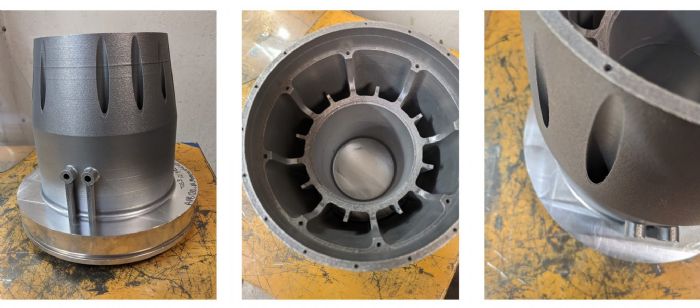 Cooling systems form a crucial component of high-power energy-generation systems, with thermal management representing one of the main size constraints of electric machines. Put another way: Better cooling means more power. Efficient cooling minimizes generator hot spots, enables higher current densities, reduces ohmic losses and lessens heat stress on machine components—especially the windings and the magnets. This leads to increased efficiency and torque, reduced weight, extended machine life, and lower maintenance costs in power-generation systems.
For this project, the team used simulations to evaluate the effect of conformal cooling channels on system performance, combined results from thermal finite-element analysis carried out in nTopology with computational fluid dynamics simulations in Ansys Fluent software.
Results showed a dramatic reduction in the part's operating temperature, with maximum temperature reduced by 33 percent while the external temperature of the generator dropped by 86 percent down to 27 C, making it safe to the touch. This temperature drop allowed the use of aluminum as the material for the generator housing. Without the conformal cooling channels, KW Micro Power would be forced to use a material with higher thermal resistance, leading to increased costs, or run the generator at lower speeds, thus throttling its power output.
Additionally, the project design team experimented with different cooling mediums. A very appealing option: engine fuel. Using fuel as the heat-transfer medium cools the engine with a liquid already onboard the aircraft. And, it preheats the fuel itself, from room temperature to 55 C based on simulation results, increasing combustion-process efficiency.
Weight Savings Realized
The housing's redesign as a hollow piece with unneeded material removed, and the use of aluminum as the build material, brought significant weight savings—to the tune of 44 percent, as mentioned above. This weight reduction greatly surpassed the expectations of the KW Micro Power team.
"I would be more than happy with just a 20 to 25-percent weight reduction," Enriquez says, not expecting such an improvement.
Beyond the advantages in weight savings and heat management, one aspect of the redesign, reducing the component to a single piece, also delivered a key positive. The housing now can be manufactured in a single piece via metal AM. An engine spinning at 90,000 rpm demands precise alignment throughout, and the inclusion of multiple parts in an assembly increases the chances of misalignment. So, part consolidation here provides an essential means for improving machine reliability.
Field-Driven Design the Key
To achieve all of these positive results, the project team followed a field-driven design approach—a methodology that enables design variations using formulas, distances, test or simulation results, or other data—through the use of nTopology. The defining features of field-driven design, fields—rules that associate a value to each point of 3D space—provide a means to specify spatial variations of design features. Doing so enables control of complex geometry in ways that, otherwise, would be impractical. Using this approach, the project team first confirmed the relatively small loads on the housing using nTopology's integrated static- and modal-analysis simulation tools. It then removed unnecessary material to create a hollow shell with a variable wall thickness. Finally, the team smoothed internal geometry to ensure that the design required no support structures during manufacturing via Velo3D's laser powder-bed fusion metal-AM process.
Spurs New Ideas
With this successful housing redesign under its belt, KW Micro Power now plans to launch its lightweight aerospace-grade microturbine this year. Even so, new ideas continually arise to increase the functionality of each component of the company's power-generation system. For example, company engineers now are examining how to use lattice structures to further reduce weight in their airborne microturbines, and to embed electronic sensors and filters to monitor generator performance in real time. 3DMP
Information for this article was provided by nTopology, New York, NY; 917/983-9257.
Technologies: Applications, Software