Partnership Brings Cads Support-Structure Tech. Into New Version of Hexagon's Simufact Additive
December 1, 2021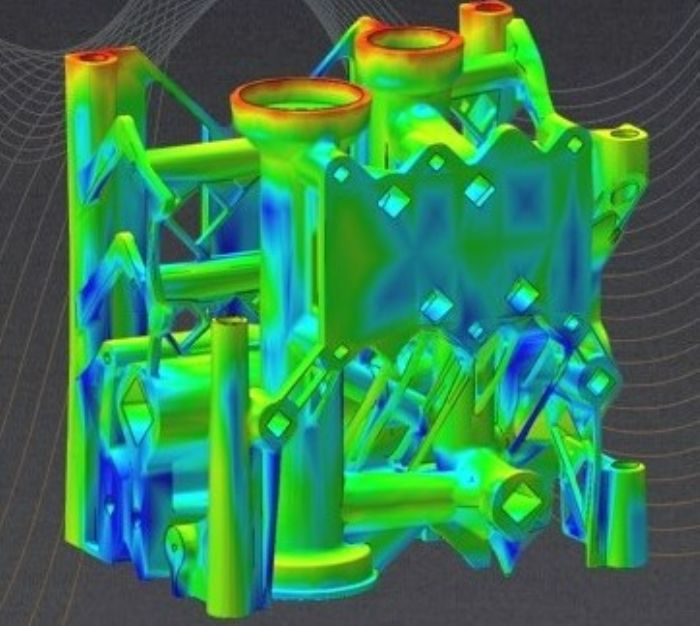 Hexagon's Manufacturing Intelligence division has partnered with Cads Additive, a manufacturer of data-preparation and data-management software, with the goal to reduce waste and improve additive-design-for-manufacturing productivity.
Hexagon's new version of metal-additive-manufacturing (AM) build-simulation software, Simufact Additive 2021, recently highlighted at Formnext, includes support-structure technology provided by Cads Additive that reportedly enables users to further reduce their manufacturing preparation effort, material costs and build time. And, as part of the partnership, Cads Additive is integrating Hexagon's build-simulation capabilities into its AM-Studio software.
Users employ Simufact Additive to predict and compensate for distortion, residual stress and temperature distribution throughout the printing, heat treatment, cutting, hot isostatic pressing and machining processes virtually, before the part is manufactured via laser powder-bed fusion and metal binder jetting processes. This results in production of high-quality parts with minimal waste, according to Hexagon officials.
Users now can create lightweight, hollow rod supports, complex line supports or block supports using Cads Additive, and achieve further optimization of material utilization with access to high-stiffness "heart cell" support structures and metal-optimized tree supports. These support structures can be added to parts using a native Simufact Additive interface that utilizes all of the features of the Cads Additive technology. This integration reportedly provides users with complete control over support-structure parameters and enable simulation of the support structure and part build without any additional steps or software.