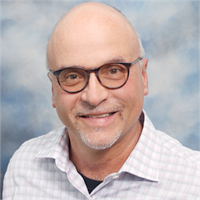 Joe Jancsurak
Youngstown State University Advances Additive
April 19, 2018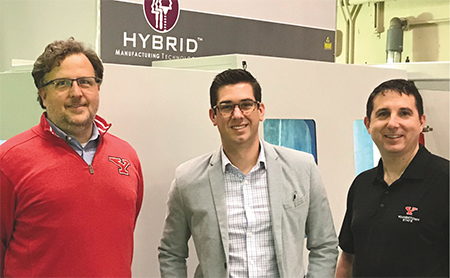 Left to right: Eric MacDonald, Jason Walker and Brett Conner, the CIAM brain trust.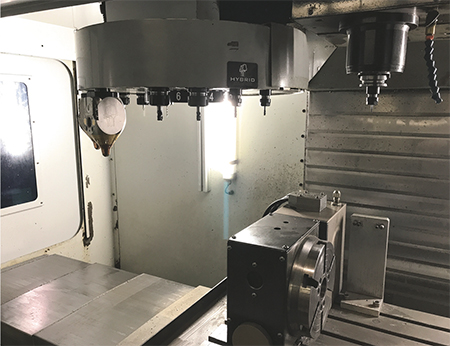 A look inside the Ambit multitask system from Hybrid Manufacturing Technologies. Shown are laser-deposition heads in the tool carrier on the left, along with several subtractive-machining tools.
The Mahoning Valley in Northeast Ohio, with the city of Youngstown at its center and the nickname "Steel Valley" as an integral part of its history, is staging a manufacturing comeback. For those wanting to learn more about Youngstown's past as a steel town, there is the Youngstown Historical Center of Industry & Labor, also known as the steel museum. For those wanting to learn about the area's role as an additive-manufacturing (AM) center, there's the Youngstown State University Center for Innovative Additive Manufacturing (CIAM), where additive processes and applications are advancing via $10 million in external research funding, myriad processes and equipment, and brain power.
What's more, CIAM is just 1000 steps from America Makes, the public-private partnership for advancing AM with member organizations from industry, academia, and government and nongovernment agencies, and where YSU faculty and students can gain additional hands-on training in metal-AM technologies. CIAM graduates have found work at GE Additive, NASA, Ford, Voxeljet and rp+m, to name a few.
Well-Resourced