Visser Precision Inks Agreement with EOS North America
October 19, 2018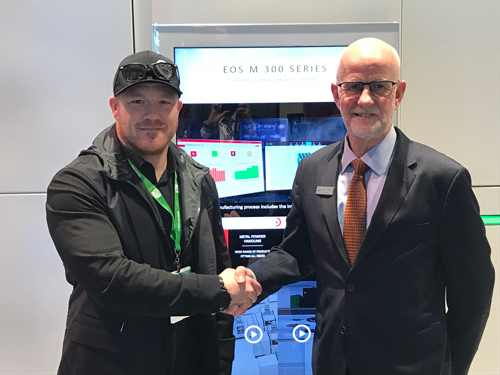 Visser Precision President Ryan Conian and EOS President Glynn Fletcher.
EOS North Americ
a, a Novi, MI-based provider of 3D-printing technology and
Visser Precision
, a Denver, CO-based provider of advanced manufacturing solutions, announced a deal providing Visser with three EOS M 400-4 systems and two newly launched EOS M 300-4 systems, making Visser the first organization to purchase the M 300-4 platform. Terms were reached during the International Machine Tool Show 2018. The two EOS systems are four-laser platforms designed for serial production, with the newest EOS M 300 series designed from the ground-up for integration into a digital manufacturing environment with configurable and scalable equipment architecture, while delivering a productivity increase between four to 10 times, compared to existing mid-frame systems.
"Nearly anyone nowadays can 3D print something in metal, the trick is repeatability while meeting and maintaining quality," says Ryan Coniam, president of Visser Precision. "Our investments with EOS mean we can deliver that to our customers."
See also: EOS of North America, Inc.
Technologies: Powder-Bed Systems