Valve Industry Transforms Using Metal AM
October 29, 2018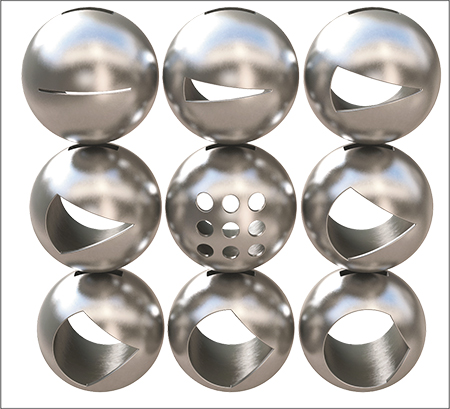 The emergence of severe service valves, smart monitoring systems and highly engineered control products are advancing the traditionally conservative valve industry, with metal additive manufacturing (AM) playing a greater role in new-product development.
Case in point: Bray International, a Houston, TX-based producer of valves, actuators and accessories, which recently partnered with Renishaw plc, well-versed in metrology and a manufacturer of metal 3D printers with U.S. operations in West Dundee, IL, to explore possible solutions that metal AM may offer valve manufacturers.
Design Concepts
Brainstorming exercises for this project produced a plethora of ideas ranging from the simple to the complex. Eventually, Bray settled on a modified version of a V-port ball valve (Fig. 1). V-port control-valve technology offers exceptional characterized control, increased linear response and fast response times. These precision-cut balls match the control performance of globe valves while offering, reduced size and weight, as well as and ball-valve features, such as higher flow capacity.