"AM technologies have advanced tremendously and continue at an accelerated rate," said Ron Angelo, president and CEO of CCAT, at the time of the grant awards. "Supporting the adoption of AM technology throughout the Connecticut supply chain is vital to sustaining the advanced technical capabilities that our state is known for."
Added Paul Striebel, AMAP's program manager: "Connecticut manufacturers are clearly striving to stay at the forefront of technology, as evidenced by their eagerness to adopt new AM techniques and equipment."
AM for Medical, Aerospace and Other Industries
Among the companies receiving AMAP awards from CCAT: Burke Aerospace, Accurate Lock and Hardware Co., and medical-device manufacturer Okay Industries.
Okay purchased its metal AM system, officials tell 3D Metal Printing, from Rapidia Inc. The setup includes a printer with two independent print heads fed with Rapidia's water-based metal and support paste, as well as a sintering furnace. As explained by Okay Industries' R&D engineer Ron Zownir, the Rapidia system is "economical, versatile and open. Parts are sintered overnight instead of taking days as is the case with competitive systems.
"And the relationship we have with Rapidia has been outstanding," he adds. "The support it provides is above and beyond first-class. As we continue to integrate the capability into our operations, an underappreciated headwind has been design for AM, and playing to the strengths of the technology to maximize its impact. Breaking through requires experience, comfort and confidence in metal additive part making."
Commenting on Okay's future use of AM, Zownir points to reducing toolroom burden as an important goal. "Demand on our toolroom resources continues to increase with out strong growth," he says. "Metal AM technology enables our toolmakers to focus their skills on the work that has the greatest impact."
Another goal for AM at Okay: enhancing its prototyping services, as delivered by its NexTech Labs R & D centers, established at each of its locations. The goal here, says Zownir: Allow for early involvement with customers in product development, assisting in design for manufacturing and product launch.
"We expect to use our metal 3D printer in concert with CNC machining to reduce lead times and enable customers to iterate more quickly," Zownir says.
Technology Readiness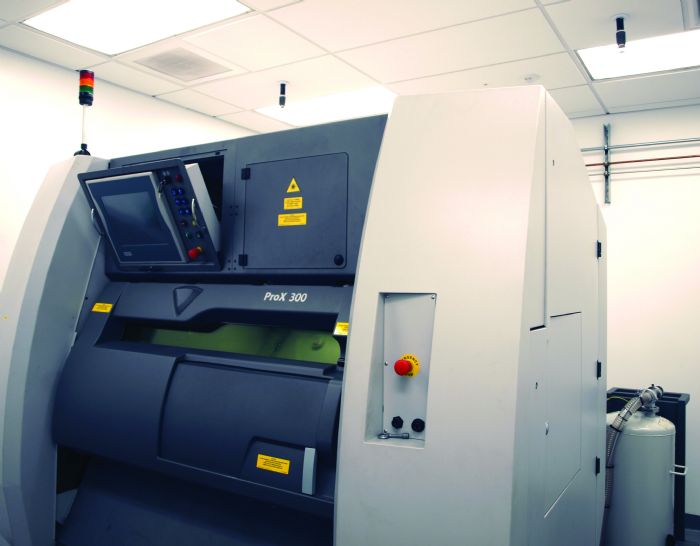 When it comes to supporting local and regional manufacturers with technology readiness, the CCAT team spends much of its resources on the demonstration and adoption of applied technologies for the industrial supply base, working with OEMs, prime contractors and small to midsized manufacturing enterprises. Initially launched as a laser-applications lab, CCAT transitioned into AM in 2011 when it partnered with several local aerospace manufacturers—United Technologies Research Center, Lockheed Martin, Rolls Royce and others—on an Air Force project to study AM for repair of titanium components. Since then, it's been performing on federal programs for the U.S. Air Force, U.S. Navy and Department of Energy while also providing commercial business for NASA, research institutes and companies across industry sectors.
The CCAT ATC inhouse metal-AM portfolio includes laser directed-energy deposition (DED) (an Optomec 850-R Lens system and DMG Mori Lasertec 65 3D hybrid); laser powder-bed fusion (Renishaw AM-400); and binder jetting (ExOne Innovent+).
CCAT also has recently added what it calls a high-rate AM (HRAM) FlexCell, performing wire and/or powder-fed DED. It features an eight-axis ABB industrial robot equipped with interchangeable heads for both wire-arc (WAAM), cold metal transfer and soft plasma (Fronius) and laser powder/wire DED (Meltio) within a 12 by 14 by 10-ft. work envelope offering about a 2-cubic-meter build area.
"We are not membership-based," Garofano explains, "we exist to serve the manufacturing ecosystem. In Connecticut, we manage state-funded programs that focus on small to mid-sized companies and act as a fiduciary, providing what we call 'money for manufacturing' as outlined at ccat.us/programs."
CCAT also partners with the big prime contractors in the region—Pratt & Whitney, Sikorsky, Electric Boat and others—on federal programs. Among the center's current project work:
A $5-million Navy ManTech program with Electric Boat focused on AM and supply-chain readiness

Partnering on a $1.5-million Advanced Research Projects Agency-Energy (ARPA-E) open project with the U.S. Department of Energy for Precision Combustion, Inc., to study solid oxide fuel-cell innovations

DOE-funded programs centered on AM of catalytic reactors (with Skyre, Inc.) and steam-turbine components (Siemens)

Commercial work for the Electric Power Research Institute to develop an additively manufactured 225-lb. valve, using the DMG Mori hybrid DED equipment.
More AM Expertise
…lies just up the road from CCAT, at the University of Connecticut's Pratt & Whitney Additive Manufacturing Center (PWAMC). The center's current lineup of AM machines—used primarily for research purposes—includes an Arcam A2X (used mostly for Ti-6Al-4V), an EOS M270 machine (for Inconel 718) and a 3D Systems ProX300 machine," says the center's director, Dr. Rainer Hebert.
"Of the three commercial machines," he says, "our ProX300 machine has been the workhorse, and has printed numerous alloy types, including, for example, 17-4 PH stainless steel, Inconel 939 and Monel K-400."
Most recently added to the PWAMC additive arsenal: a custom-built IPG Photonics powder bed printer installed early in 2019, which features a vacuum chamber, gas circulation system with soot removal, the ability to use two different alloy powders and open access to all hardware and software.
"Most importantly," Hebert explains, "we easily can modify the machine, using different raking setups and blades, for example, and custom-build plates (4- and 12-in. dia.). And, we can use different gases in the build chamber."
Microstructure and Phase Formation
Research conducted at the PWAMC typically focuses on processing-microstructure investigations. "Of particular interest," Hebert says, "is the theoretical underpinning of rapid solidification theory for the microstructure and phase formation during AM."
Also a focus, thanks to the unique amount of flexibility afforded by the IPG Photonics machine, is research directed at developing new AM alloys, aided by using AM simulation software to develop machine settings.
"We also had IPG to design the machines with multiple sensor ports, more than are available on the commercial machines," Hebert says, "so we can add more sensors and probes into the build chamber and collect additional data during builds."
Like CCAT, plenty of U.S. military projects fall to Hebert and his team, including steel-AM projects for the U.S. Navy. "We have projects underway for the National Institute for Undersea Vehicle Technology sponsored by the Office of Naval Research, with Electric Boat and the Navy Undersea Warfare Center, Newport, RI, as supporters," Hebert shares. "The Navy really has gotten behind AM, and expects its suppliers to follow suit, and we're positioned to help them get there."
And, last but not least, the PWAMC stays busy working on a massive, ongoing project with the U.S. Air Force Research Laboratory (AFRL), a multi-year effort that encompasses a broad range of technologies, of which AM is just one. "Here we are involved more on the material and process design side," Hebert says. "We've worked in areas such as solidification cracking (of castings and AM parts)."
Another area of interest funded by AFRL: powder-flow characterization and optimization. "Cracking is a real-world problem that we spend a lot of time on," Hebert says, "developing knowledge. That and powder flow are two current topics receiving much of our attention." 3DMP
Technologies: Applications, Directed-Energy Systems, Post Processing