SLM Solutions 12-Laser AM Machine With Extended Build Envelope Now Available
November 14, 2022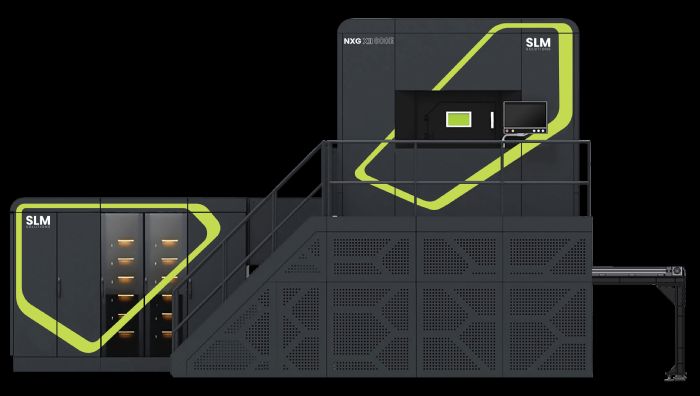 SLM Solutions has introduced the NXG XII 600E metal-additive manufacturing (AM) machine, with an extended 1.5-meter build envelope in the Z axis and based on the company's NXG XII 600 and its 12 1-kW lasers. As reported by 3D Metal Printing earlier this fall, SLM has slated this system for Concurrent Technologies Corp. the prime contractor for a U.S. Air Force Research Laboratory project. Customers already having installed the NXG XII 600, or about to, have the option to upgrade their systems with the extended Z-axis build envelope, according to SLM Solutions officials. Expect deliveries of these units in 2023.
The 12-laser configuration reportedly offers metal-AM production to 1000 cm3/hr. in the industry's largest build envelope. The machine also features an end-to-end production workflow including external cool-down unpacking to maximize machine uptime. In addition, the NXG platform features SLM Open Architecture that allows flexibility to tailor process parameters to optimize application results with maximum productivity using 90-µm layer thickness and beyond in commonly qualified materials. These materials include Inconel 718, AlSi10Mg, TiAl6V4 and copper alloys. And, support-free printing with Free Float capability offers freedom in design, and reduces the need for both support structures and post-processing time by as much as 90 percent, claim company officials.
For quality assurance, SLM.Quality offers documentation, process qualification, and part certification with the ability to generate a quality report quickly and fully document process data and validate part quality.
See also: Concurrent Technologies Corporation, SLM Solutions NA, Inc.
Technologies: Powder-Bed Systems