"While we've operated LPBF machines for the last 13 years, we find that the unique capabilities of the Sapphire allow us to print without compromise," Corliss explains.
What Does Printing Without Compromise Mean?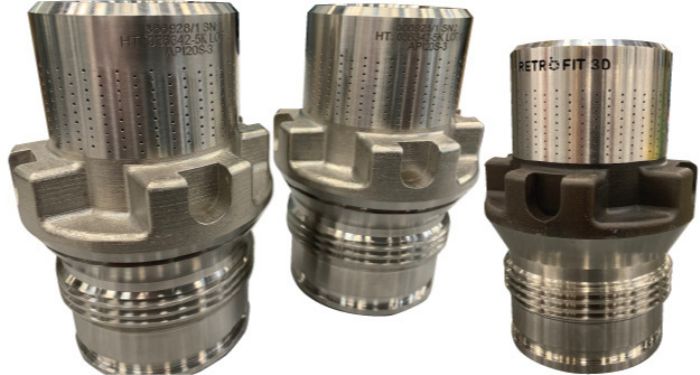 "While we've worked hard to educate our customers on how to design for AM, when we're working with designs that are less than optimal we find that the ability to use the Sapphire machines for support-free printing provides a huge advantage," Corliss shares. "And, the machines can print to near-net-shape geometry. We find that customers outside of the oil and gas industry often present us with more challenging AM parts, and they tend to develop new parts at a very rapid pace. The Sapphire machines allow us to keep up with the pace of new-product development and the need for prototyping. And, parts built with these machines typically require less post-processing than with our other LPBF machines, allowing us to shorten our turnaround times."
And, while its first AM machine had one laser, Knust-Godwin has graduated to machines with multiple lasers—as many as eight—and consistently looked to up its game by upsizing the build chamber. For example, three of its Sapphires have build chambers measuring 315 mm round with a 400-mm height, with plans to soon convert one of those to what Velo3D calls a 1MZ machine, extending the Z axis to a full meter. "We'll use that retrofitted model to print Inconel," Corliss shares, noting that three of Knust-Godwin's Sapphire machines print in titanium, and another—one of its newest—prints CRCop-42, for space-industry customers.
The newest Sapphire to hit the floor landed in mid-2022: a Sapphire XC, with a 600-mm round build chamber and 550-mm height, and equipped with eight 1-kW lasers. It's also used to print Inconel. "Inconel 718 is a very homogeneous material that lends itself very well to 3D printing," Corliss explains. "It meets the requirements of a lot of applications in the oil and gas, turbomachinery, and space industries, helping us reach a broader customer base."
Why eight lasers, when all of the company's other machines have no more than four?
"We're looking to build larger parts using multiple beams on the part at the same time, for speed and to make us more competitive," Corliss explains. "And, we're also looking at printing parts that might have been as many as 50 or 60 components assembled or welded together and making one big AM part using all eight lasers to print."
Multiple lasers also helps when printing smaller parts, Corliss offers. "Where a standard Sapphire, for example, might only be able to run six part builds at a time on the build plate," he says, "with the XC we might be able to process 32 builds on the plate, which really reduces our costs."
Among some of the Velo3D machine options that have gained favor at the company: the noncontact recoater and in-situ metrology sensors.
"For some of the fragile parts we're printing, the noncontact recoater is huge," Corliss shares. "Otherwise, we couldn't build some of the more sensitive and thin-walled parts. And, the sensors prove very useful in providing a digital certification of each build once it's completed. They allow us to create valid print reports, and they will stop the machine during a build if they start seeing issues. Several of our customers have begun to rely on the build files that the machines create; we get layer-by-layer information for each build that we can go back and review, validate the process, and identify any issues."
Prototype to Production Evolution
When Knust-Godwin initially launched its AM business, Corliss explains, his team would take on a prototype project, validate it for production and get it out in the field. "There often was a significant development gap from when we would complete the prototype to production," he says. "Now, we have several AM products in production. While we still run prototypes in the AM machines and perform validation builds, we're focused primarily on the AM parts that we believe will turn into production parts."
While some Knust-Godwin customers contract the firm for both subtractive and AM work, the majority of its customers still focus on subtractive machining. "Some of our customers go back nearly 37 years," Corliss says, "so we know the pain points of making some of these parts inhouse with subtractive processes. With our added expertise and capacity in AM, we've been able to convert many jobs over to AM, working with customers to provide them with shorter lead times and lower costs."
When it comes to its AM-only customers, some do their own inhouse machining, outsource the AM work to Knust-Godwin and then take the AM parts inhouse for any post-process machining.
An example of AM-only work?
"The space industry is moving at a rapid pace," Corliss says. "They are moving quickly, failing often, and reengineering and doing it again. That's the pace that we see, and it plays right to the advantages of AM. AM allows us to innovate quickly and learn from failures, and then reengineer until we get it right."
Corliss also finds that with the latest-greatest LPBF technology available with its newest machines, it also can deliver a lot of parts to customers as-printed—no post-processing needed.
"We often can provide such close tolerances on surface finish," he says, "so that we can avoid any finish-machining. In the past a lot of the parts had to be re-machined. Now, at the end of the day probably 80 percent of the blueprint can be left as-printed, and we only have to machine seals, O-rings and threads.
"At the same time, we're moving a lot of our post-process machining from complex five-axis machines to standard CNC machines," he adds, "where we have more capacity. From a business standpoint, this allows us to steer more complex non-AM-related machining to the five-axis machines." 3DMP
See also: Velo3D
Technologies: Powder-Bed Systems