Printed Tooling Insert a Bonus to Magna's Injection-Molding Process
March 11, 2016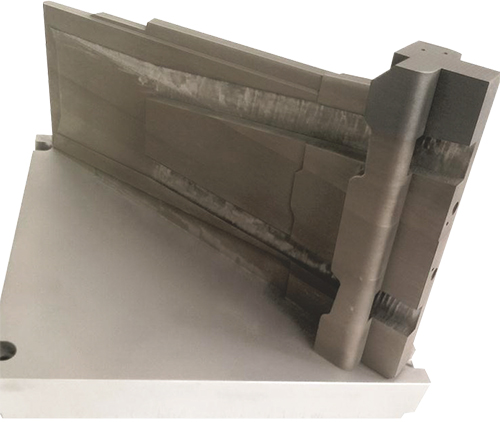 The 3D metal-printed tooling insert is shown on the build platform of the EOS DLMS machine.

Czech Republic-based Innomia a.s. has become a big advocate of the benefits of direct metal laser sintering (DMLS), more specifically the EOSINT M 270 DMLS machine from EOS. Most recently, Innomia has employed the machine to support its work for Tier One automotive supplier Magna in optimizing the production process for injection-molded plastic arm-rest parts.

During injection molding, the heat energy of the liquid base material must be dissipated throughout the tool facilitate precise temperature control and solidification and avoid deformation. Precise temperature control also helps to minimize production cycle time.

Previously, Magna had been using a tool insert, designed to dissipate heat, fabricated from heat-conducting beryllium-copper; it permitted cooling from only one side of the insert and led to uneven temperature distribution. In addition, very cold cooling water (16 C) was required, and as insert surface temperatures rose as high as 120 C, the resulting humidity accelerated corrosion.

For a better insert solution, Innomia designers developed a 3D-printed tool insert with integrated cooling channels measuring just 3-mm dia. The EOS machine deposits layers of maraging steel powder corresponding to 3D data, enabling the firm to manufacture a durable component, while at the same time, thanks to the cooling channels, provide quick and even heat dissipation. Also, a water temperature of 60 C is sufficient for cooling, reducing energy consumption. The insert surface remains below 90 C, resolving the humidity problem.