New Study Reveals Metal-AM Potential to Reduce Carbon Footprint
October 11, 2022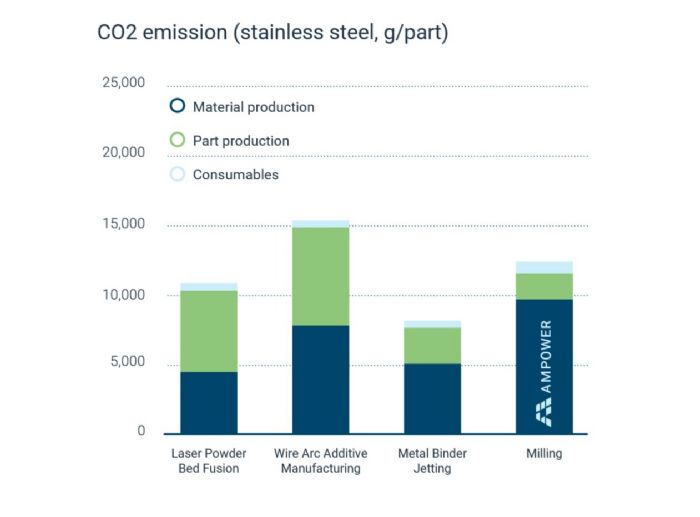 Metal additive manufacturing (AM) can contribute significantly to reducing greenhouse gases through material savings, according to a new study from industry consultant Ampower. This effect, the study reads, is even greater if the use-phase in the product lifecycle is considered.
Amid a rise in desire for sustainability worldwide, AM has been promoted as a production technology that can reduce emissions and, consequently, the carbon footprint of part production and complete product lifecycle. However, Ampower officials explain, detailed calculations looking at the complete production route and objective comparisons against conventional manufacturing have been scarce. The Ampower study, initiated in 2021 with 20 industrial partners, investigates the carbon footprint of different metal-AM technologies as compared to traditional metal-processing technologies such as machining and casting.
So which manufacturing technology delivers the lowest carbon footprint? It depends, according to the report.
"The overall footprint is heavily influenced by the alloy group as well as the part geometry," says Dr. Eric Wycisk, lead author of the study at Ampower. "Complex geometries with high 'buy-to-fly' ratios are favorable for net-shape technologies such as AM and casting, while simple parts might be most sustainable if milled."
Considering titanium alloys, laser and electron-beam powder-bed fusion AM can reduce the carbon footprint significantly when compared to milling. Due to AM's ability to manufacture weight-optimized designs, material input and the embodied energy are significantly smaller and compensate for higher energy consumption in the part-manufacturing process, the study reports. Embodied energy is less prominent for aluminum alloys and stainless steels.
In the framework of this study, Ampower developed a Sustainability Calculator for the CO2 footprint, which enables the assessment of a variety of alloy and technology combinations as well as customization of process routes. Download the report, Sustainability of Metal Additive Manufacturing—Analysis of the CO2 Footprint Along the Additive Manufacturing Process Chain, at www.ampower.eu/insights.
Technologies: Powder-Bed Systems