New AddUp LPBF Machine at Ohio State CDME
October 15, 2021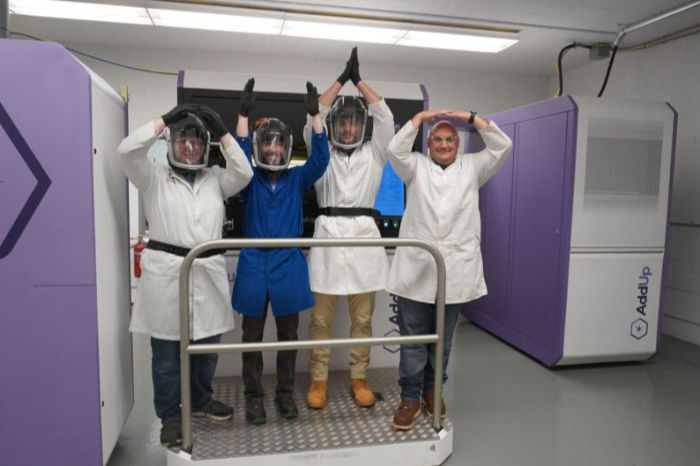 AddUp, Inc. and The Ohio State University announced the installation of a FormUp 350 laser powder-bed fusion (LPBF) printer at Ohio State's Center for Design and Manufacturing Excellence (CDME). The partnership offers students, researchers and faculty expanded opportunities to develop additive manufacturing (AM) processes and complement AddUp's six FormUp 350 printers being installed at the company's nearby Cincinnati, OH, facility.
CDME houses more than $5 million worth of AM equipment, including industrial 3D printers capable of processing metals, polymers, composites, biomaterials and ceramics. The FormUp 350 will enhance the center's metal 3D printing capabilities while enabling engineers to deliver reproducible series of industrial parts at high productivity levels.
The FormUp 350 (touted at RAPID + TCT 2021 by AddUp) features a large build volume—350 by 350 by 350 mm—and provides as many as four 500-W lasers, with each laser covering the entire platform surface. Its bidirectional coating system reportedly provides 40-percent faster powder-spreading cycles than monodirectional spreading. And, the machine's Autonomous Powder Module, developed exclusively for the FormUp in partnership with Azo, provides automatic powder management, guaranteeing a constant supply of powder without interrupting production regardless of the quantities to be produced, according to AddUp officials.
"The FormUp 350 already has equipped us with capabilities that we do not have with our other printers," says Edward Herderick, director of AM at CDME. "Its open platform allows us to tune strategies by accessing build parameters and enables us to achieve enhanced material properties through processing fine powder. We now can take on more complex projects requiring larger parts. This machine provides the largest build plate of all of our machines, and within its first few weeks of operation, the FormUp 350 has established itself as a reliable, operator-friendly platform."