Metal AM Big at Bugatti for Auto Parts
March 11, 2019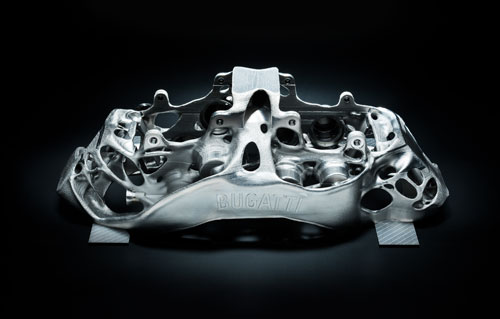 This Bugatti brake caliper, reportedly the largest (in volume) functional titanium component built via the selective laser melting AM process, was made from Ti6Al4V.
Early and often describes the adoption and use of metal additive manufacturing (AM) at Bugatti, a European manufacturer of high-performance automobiles. The automaker, a subsidiary of Volkswagen, enlists SLM Solutions, with U.S. headquarters in Wixom, MI, to provide the 3D printing technology used to produce multiple metal functional components for its high-end sports cars. The capability assists Bugatti in lightweighting efforts while providing functional as well as stylized parts, according to company officials.
These parts include a brake caliper, in terms of volume reportedly the largest functional titanium component ever built via the selective laser melting AM process. The component, made from Ti6Al4V, was produced by Fraunhofer IAPT and Bionic Production AG on an SLM 500 machine featuring four 400-W lasers.
Recent dynamic bench testing provides "proof that these metal AM components can cope with extreme strength, stiffness and temperature requirements at speeds exceeding 230 mph with a braking force of 1.35 g and brake-disc reaching temperatures greater than 2000 F," offers Frank Götzke, head of new technologies at Bugatti.
The testing revealed a tensile strength of 1250 MPa and material density surpassing 99.7 percent.