Green-Laser Printing of Pure Copper and Other Precious Metals
December 3, 2018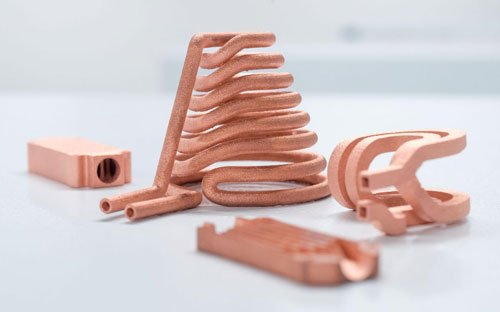 At formnext, Trumpf showcased the ability of its AM technology to process a range of materials, including pure copper and precious metals, via a new green laser with a pulse function.
"This makes it attractive for use in mechanical and plant engineering, as pure copper can be used to print particularly conductive inductors and heat exchangers," says Tobias Baur, Trumpf's general manager for additive manufacturing.
To achieve printing success with pure copper and precious metals, the developers connected Trumpf's new TruDisk 1020 disk laser with the TruPrint 1000 3D printer.
"Conventional systems use an infrared laser as the beam source, but its wavelength is too long and it can't weld highly reflective materials such as copper and gold—this can be done with laser light in the green wavelength spectrum," says Thomas Fehn, Trumpf's general manager-additive manufacturing with responsibility for sales. According to Fehn, this will open up new possibilities for 3D printing, for example in the electronics and automotive industries.
The green laser also holds great potential for gold printing in the jewelry industry, according to company officials, enabling individual unique pieces to be produced on demand while simultaneously saving expensive material.
"The 3D printer doesn't waste expensive gold and silver," Fehn says. As a result, printing often is more economical than milling or casting a piece of jewelry, which inevitably entails a loss of material.
See also: TRUMPF Inc.
Technologies: Metal Powders, Powder-Bed Systems