DoE Supercomputing Projects to Advance 3DMP
March 2, 2016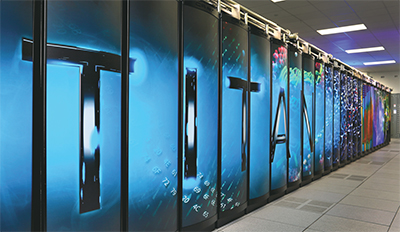 The U.S. Department of Energy recently announced 10 projects with industry as part of the agency's High Performance Computing for Manufacturing Program (HPC4Mfg). The DoE aims to leverage the computing power at U.S.-owned and/or operated laboratories available to conventional companies, to improve energy efficiency and reduce waste.
Among its first round of partners is the Oak Ridge National Laboratory (ORNL), which will be involved in four projects, each of which will receive $300,000 in initial funding. ORNL's stable of supercomputers includes the Cray supercomputer known as Titan, the fastest computer in the United States. Lawrence Berkeley and Lawrence Livermore National Labs (LLNL), both of which have great resources and expertise, also will support the HPC4Mfg efforts.
Two of the four ORNL projects focus on additive manufacturing of metal components, to design more efficient aircraft engines and improve durability and lifespan:
United Technologies Research Center, East Hartford, CT, will partner with ORNL and LLNL to develop and deploy simulation tools that predict the material microstructure during the additive-manufacturing process, to ensure that critical aircraft parts meet design specifications for strength and fatigue resistance. The project is titled, Integrated Predictive Tools for Customizing Microstructure and Material Properties of Additively Manufactured Aerospace Components.

General Electric will partner with ORNL to assist in the local control of melt pool and microstructure in additive-manufactured parts, under a project titled, Process Map for Tailoring Microstructure in Laser Powder Bed Fusion Manufacturing Process.
Technologies: Powder-Bed Systems