AMGTA Study to Compare Lifecycle Assessments of Aerospace Component
September 17, 2021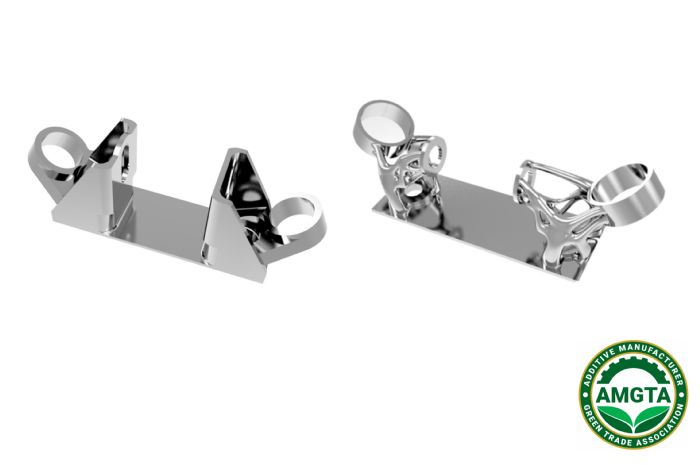 At RAPID + TCT…The Additive Manufacturer Green Trade Association (AMGTA) announced that it has selected the Golisano Institute for Sustainability at Rochester Institute of Technology to conduct a lifecycle assessment comparing an additively designed and manufactured aerospace component to a traditionally manufactured component. The study, to be ISO 14040-compliant, centers around the cradle-to-grave environmental impacts of a jet-engine low-pressure-turbine (LPT) bracket (pictured) produced through each method.
"This new study will include as many as 18 different environmental indicators to quantify the environmental impacts that an optimized jet-engine LPT bracket has throughout its entire lifecycle—from material extraction to manufacturing, transportation, use, and its eventual end of life," says Sherry Handel, AMGTA executive director. "This data then will be compared to a traditionally designed and manufactured LPT bracket to determine where exactly powder bed fusion additive manufacturing technology results in lower environmental impacts."
The LCA report will be peer reviewed by a panel of three lifecycle-assessment experts to ensure the accuracy of methodology, data, assumptions, results and conclusions. AGMTA expects the report to be published next spring with key findings announced at RAPID + TCT in May 2022.
See also: Additive Manufacturer Green Trade Association
Technologies: Powder-Bed Systems