AM Prototype Cuts Weight, Lead Time by Half on Large Rocket Part
April 3, 2019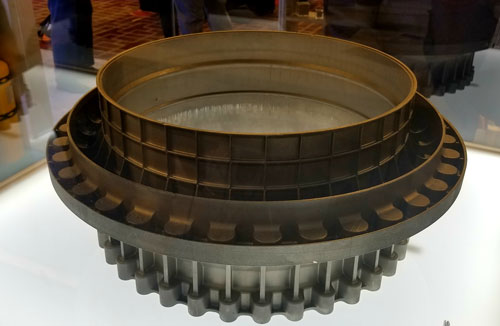 At AMUG 2019,GE Additive displayed this prototype of a ULA Vulcan Centaur rocket part, a bellows housing. The AM prototype reduced weight by 60 percent and lead time by half.
When the Vulcan Centaur rocket from United Launch Alliance lifts off in 2021, soaring with it will be the fruits of GE Additive's Project A.T.L.A.S. (Additive Technology Large Area System). As displayed at AMUG 2019 in Chicago, IL, a bellows feedline housing produced via the Project A.T.L.A.S. weighs in at less than 70 lb., 60 percent less than the original forged and machined part—1000-lb.-plus Inconel 718 alloy milled down to 173 lb.
Project A.T.L.A.S. represents GE Additive's program to develop the next generation of large additive manufacturing (AM) machines. The company developed this beta machine, which reportedly offers the world's largest direct metal laser melting (DMLM) build envelope, in only 9 mo. The 'meter-class' laser powder bed fusion machine showcases several key technologies, including scalable architecture, combined with feature resolution and build-rate speeds surpassing today's machines, according to GE Additive officials.
Select customers, report company officials, currently operate beta machines to gain early appreciation of their current capabilities and long-term potential, and to provide learning and experience feedback to enhance future machine configurations.
The beta build envelope measures 950 by 810 by 300 mm (scalable). Machine attributes as reported by GE Additive include gantry-based architecture, use of as many as four 1.5-kW lasers, state-of-the-art scanner with 3D focusing, discrete material dosing, optimal air-flow control over the print area, high feature resolution, and process and machine health monitoring courtesy of GE's Predix software.