The M3 system post-processes delicate metal and plastic AM components with complex geometrical shapes, and that require extremely gentle processing. Individual mounting of workpieces prevents nick or scratch damage as the workpieces never touch each other. Also, with parts totally immersed while being dragged through the finishing media, the process can treat complex internal passages. Finish one component measuring to 650 mm, or simultaneously treat several smaller parts. The pneumatic media-handling system eliminates the need for manual removal or addition of media, thus improving overall cost efficiency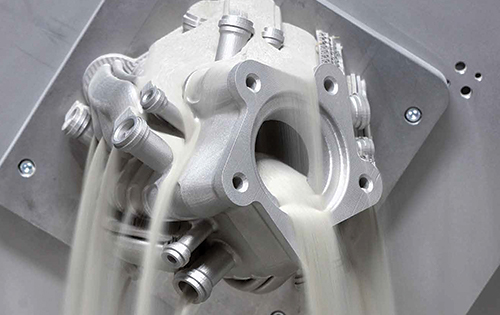 Solukon's SFM-AT800 machine provides fully automated cleaning of large and complex direct laser melting metal parts with internal channels and difficult-to-access geometries, and is ideal for integration with AM production lines.


Automated Depowdering, Including Complex Internal Channels, of Large Parts

The SFM-AT800 from Solukon, ideal for integration with automated production lines, provides fully automated cleaning of large and complex direct laser melting metal parts with internal channels and difficult-to-access geometries while requiring minimal maintenance, according to company officials. The process runs in a protected atmosphere, and powder can be collected for recycling


The unit's two programmable axes enable automated cleaning, as the system saves and combines several component positions with an assignment of different functions and holding times. Two safety-interlocked glove ports facilitate supplemental manual cleaning with compressed air or inert gas. The SFM-AT800 is designed without any ignition source, and the safety-monitored inert-gas-infusion system ensures protection against explosions when working with reactive metal powders. The machine can hold several compact workpieces, with an automated roof and an optional automated back door that enables access by cranes and robots.

The SFM-AT800-S, a special version of the machine, features two infinitely rotating axes with servo drives. While the standard SFM-AT800 can move a part to every 3D position, the S-version can move a part along a programmed path to depowder intricate internal channels. Codeveloped with Siemens, the S-version recently completed successful beta testing with AM providers, according to company officials. Partnering the SFM depowdering technology with Siemens' software allows parts to be rotated in a sequence calculated from the CAD geometry to drain residual powder from conformal cooling channels and other intricate cavities. This not only saves manual-labor time, but also reduces waste powder and scrapped parts due to powder residue issues.

Partnership Aims to Integrate Finishing Process into AM Value Chain


At formnext, Oerlikon AM announced a strategic alliance with Hirtenberger Engineered Services to further industrialize series production and prototyped parts.

Oerlikon AM and Hirtenberger began working together early in 2019 to evaluate the Hirtisation process, an AM post-processing technology that allows 3D surface treatment, including removal of support structures and automation of post-processing steps. From there, the two companies created a joint working group to explore how the process can be integrated into the AM value chain.

The process reportedly results in smoother surface textures, and allows for the production of complex parts that require interior support structures during production, but which need those structures removed after completion, without impacting part integrity. Oerlikon and Hirtenberger expect industries that require complex parts, such as turbomachinery, oil and gas, automotive, and general industry, to benefit most from the process.

Additionally, the two companies are working to apply the Hirtisation process to prototyping, where eliminating extra finishing steps can improve productivity.

"For Oerlikon AM, the Hirtisation process addresses one of AM's major challenges, which is to provide our customers with parts having more complex geometries―some of which are not possible nor economical with existing AM and post-processing technologies," says Dr. Christian Haecker, head of the Oerlikon AM Industrialization unit.

Says Dr. Wolfgang Hansal, managing director of Hirtenberger Engineered Surfaces: "(Our process maintains) the full freedom of the printed-parts design, while allowing cost efficient post-processing. Closing the interfaces along the production chain from post-processing back to construction, design and printing is key for the establishment of reliable AM, from prototyping to large-quantity serial production. For these reasons, Oerlikon AM is an important partner."

The two companies intend to bring this technology jointly to the North American market in 2020.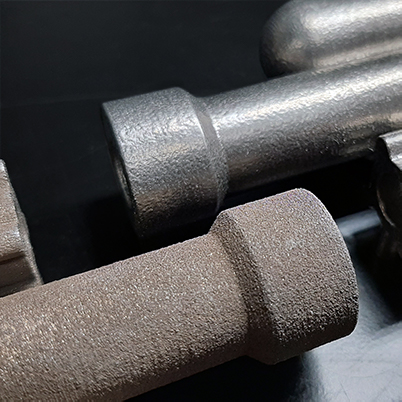 PostProcess offers Automat3D machine-operating software with a sophisticated finishing algorithm, and Connect3D software that reads design and print data to recommend post-processing programs to Auotmat3D.

Digital Thread Extends Through to Post-Processing

…is the way PostProcess Technologies officials describe the purpose of the company's Connect3D software platform, now in alpha testing. The AM digital thread currently captures data for design and print phases, they say, but the thread ends prior to crucial post-processing. Connect3D enables PostProcess machine offerings to leverage native CAD-file or 3D printer sliced files to automatically define the necessary requirements and algorithms for post-printing. The digital thread reportedly allows the software to become progressively smarter and more efficient in the decision-making required to deliver optimal post-printing results. Connect3D, designed for a range of metal and polymer materials, imports most native CAD formats. In practice, the software ingests files from the design and build steps of the process, and reads that data to recommend post-processing programs for Automat3D, the PostProcess machine operating system.

Automat3D controls all aspects of operation, including support removal and surface finishing. Automated alarms and warnings calibrate to users' specific needs, to minimize or eliminate human error arising from system operation—lower water, low psi, chamber door open, non-optimal pH, etc.. The software constantly shows critical part information in order to optimize temperatures, psi ranges, maintenance schedules, cycle durations and agitation settings. It allows for remote monitoring via the Windows Team Viewer.

Coinciding with formnext, PostProcess announced a $20 million Series B Round of funding and expansion further expansion into European markets. The Series B funding, led by financial investor Grand Oaks Capital, is expected to accelerate the company's development of proprietary software, hardware, and chemistry with a focus on data analytics and machine learning.

Also, a year after its launch into the European Union market, the company has invested in a new Finish3D Benchmarking Lab supported by a substantial grant from French regional authorities. The technology demonstration and customer support facility, to be located in France, will host benchmark test products and also serve as a training center for European customers. It will replicate the PostProcess demonstration, benchmarking and training center at the company's Buffalo, NY, headquarters.

PostProcess also announced two new European distributors: Cylaos for France and KMC for Nordic countries. And, at press time, the company revealed expansion to Asia through an agreement with Japanese distributor K.K. Irisu. 3DMP

See also: Oerlikon Metco US Inc., Siemens Industry, Inc., Rosler Metal Finishing USA, LLC, PostProcess Technologies, Solukon Maschinenbau Gmbh

Technologies: Post Processing, Software