Startup's System for Cleaning 3D-Printed Items
May 3, 2017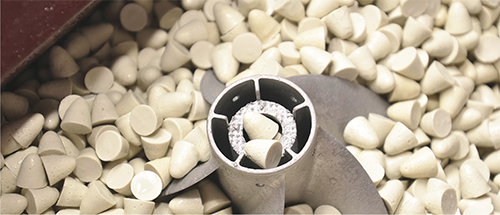 3D printing has a dirty little secret: It can be very tedious to clean away the support structures and extra material once an item is printed. And, getting the part smooth and polished is another hurdle. It's a challenge that could be holding back the large-scale adoption of 3D printing among manufacturers.
However, a Buffalo, NY-based company, PostProcess Technologies, has developed automated systems for cleaning off 3D-printed parts. The process takes complex parts (metal or plastic) and polishes them to gleaming luster, including interior spaces. Machines also remove support structures that most parts require in order to be printed.
The company's process has three integrated elements: software, hardware and consumables (detergents, and abrasive and polishing media). The motion of fluids within the machines is controlled by a software algorithm that uses sensor data to adjust the process in real time to prevent parts from being forced into a corner of the tank. And, energy input is tightly controlled and monitored to prevent part damage.
Detergents used in the cleaning process are specifically formulated for 3D-printed materials and can remove supports from most materials. Detergent use can be tuned using nanosecond switching times to attack less-dense forms of a material—such as a metal support structure—without affecting the final printed part.