Canada's Javelin Technologies and Cimetrix Solutions Form 3D Force
May 9, 2018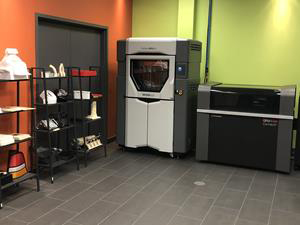 Printers at the Cimetrix additive manufacturing lab in Oshawa, ON.
Canada has a new 3D -design-engineering and additive-manufacturing powerhouse, the result of a merger involving two Ontario-based companies: Javelin Technologies, provider of 3D-design engineering, product-data management, automation and additive-manufacturing services, and Cimetrix, provider of additive-manufacturing and laser-scanning solutions for industry and educational institutions.
The senior management team for the integrated company consists of Javelin's leaders, John Carlan and Ted Lee, and James Janeteas of Cimetrix. Javelin will operate as Javelin Technologies and Cimetrix as Cimetrix Solutions, a division of Javelin Technologies. The integrated company covers Canada, with offices in Vancouver, Calgary, Edmonton, Winnipeg, Kitchener, Oakville, Oshawa, Montreal, and Dartmouth.
Javelin, which represents and sells SolidWorks software and 3D-metal printers by Stratasys and Desktop, was recognized by Canadian Business and Profit, as one of the fastest-growing information technology companies on the Profit 500 list. Cimetrix, one of Canada's leading additive-manufacturing resources, makes technology and equipment solutions for a range of market segments: from automotive to aerospace, and education to medicine.
"For the past 17 years, Stratasys has had strong representation in the Canadian market with our partners Cimetrix Solutions and Javelin Technologies," says Rich Garrity, president, Americas, for Stratasy. "The additive manufacturing landscape is changing at an ever-increasing rate and we value and need strong, industry-defining partnerships to help customers navigate."
For more,
www.javelin-cimetrix.com
.
See also: Stratasys, Inc., Desktop Metal, Inc.
Technologies: Other