"The collaboration between Cobra, HP and Parmatech began in earnest in June 2019," reports Uday Yadati, senior director in the Metals 3D Printing business unit of HP, Inc. "Since then, Cobra has developed a multi-year strategic roadmap to grow utilization of Metal Jet 3D printing. Cobra first worked with HP to optimize part designs with HP Metal Jet to improve club performance. Subsequently, Parma-tech (which will employ its stable of Metal Jet printers to make the parts) has begun production efforts."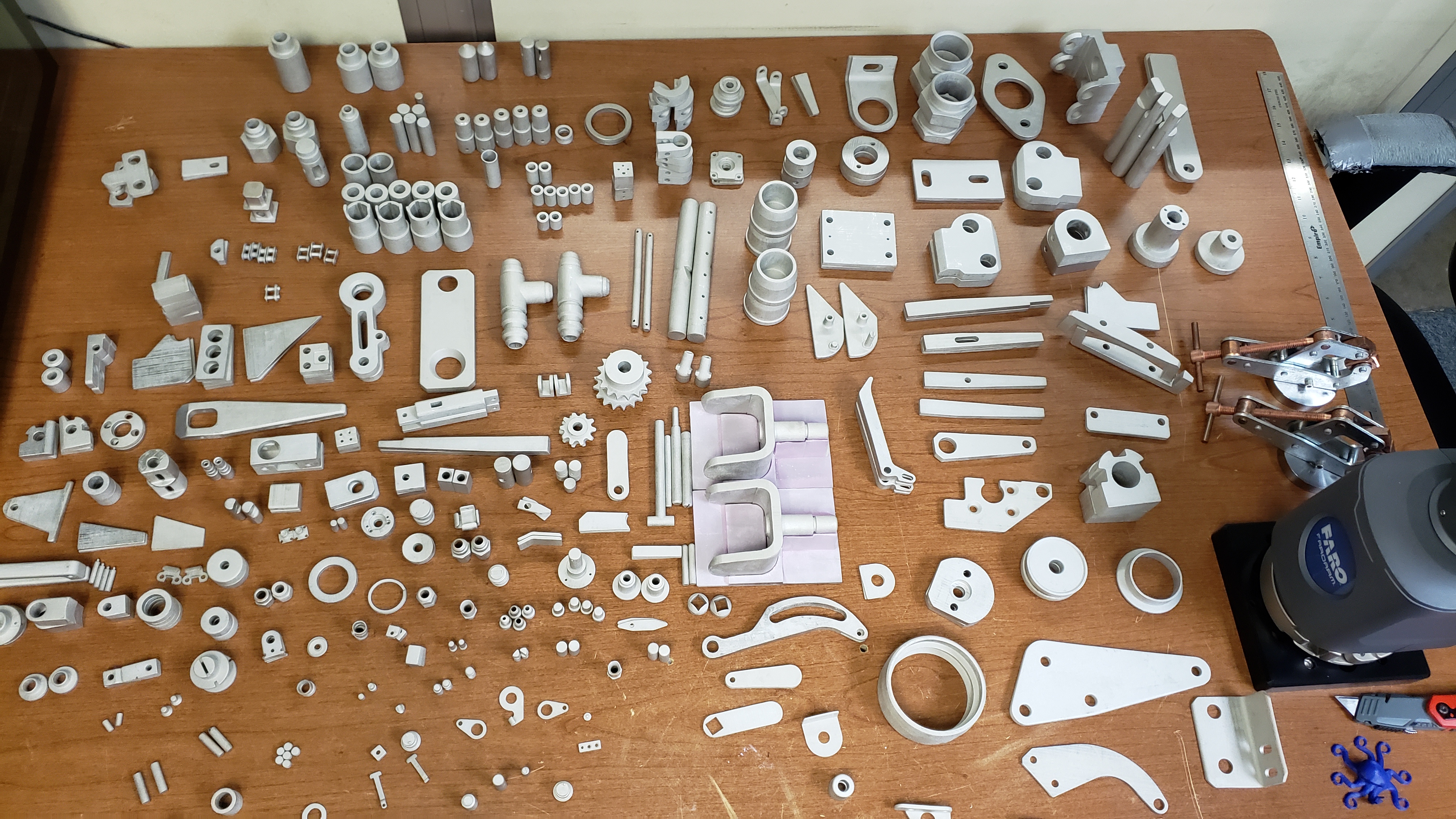 These stainless-steel replacement parts produced for U.S. Marine Corps vehicles enable improved equipment readiness and a means of overcoming a stalled supply chain. Photo courtesy of U.S. Marine Corps.
Before this project, Cobra had employed 3D printing only for prototyping, according to Ryan Roach, senior principal innovation engineer for Cobra Puma Golf. He notes that while 3D printing did enable design freedom and more rapid design iterations, subsequent part production via traditional manufacturing processes were proving costly and time-consuming.
"With Metal Jet," says Yadati, "Cobra has been able to make the leap into production."
Supply-Chain Solution for Marine Corps
The U.S. Marine Corps, report HP officials, is readying for production of stainless-steel spare parts for its Amphibious Assault Vehicle (AAV) via the Metal Jet. The ability to 3D print required parts typically unavailable in the traditional supply chain helps keep the nearly 40-yr.-old vehicle operational—the replacement window for the AAV fleet remains at least a decade away.
The vehicle's impending retirement has reduced incentives for private manufacturers, the traditional source for AAV replacement parts, to make such parts. That reality is impacting the Marine Corps supply chain, leaving dozens of AAVs (out of a total inventory of 1024) sitting idle for months. Thus the reliance of the Marine Corps on HP Metal Jet 3D printing to produce hundreds of replacement parts, including bolts, mounts, brackets, cranks and couplings.
"This is a critical part of our future, ensuring readiness of those in uniform," says Kristin Holzworth, chief scientist for the Advanced Manufacturing Operations Cell, part of the USMC Systems Command.
About 200 AAV parts have been printed on Metal Jet printers at Parmatech. The technology allows the parts to be printed rapidly and in mass—a shift that doesn't simply steady the supply chain, it provides replacement parts faster than ever, according to USMC Col. Patrick M. Col. Tucker.
"Metal Jet is big advantage to us," says Col. Tucker, commanding officer of Combat Logistics Regiment 15 at Camp Pendleton, CA, where Marines train in AAVs. "Being able to clasp 50 different, subtractive-manufacturing lines into a couple of prints (what used to be required), you almost can't even put words to that. The efficiencies likely to come from that are absolutely astronomical."
And, printing removes the need to weld together assemblies of multiple pieces.
"It gets rid of welds, which is absolutely amazing," says Sgt. Jonathan Anderson, part of the 1st Supply Battalion at Camp Pendleton. "A weld always is a weak point. We actually are increasing the lifecycle of these parts and potentially increasing the lifecycle of the vehicle."
This spring, 3D-printed parts are undergoing the first phase of testing to confirm that they fit, that their size and weight are accurate, and that they are functioning properly in a test vehicle. So far, all the parts have passed, Holzworth reports. Phase two of the testing will gauge the parts' reliability by installing them into the AAV testing vehicle and putting that vehicle into motion.
This AM push may have far broader implications for the Marine Corps, the second-smallest branch of the U.S. armed services (only the Coast Guard is smaller).
Its size contributes to the USMC's "shallow" supply chain, Col. Tucker says, meaning that parts needs within the Marine Corps are not nearly as large as, say, the scale of parts required to keep the U.S. Army in perpetual operation. Consequently, industrial manufacturers are somewhat less motivated to devote their factories and machines to parts-making for the Marines.
"That's why something like rapid part production is so interesting," Col. Tucker says. "This capability would allow us to move around that problem."
While the AAV serves as a "good Guinea pig tester," Col. Tucker says, his team also is looking at other platforms beyond the assault amphibious vehicle that may be good candidates for printed parts.
Parmatech, tasked with fulfillment for both the Marine Corps and Cobra Golf projects, has been running multiple Metal Jet machines in production mode since early 2019.
3DMP
See also: HP Inc.
Technologies: Other