At IMTS, representatives from GKN Powder Metallurgy and Parmatech discussed how they have employed the technology to produce parts for Volkswagen, Wilo and others.
HP built carefully and deliberately on that debut, and now the company plans to ship printers in the second half of 2020 for lead customers, with broad commercial availability planned for 2021.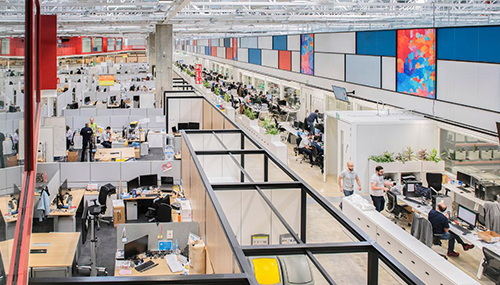 The new center boasts professionals in systems engineering, data intelligence, software, materials science, design and applications—it may be the world's largest population of AM specialists in one location, according to HP officials.
To help promote the technology and its capabilities, at AMUG 2019 in April, HP announced the wide availability of its Metal Jet Production Service for final-parts production. Users, via the service, can upload 3D design files and receive functional metal parts, produced on HP Metal Jets by GKN and Parmatech, in large quantities. Tim Weber, global head of HP's Metal Jet business and a 25-year HP veteran, including the past five dedicated to 3D printing, detailed the service in an AMUG presentation.
The AMUG conference also provided the venue for a presentation on HP's work with AM-supply-chain enabler and part provider Fast Radius. This presentation highlighted the company's nonmetal Multi Jet Fusion technology, on which Metal Jet is based.
"More than 10 million parts were produced on HP's Multi Jet Fusion technology in the last year," explained Christoph Schell, HP's president of 3D printing and digital manufacturing, noting that the company continues to expand its metals and plastics portfolio across both prototyping and production, and build out its community of global partners.
The nonmetal partnership showed how HP has embraced, and been able to succeed in volume 3D printed part production. As part of the presentation, Lou Rassey, CEO of Fast Radius, detailed his company's technology platform and manufacturing footprint, which employs various 3D printing technologies, including HP Multi Jet Fusion machines.
He also detailed Fast Radius' Application Launch Program (ALP), including dividends via the ALP with HP. The collaboration has delivered a number of developments, Rassey explained. Husqvarna Group, a manufacturer of outdoor power products, is moving parts in its spare parts catalog to the Fast Radius Virtual Warehouse, where they can be produced using Multi Jet Fusion 3D printers and shipped on demand as needed. And, Yanfeng is employing AM and the HP machines to make advances in the driver's experience in the vehicles of today and tomorrow. Also, the U.S. Marine Corps reports significant strides with AM, including Multi Jet Fusion, to enhance its readiness-now capabilities.
Big Investment in R&D
Again, though nonmetal, these applications exhibit HP's deliberate entry and entrenchment into AM, and the opening of the Barcelona center only cements that, and helps propel efforts in Metal Jet machine and material development.
"HP's new 3D Printing and Digital Manufacturing Center of Excellence is one of the largest and most advanced 3D printing and digital manufacturing research and development centers on Earth—it truly embodies our mission to transform the world's biggest industries through sustainable technological innovation," said Schell in announcing the opening in June. "We are bringing HP's substantial resources and industrial 3D printing expertise together with our customers, partners, and community to drive the technologies and skills that will further unleash the benefits of digital manufacturing."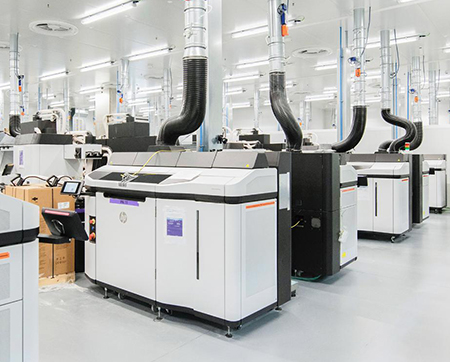 Rows of AM machines at HP's new R&D center enable collaboration and testing in a factory environment.
Specifically designed for active collaboration across HP engineering and R&D groups, customers, and partners, the new facility integrates flexible and interactive layouts, co-development environments, and fleets of the latest HP plastics and metals 3D production systems to drive more rapid and agile product development and end-to-end solutions for customers, according to company officials. Partners such as BASF, GKN Metallurgy, Siemens, Volkswagen and others across the automotive, industrial, healthcare and consumer-goods sectors will continue collaborating with HP on new 3D printing and digital manufacturing innovations at the center.
HP's investment in the new Barcelona facility significantly expands the company's global 3D printing and digital manufacturing footprint and enhances existing innovation locations in Corvallis, OR; Palo Alto, CA; San Diego, CA; Vancouver, WA; Barcelona; and Singapore. A tour and demonstrations at the Barcelona center revealed intense efforts to pursue the metal-part sector.
Cost-Effectiveness the Only Option—MIM Provides the Model
Weber set the stage with a presentation on the science behind Metal Jet, and how he sees the technology succeeding.
"When we started building this business, we recognized that it wasn't just about prototyping, it was about manufacturing," Weber explains. "Save for a very-high-value application, without a cost-effective part you cannot manufacture in volume. We had to be cost-effective, and jetting is cost-effective. Instead of a laser scanning back and forth, which can be slow and costly, we basically jet a binder into a metal powder."
Weber refers to jetting as "area-wide" technology, a much more efficient method than a "point process," as he describes laser-bed printing.
"So this process runs about 50 times faster than other presently available binder jetting and selective laser melting metal-AM processes," he says, stressing that the result is efficient batch production, with multiple parts produced quickly within the build area. "The Metal Jet delivers an HP binding agent to a powder-metal bed and industry-standard metal-injection-molding (MIM) metal powders. The inkjets page-wide printhead spans the entire powder bed, and the binder is applied across the entire area with a single pass."
Weber attributes speed, density and accuracy in part to inkjet-nozzle redundancy, with the Metal Jet reportedly featuring four times the number of nozzles and two times the number of print bars as presently available systems.
Density after sintering is greater than 93 percent, similar to densities achieved via MIM. In addition, HP officials report, the Metal Jet can produce multiple parts simultaneously, and parts can be arranged freely in multiple levels within the bed to optimize packing density, productivity and cost. And, no build plate is required.
The machine spreads lower-cost (compared to powders developed for AM) off-the-shelf MIM powder, according to Weber. The powder measures about 10 microns, as compared to 50-micron polymers used in HP's nonmetal machines. Why 10 microns?
"When sintered, it provides great material properties, which the MIM industry figured out over the last 40 years or so," Weber says. "Then, instead of a fusing agent we jet a binding agent and build layer by layer. With no support structures required, there's no need to machine them off, which eases automation of the process."
Obviously, HP paid attention to MIM when developing the Metal Jet, and sees MIM markets as good possibilities for its technology, along with investment casting.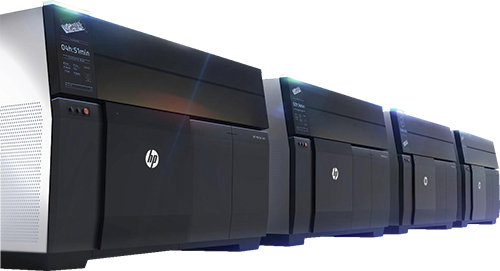 At IMTS 2018, HP signaled its entry into 3D metal printing with the introduction of its Metal Jet printer, employing binder jetting technology that promised print speeds to 50 times faster than current AM machines.
"We see market opportunities relative to what's consumed in iron and steel," says Weber, "including not only stainless but also low-alloy and workhorse steels used in the automotive industry. We're not going to focus on aviation and reactive materials such as titanium, but automotive, industrial and medical can be ideal applications."
Though not achieving tolerances attained with MIM, "The MetalJet tolerance will approach that of MIM," says Weber, "with a secondary operation to achieve critical dimensions in certain areas of a part if needed."
Considering the tooling required in these other processes, printing proves more economical up to a certain volume point. As an example, Weber showed a valve lifter, produced via MIM and using a mold that costs $50,000.
"From a break-even standpoint, it's cheaper to print 50,000 of these than to use MIM," he says. "Over time, as our productivity improves as it has with our nonmetal printers, we think the break-even point will move out farther and farther."
GKN, VW Bullish on Binder Jetting
Representatives from GKN and Volkswagen again were on hand—HP partnered with these and other companies to gain insight into metals materials and part manufacturing—to detail their metal-printing efforts. GKN, a powder producer and maker of sintered and AM parts, consumes 300,000 tons of powdered metal each year, while the AM industry worldwide consumes less than 2000 tons/yr., claim company officials. It launched an AM-parts business unit about 2 years ago, according to Guido Degen, president of additive manufacturing for GKN Powder Metallurgy, and seeks mass production via AM.
"Binder jetting allows us to bridge from low volumes (via laser-bed processes) to volumes of 50,000 or 100,000 pieces, or more," Degen says, citing technology advantages such as competitive costs, time to market and design freedom. "It adds to our portfolio. We now become a solution for customers needing one part or 1 million (MIM gets the call for volumes surpassing 100,000 parts)."
For its part, Volkswagen sees binder jetting as a solution first for its low-volume parts (5200 different VW parts fit in this category), and then later on for higher-volume parts, according to Sven Crull, Volkswagen Group's head of design for new manufacturing technologies. He sees the technology as ideal as the automaker works toward its goal of mass customization, with AM finding its way from cosmetic parts to more functional applications. Crull expresses confidence in AM providing for these needs as materials and the process evolve. Of more concern to him: designers accepting AM and realizing the possibilities inherent in the process. 3DMP
See also: Hewlett Packard, GKN Aerospace
Technologies: Applications, Non-Powder Metals, Other