Dude! First-Ever Unsmashable 3D Printed Guitar
April 23, 2019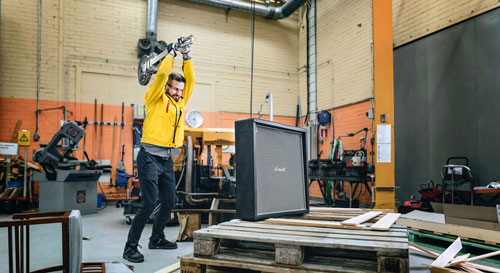 Rock stars have been smashing guitars for decades. With that in mind,
Sweden-based Sandvik
, a global engineering group, recognized an opportunity to showcase its metal-cutting, materials technology and metal 3D printing expertise, by producing the world's first unbreakable metal 3D-printed guitar.
"We designed a guitar that is unsmashable in all the different ways that you can smash a guitar," explains Henrik Loikkanen, machining process developer at Sandvik Coromant, a machining process developer at Sandvik Coromant.
A guitar player himself and a fan of Swedish-born rock star Yngwie Malmsteen, Loikkanen studied videos of Malmsteen destroying guitars during live performances (think Jimi Hendrix) to discover that "the critical joint between the neck and the body is what usually cracks on a guitar.
So, Sandvik engineers eliminated the critical joint and developed a unique guitar construction, with the neck and fretboard milled in one machine from solid bars of recycled stainless steel, resulting in a rectangular hub that reaches deep into the guitar's body. "Our simulation software provided tool and cutting-data recommendations, helping us to mill the fretboard down to just 1 mm in some places," says Loikkanen.
Using hyperduplex stainless steel produced by Sandvik, the team engineered an isotropic lightweight structure (ILS), sandwiched between the guitar's neck and fretboard. This required modifications to the welding process as the fretboard could not afford any torsion, a common occurrence when welding long, thin components together. "The ILS looks like any other framework structure, but it's stiffer and lighter than anything we've seen before," says Tomas Forsman, a research and development specialist at Sandvik.
As for how to manufacture the guitar body, Sandvik relied on its metal-powder and 3D printing expertise to produce the laser-printed titanium guitar body, a complex design due to its need for high strength and low weight. "3D printing lets us create lighter, stronger and more flexible components with internal structures that would be impossible to mill traditionally," says Amelie Norrby, an additive manufacturing engineer at Sandvik. "And 3D printing is more sustainable because you only use the material needed for the components."
Forsman believes that the guitar project's collaboration represents the wave of the future. "Customer challenges continue to grow more complex," he says. "We need to keep inventing new ways to meet those challenges."
Watch this video
to learn more about how the making of the guitar and if it survived the performance.
Rock on!
See also: Sandvik Coromant Company
Technologies: Metal Powders