Velo3D Qualifies Copper Alloy for its Sapphire Printers
May 27, 2022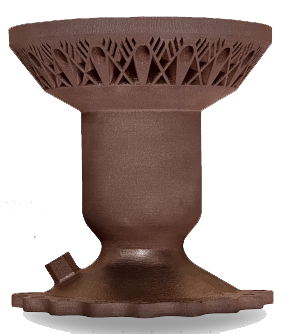 Velo3D has qualified the copper-chromium-niobium alloy GRCop-42 for use in its Sapphire family of printers, with the first group of GRCop-42 demo parts on display at the recently held RAPID + TCT event.
The GRCop-42 alloy was developed by NASA to manufacture parts in need of high-strength and high-conductivity, such as rocket-engine combustion chambers with regenerative cooling. Velo3D Sapphire users can use the newly-developed material parameters to produce mission-critical parts with oxidation resistance and high creep strength at temperatures to 1400 F.
"Adding GRCop-42 to our growing list of available materials enables us to support more use cases across the aerospace industry," says Benny Buller, Velo3D founder and CEO. "We've had extensive demand for Sapphires and Sapphire XCs that can print GRCop-42, and we've tested it to ensure that it can achieve the same high-quality builds as our other offered materials."
Contract manufacturer Knust Godwin will receive the first Sapphire printer utilizing GRCop-42. The Texas-based company has three systems currently in place to print other alloys, such as Inconel.
See also: Velo3D
Technologies: Metal Powders