System Enables Efficient, Safe Handling of Metal-AM Powder
August 17, 2018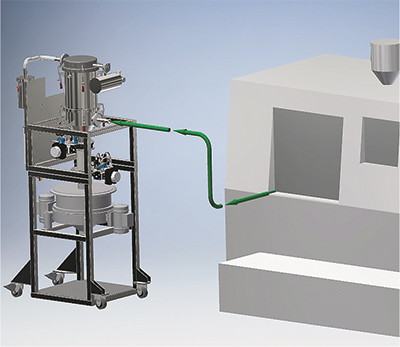 The newly introduced metal-powder recovery system by Vac-U-Max, maker of pneumatic systems and support equipment, increases productivity of additive-manufacturing (AM) machines by extracting powder from the printing bed using vacuum and then sieving the powder for future use. The closed-loop system prevents operators from coming into contact with the powder.
System features include:
Compressed air-driven vacuum generator with ½-in. NPT high-pressure air connection and variable orifice assembly for adjustment of vacuum levels. The generator requires 35 cfm at 60 psi.

Vacuum receiver package with 36 sq. ft. of filter area and counterweighted discharge valve. The component is made of 316L stainless steel.

High-output suspended vibratory sieving machine with US230 stainless-steel mesh and ultrasonic deblinding kit.

Control panel that incorporates a microprogrammable logic controller for vacuum-conveying functions, starter for sieve, ground and bonding monitor, and face-mount ultrasonic controls.

Rolling-square-tubular frame with locking casters and made of powder-coated steel.
Vac-U-Max: www.vac-u-max.com

See also: Vac-U-Max Inc
Technologies: Metal Powders