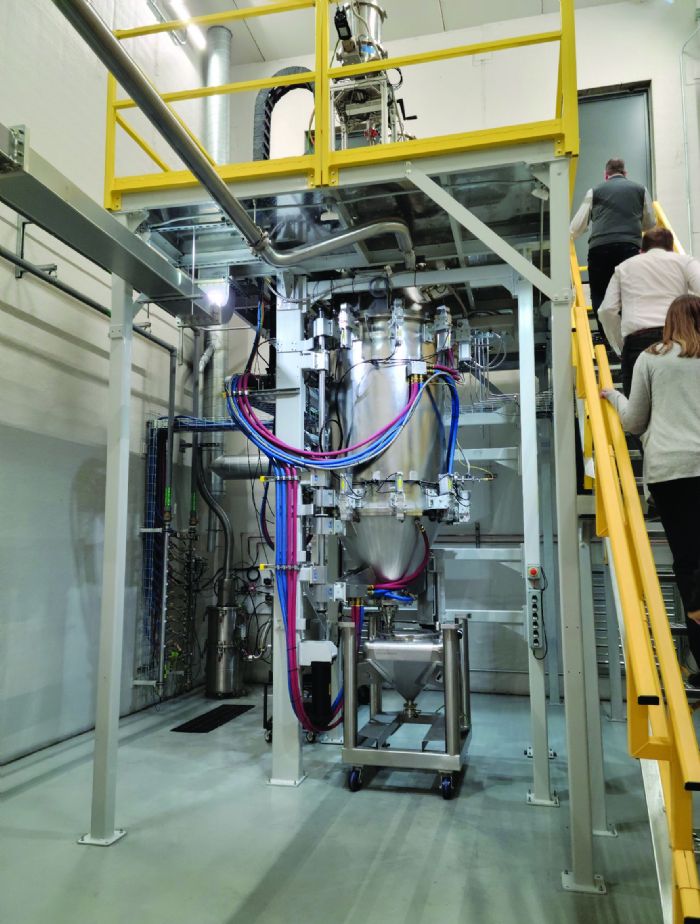 "With nonuniform distribution of high-oxygen-ppm Ti powder, certain part features with that high oxygen content will fail prematurely," Bono explains.
Defining specs for powder delivery from the material producer will help, but diligence must be maintained within the AM facility. In some cases, to ensure that powder maintains needed specs, AM operations only will use a single batch until it falls out of spec.
6K Expansion Underway
To gain more insight into powder mixing and the importance of uniformity, 3DMP recently attended a tour in Burgettstown, PA, where 6K Additive unveiled plans to double its powder-manufacturing capacity, including a facility-size increase of 35,000 sq. ft. and the adding of as many as 35 employees. 6K Additive offers what it describes as sustainable production of engineered materials for AM and lithium-ion batteries via its UniMelt plasma technology, which employs plasma to produce uniformly spherical powders in needed formulations.
In particular, the expansion plan includes 20,000 sq. ft. of additional powder-production capacity via four new UniMelt microwave plasma systems—two set for install in 2Q 2023 and two more later in the year—as well as the addition of a 15,000-sq.-ft. material-feedstock-preparation building. Over the last 12 months, company officials report, 6K Additive has seen rapid growth in the demand for its nickel, titanium and refractory powders. This powder-capacity increase—to 600 metric tons upon expansion completion—is expected to help meet customer needs for about the next 3 yr.
Adding the feedstock preparation facility to the Burgettstown 45-acre campus provides 6K Additive with vertical integration of feedstock sizing for nickel and titanium in the same location, noted Frank Roberts, company president, and other 6K Additive management during the tour. This will help to streamline operations while providing faster delivery and, ultimately, full control and quality of the powder produced via the UniMelt technology's capability for "tunable powder production," they explained.
The Burgettstown plant produces powders that include Inconel 718 and 625, Ti-6Al-4V, stainless steel and copper grades, as well as capabilities to produce aluminum alloys. 6K Additive also runs two UniMelt production systems at the company's parent headquarters in North Andover, MA, producing tungsten, rhenium and niobium-based alloys for hypersonic, defense and rocket applications. 6K Additive currently boasts 170 employees across its Pennsylvania and Massachusetts locations.
And, during the tour, Eric Martin, 6K Additive chief operating officer, provided a glimpse of the microwave generators that each serve a UniMelt reactor. An interesting fact: The generators employ the same technology used to cook bacon in premade bacon products and operate similarly to consumer microwave ovens, though 75 times more powerful.
"The ability to meet the demands of our customers in both quality and delivery is paramount for our organization," said Martin during the facility walkthrough. "The addition of a feedstock-preparation facility and the added UniMelt production capacity, along with full automation, will help to create a consistent operational flow to meet this demand."
Cumberland Additive, Quadrus Detail AM Innovation
Besides showcasing its expansion, 6K Additive included guest speakers in its tour: Mark Straszheim, regional director and advanced materials lead, Cumberland Additive; and Dr. Joseph Sims, director of advanced manufacturing for Quadrus Corp.
Cumberland Additive—originating as an Arconic spinoff from Alcoa—moved into Neighborhood 91, an AM production campus at nearby Pittsburgh International Airport, earlier in 2022 with the hope of growing its core competencies in metal AM and CNC machining while serving a growing aerospace, defense and oil-and-gas customer base. In 17,000 sq. ft. at Neighborhood 91, Straszheim reported, Cumberland Additive houses an SLM Solutions 500 HL AM machine and a Haas five-axis CNC mill, with more equipment on the way. The Pittsburgh location supports the company's home operations in Pflugerville, TX, in providing one-off to serial production along with engineering and qualification for all phases of product development and lifecycle. With proximity to Neighborhood 91 AM-industry product providers and suppliers as well as 6K Additive, Straszheim sees opportunities for synergy, and overall predicts a major role for AM-component providers in serving larger OEMs.
"Ultimately, OEM manufacturing will move into the supply chain," he said during his presentation. "We must be in it for the long haul."
Quadrus Corp. is based in Huntsville, AL, close to a customer, NASA's Marshall Space Flight Center, that "is big in metal AM," Sims offered during his talk. The company boasts three GE Additive Concept Laser M2 and one MLab machine along with a wire-EDM machine and dozens of software-development experts. Quadrus has a major focus on developing AM with refractory metals, which hold promise in hypersonic-flight applications, according to Sims. He sees great possibilities in working on these types of materials, as refractory metals, with their high performance in high-heat applications, are poised for greater use.
"It all starts with the powder," Sims explained, addressing a key factor in refractory metal-AM performance. 3DMP
See also: SLM Solutions NA, Inc., 6K Additive
Technologies: Metal Powders