Air Force Develops Steel for Additive Manufactured Parts
August 26, 2019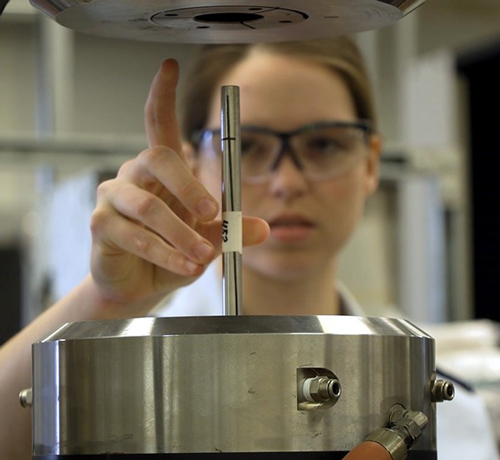 After printing various parts with AF-9628 powder, U.S. Air Force Capt. Erin Hager analyzes the resulting porosity, strength and impact toughness.Air Force photograph.
Parts additively manufactured with newly developed AF-9628, an Air Force steel, are about 20 percent stronger than conventional additive manufactured (AM) alloys in terms of ultimate tensile strength, according to
research conducted by Capt. Erin Hager
, an Air Force Research Laboratory (AFRL) employee and recent graduate of the Air Force Institute of Technology's (AFIT) Aerospace Engineering Program. The AF-9628 steel alloy, nicknamed Rachel's steel, costs less than some other high-performance steel alloy and is unique since it does not contain tungsten. Hager's research, sponsored by the Air Force Research Laboratory Munitions Directorate at Eglin AFB, FL, determined that AF-9628 is an optimal material for additive manufacturing due to its high strength. In working with Rachel's Steel, Hager employed powder bed fusion to create three-dimensional objects.
"To determine if AF-9628 was printable, we characterized the shape and size of the powder and how it changed with melting and sieving," Hager says. She examined it under a scanning electron microscope at the Air Force Institute of Technology and performed tests at the University of Dayton Research Institute using a size characterizing light microscope.
Hager provided the chemical composition of AF-9628 steel to Powder Alloy Corp., a Cincinnati, OH-based powder provider. Once she received the powder and determined that it melted predictably in the machine, she moved on to creating actual test articles. After printing various parts, she analyzed the resulting porosity, strength and impact toughness and found no evidence of cracking, describing the output as "very similar to traditionally manufactured parts and that they met or exceeded [specifications] straight out of the machine."
Hager used two machines at AFIT and printed about 130 articles, including 30 small cylinders, 60 larger cylinders, 20 tensile bars and 20 impact specimens. The parts made are suitable for weapons applications.
Technologies: Applications, Metal Powders