Nanoparticles Advance 3D Printing by Making the Unweldable Manageable
November 3, 2017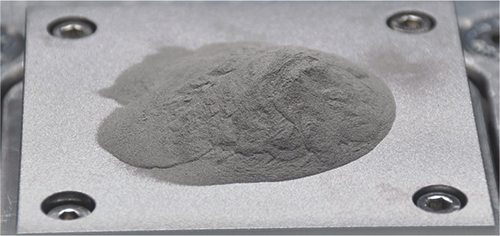 A technique for 3D printing parts made of unweldable aluminum alloys, including Al7075 and Al6061, appears to have solved an ages-old challenge associated with such materials—hot cracking, a condition that renders a metal part to be pulled apart like a flaky biscuit during the additive manufacturing (AM) process when the thin layers of alloy powders are heated with a laser or some other direct heat source.
A team of engineers at HRL Laboratories, Malibu, CA, addressed this challenge using a nanoparticle functionalization technique, which solves the problem by decorating the alloy powders with specially selected nanoparticles. The nanoparticle-functionalized powder feeds into a 3D printer, which layers the powder. During melting and solidification, analogous to welding, the nanoparticles act as nucleation sites for the desired alloy microstructure, preventing hot cracking and allowing for retention of full alloy strength in the manufactured part. This AM technique is scalable and also can be applied to high-strength steels and nickel-based superalloys.
"We're using a 70-yr.-old nucleation theory to solve a 100-yr.-old problem with a 21st-century machine," says Hunter Martin, who co-led the team with Brennan Yahata. Both are engineers in HRL's Sensors and Materials Laboratory, and Ph.D. candidates at the University of California, Santa Barbara (UCSB). Together with UCSB Professor Tresa Pollock and HRL engineers Jacob Hundley, Justin Mayer and Tobias A. Schaedler, they co-authored the paper, "3D printing of high-strength aluminum alloys," published in the September 21, 2017, issue of Nature.
To find the correct nanoparticles—in this case zirconium-based nanoparticles—the HRL team enlisted Citrine Informatics software to sort through the myriad possible particles to find the one with the right properties. "The point of using the software was to do a selective approach to the nucleation theory we knew to find the materials with the exact properties we needed," says Yahata. "This big-data analysis narrowed the field of available materials from hundreds of thousands to a select few. We went from a haystack to a handful of possible needles."
HRL Laboratories: www.hrl.com
See also: HRL Laboratories, LLC
Technologies: Metal Powders