Adds Paul Hoback, chief development officer for Pittsburgh International Airport: "Rusal America's commitment to Neighborhood 91 is another important step in the evolution of AM at the Pittsburgh Airport Innovation Campus. "We are thrilled to welcome Rusal America as the latest partner, further demonstrating the viability of Neighborhood 91 and the success of its ecosystem as a first-of-its-kind AM powerhouse."
Neighborhood 91 is expected to benefit from R&D expertise offered locally by the University of Pittsburgh and Carnegie Mellon University, and a local workforce "that knows how to build things," note development officials. Such capabilities radiate region-wide, with other AM-savvy institutions such as America Makes (Youngstown, OH), Case Western Reserve University (Cleveland, OH) and Oak Ridge National Laboratory (Oak Ridge, TN) all within a couple hours' drive. The roster of AM neighbors helps provide the critical mass required for this development to succeed. Speaking of neighbors, Pittsburgh is home to 90 distinct neighborhoods, and coalition partners see Neighborhood 91 as the 91st, hence the development name.
Wabtec Recognizes The Potential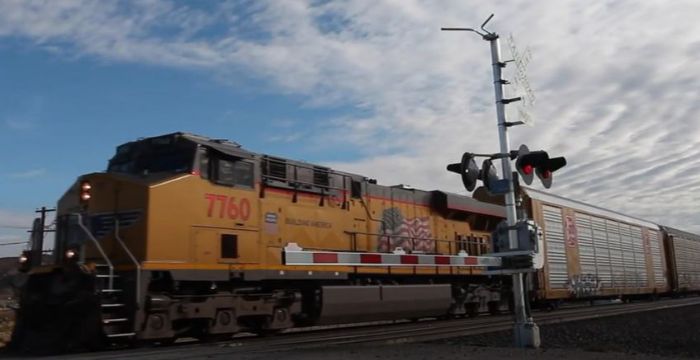 Anchor tenant Wabtec has invested in metal AM since 2017 when, then a part of GE Transportation, it began prototyping via the laser powder-bed process, followed by binder jetting beginning in 2019 to print stainless-steel parts. Throughout this process, the company's AM team identified some 250 components for locomotives, and heavy-haul and transit vehicles where AM might fit. Currently completing its move-in to Neighborhood 91, Wabtec will get on track with metal AM via its new inhouse SLM 800 quad-laser powder-bed printer.
"We'll use this new dedicated facility," says a Wabtec spokesperson, "to produce large-scale lightweight parts for transit and freight-rail applications. Converting these parts to AM will reduce lead times by as much as 80 percent."
Read details on Wabtec's railroad-part production via AM in 3D Metal Printing's Winter 2021 issue. Here, we'll focus on why Wabtec executives call AM one of the company's technology pillars, and how Neighborhood 91 offers opportunity for scaling as Wabtec plans for production of more than 25,000 metal-AM parts by 2025.
In business for a century and a half after its founding by George Westinghouse and his invention of railroad air brakes in 1872, Wabtec now counts 27,000 employees worldwide, with 10,000 in the United States.
Manufacturing locomotives for the rail-freight market, "we have produced more than 23,000 locomotives globally, and one-fifth of the world's trade is moved by a Wabtec locomotive," says Philp Moslener, corporate vice president of advanced technologies at Wabtec, describing the company's railroad prowess and foray into AM for attendees of the Neighborhood 91 webcast. In a nod to the company's innovative and forward-thinking nature, Moslener reveals that Wabtec recently has developed a locomotive that runs solely on battery power—a huge deal as the typical diesel locomotive gobbles up $500,000 or more annually in fuel.
In the 2016-2017 timeframe where Wabtec began its journey into metal AM, powders, quality systems, etc. all revolved around aviation and aerospace, recalls Moslener.
"We began applying this to rail," he says, "but immediately realized a problem."
The problem: Where aviation and aerospace AM applications involve lightweight parts performing delicate operations at extremely high temperatures, rail demands robust, weighty parts—similar to forgings and castings. (Fun fact: In rail, added weight actually helps fuel economy, providing momentum and smooth hugging of the rails as a train moves.) To best proceed in developing needed rail parts and determining the best technologies, materials and machinery to do that, initiatives such as Neighborhood 91 provide ideal avenues to access expertise and needed partnerships.
"We don't do additive to sell 3D-printed parts," Moslener says. "We do additive to make our locomotives and engines more competitive. The more locomotives we sell, the more locomotives we have to build. We need to build engines, motors, alternators…everything that goes into a locomotive. This is where a public/private partnership (such as Neighborhood 91) works for us.
"AM is capable of differentiating our products from the competition, as we've seen so far," he continues. "We can solve real-world problems, making us much more competitive in a global market. But AM suffers from a big problem: costs. We need to continue driving our costs down and making AM technology a natural go-to solution. This is why we've tied in with Neighborhood 91. It brings the support team to us, allowing us to reduce our costs, and be more efficient and quicker. Here, we can join a network of additive-minded companies and collaborate closely with them without having to send our parts a hundred miles away for development or processing. Having onsite gas recycling helps us reduce our costs; having a micro-grid helps us get cheaper power to run our machines; and having proximity to the airport allows us to save time when shipping our parts directly to other plants and global customers. So, we are quite excited to move in here and work toward our next level of activity."
Public/Private Partnership Delivers
"With Neighborhood 91, we've really stitched together a campus that works," offers Barnes of The Barnes Global Advisors, acknowledging the backing of federal, state and local government bodies, and support from U.S. Congressman Conor Lamb as well as the Allegheny County Airport Authority and its chief executive officer, Christina Cassotis. "The government is good at investing in infrastructure, and that's happened here. Creating a public/private partnership around argon recycling and a powder-storage facility eases the introduction to the campus and makes it safer and more secure. This is a resilient manufacturing infrastructure.
"Neighborhood 91 will impact the region," Barnes concludes, defining the region as extending east to Cleveland, OH, north to Erie, PA, and even up to the Toronto, Canada, area, and south to Oak Ridge, TN, and beyond. "The key to all of it is the public/private partnership. This isn't a handout. We created this project, and we have buildings up and tenants moving in. As Congressman Lamb mentioned, the government did its part, now it's time for private enterprise to come in and do its part. We see that. Companies are stepping up." 3DMP
See also: SLM Solutions NA, Inc., The Barnes Group Advisors, Wabtec
Technologies: Applications, Management, Powder-Bed Systems