Spotlight on Additive Manufacturing at IMTS
August 5, 2016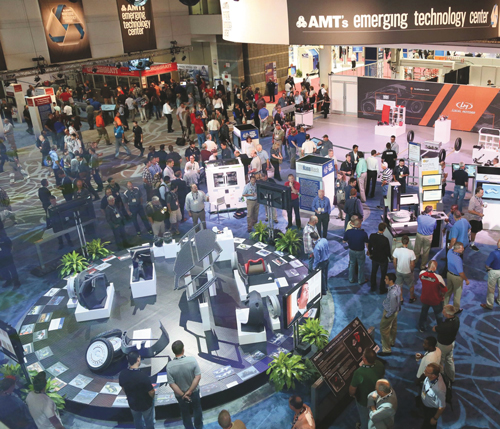 IMTS 2016 is the 31st edition of the premier manufacturing-technology show in North America. More than 2000 exhibiting companies will occupy 1.3 million sq. ft. of exhibit space at the McCormick Place complex in Chicago, IL. New this year is an Additive Manufacturing pavilion in North Building, B Hall.
IMTS 2016 lands September 12-17, 2016, in Chicago. It's the 31st edition of the manufacturing technology show and will welcome more than 2000 exhibiting companies that will occupy 1.3 million net sq. ft. of exhibit space at the McCormick Place complex. Among the technologies on display:
Metal Cutting: contains everything from machining centers and assembly automation to flexible manufacturing systems and lathes.

Tooling & Workholding Systems: jigs, fixtures, cutting tools of all types and related accessories.

Fabricating/Laser/Additive: home to waterjet, plasma-arc and laser-cutting and welding systems, arc- and resistance-welding equipment, heattreating apparatus, additive-manufacturing equipment and more.

Other pavilions at IMTS include Abrasive Machining /Sawing/Finishing; Controls & CAD–CAM; EDM; Gear Generation; Machine Components/Cleaning/Environmental and Quality Assurance.
Complementing the metalworking solutions on display at IMTS are five additional co-located shows:
Industrial Automation North America

Motion Drive, & Automation North America

Surface North America

ComVac North America

Industrial Supply North America
IMTS is held every even-numbered year in Chicago and attracts more than 114,000 buyers and sellers from more than 112 countries. Among this year's exhibitors are several displaying additive manufacturing technology in a new Additive Manufacturing Pavilion. See it all in the North Building, B Hall.
Exhibitors (as of this writing):
Manufacturing-industry professionals from all over the world attend IMTS to see more than 15,000 new machine tools, controls, computers, software, components, systems and processes that can improve their efficiency.




ExOne N-75

3D Systems S-9119, N-68

3rd Dimension

Industrial 3D Printing N-64

Cideas Inc. N-67

Concept Laser N-87

DM3D Technology, LLC N-66

EnvisionTEC, Inc N-83

EOS of North America, Inc. N-79

GPI Prototype & Manufacturing

Services Inc. N-62

HP Inc. N-91

Hybrid Manufacturing

Technologies N-63

Linear AMS N-61

Optomec Inc. N-73

Proto Labs N-72

Sciaky, Inc. N-65

SLM Solutions NA, Inc. N-71

Stratasys N-60

Vader Systems, LLC N-85

voxeljet America Inc. N-7097