The workshop program, presented by subject-matter experts, kicks off RAPID + TCT on April 23 from 8:30 a.m. to 2 p.m., and features eight information-packed seminars, including:
Casting Processes and Materials

Regulatory & Quality System Considerations for 3D Printed Medical Devices

3D Printing in Hospitals: What You Need to Know

Biomaterials and Bioprinting Fundamentals and Applications

Fundamentals of Additive Manufacturing

Fundamentals of 3D Scanning and 3D Modeling

Metal Part Fabrication Using Additive Manufacturing Technologies

Making the Business Case for Additive Manufacturing.
In addition, three days of conference presentations enable attendees to learn how to revolutionize product design; reduce time to market; create prototypes in a fraction of the time of traditional methods; cut costs; eliminate tooling; manufacture functional demonstration parts; and produce low-volume end-user parts and components.
A full conference pass includes lunch each day as well as full conference proceedings and access to keynote presentations, exhibits and all show-floor activities.
For those not attending the conference sessions, RAPID + TCT Tech Briefings (free to show attendees) provide basic fundamentals on important technologies.
Fundamentals of 3D Scanning/Imaging on April 24, 12:30-1:30 p.m., and April 25, 10:30-11:30 a.m., provides attendees with an introductory overview of scanning technologies and exhibiting companies.

Fundamentals of Additive Manufacturing, April 24, 10:30-11:30 a.m., April 25, 12:30-1:30 pm, and April 26, 10:30-11:30 a.m., offers a look at additive-manufacturing technologies and exhibitors.

Medical Manufacturing Innovations, April 24, 2:30-3:30 p.m., April 25, 2:30-3:30 p.m., and April 26, 12:30-1:30 p.m., describes the many ways in which AM is used in medicine

.
Much More on the Floor
As informative and eye-catching as the exhibits will be, expect even more on the show floor.
The RAPID + TCT Technology LaunchPad showcases the latest technologies, applications and new products. Located in the show-floor theater, the LaunchPad features several 15-min. technically oriented presentations focused on what's new from show exhibitors. Each presentation is followed by an interactive Q&A session with attendees and media as well as a networking opportunity.
In addition, the 3D Playground features a variety of entertaining hands-on 3D experiences related to scanning, printing, specialized materials and new production technologies. Visitors can learn how these solutions are applied to tooling and end-use applications. And, head over to the Knowledge Bar for daily opportunities to 'Ask the Experts.' Visitors can bring questions and challenges on 3D-printing applications and have opportunities for open discussions with industry experts.
Interested in learning how what's possible now will mesh with what's coming? Then you'll want to visit the Smart Manufacturing Hub, a show must-see that recognizes the evolution of the Internet of Things, Big Data and the desire for ever-increasing productivity. How will that drive the future of 3D printing? Find out here, as the industry's most advanced smart technologies are showcased. Technical presentations from industry-leading smart technology providers will provide insight on recent developments in this field.
Additional details, including pricing, conference times and topics, and exhibitor lists along with the opportunity to register are available at www.rapid3devent.com. And check out the following booth previews here.

Additive Module for CNC-Machine Simulation and Optimization Software
CGTech
Booth 843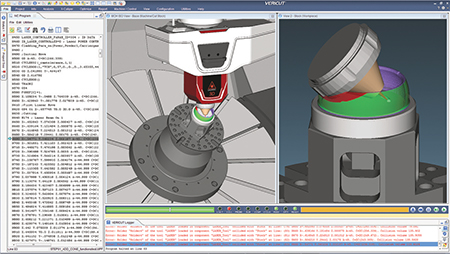 CGTech is featuring its VeriCut version 8.1 CNC-machine simulation, verification and optimization software that simulates all types of CNC-machining, additive and hybrid processes. The software operates independently, but also can be integrated with CAM systems.
Its Additive module simulates both additive and traditional CNC-machining capabilities applied in any order. Simulating both operations identifies potential problems that can occur when integrating additive methods. The user has access to detailed history stored with VeriCut's unique droplet technology, a programming timesaver that quickly identifies the source of errors with a single click, according to company officials.
The software's additive capabilities show realistic laser cladding and material deposition, detect collisions between the machine and additive part, and find errors, voids and misplaced material. VeriCut simulates the post-processed NC code that controls the CNC machine, ensuring proper usage of additive functions and laser parameters. Users can experiment with combining additive and subtractive processes to determine optimal, safe hybrid-manufacturing methods.
Laser AM Systems
Trumpf
Booth 1342

Trumpf displays its TruPrint 1000 Multilaser, TruPrint 3000 and TruLaser Cell 3000 with laser-metal-deposition (LMD) package. The TruPrint 1000 Multilaser, equipped with the two 200-W lasers, uses laser-metal-fusion (LMF) technology to create components layer by layer from metal powders with grain sizes as small as 20 µm. The TruPrint 3000, a medium-format AM machine for large-scale production of complex metal parts, utilizes LMF technology and processes parts measuring to 300-mm dia. and 400-mm tall. Depending on the part, weldable materials including steel, nickel-based alloys, titanium or aluminum are processed.
The TruLaser Cell 3000 with LMD package, a five-axis laser system, offers the option to use LMD technology in addition to other laser processes such as welding and cutting, making it ideal for adding volume and other shapes to existing parts.
Noncontact Laser-Beam Monitoring for AM
Ophir
Booth 1943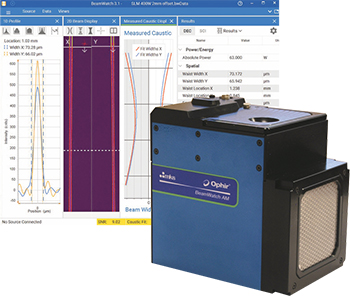 Ophir's BeamWatch AM reportedly is the industry's first noncontact laser-beam-monitoring system for AM. The lightweight, compact unit enables real-time measurement of focal shift during the laser startup of powder-bed-fusion processes. It measures key beam-size, position and quality parameters, including focus-spot size and beam caustic. This allows users to determine when the beam is aligned and in focus, thus providing more consistent metallurgy. BeamWatch AM uses Rayleigh scatter to image the beam without contacting the laser. This removes the potential for damage to the laser and speeds the measurement process by as much as 2 min., according to company officials.
DPBF and DMD Systems, and More
OR Laser Technology, Inc.
Booth 1630
OR Laser demonstrates its full range of industrial AM equipment, including its latest direct-powder-bed-fusion and direct-metal-deposition systems, along with its cloud-manufacturing services. Also on display: the Orlas Cube, a flexible and fully enclosed system for laser-material-processing tasks.
AM-Preprocessing Software Designed for Ease of Use
SLM Solutions
Booth 1004
SLM Solutions offers its Additive.Intelligence software, allowing for the implementation of additive in manufacturing and production environments. The software allows import of all native CAD formats, reduces supports with an optimized exposure strategy, guides users to the best plate positioning via component-orientation processing, and offers a preliminary calculation of build costs based on machine and build setup.
The goal of the software: quicken the AM learning curve by reducing the software skills necessary to be successful, according to company officials, while optimizing builds with less supports and workflows based on specific part preparation.
Tier-One Additive Manufacturer for Critical Industries
Sintavia
Booth 1518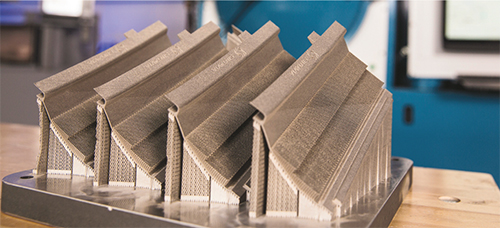 Sintavia is a Tier-One additive manufacturer for critical industries, including aerospace and defense, oil and natural gas, and power generation. Unique among independent Tier-One providers of this type, the company has a vertically aligned quality system and successful track record of working with OEMs to produce optimized metal-AM parts for existing and future programs.
The company showcases its capabilities in powder, process and part quality control, all performed inhouse.
Lattice-Optimization Tool
nTopology
Booth 145
nTopology's Lattice Size Optimization tool takes a pregenerated lattice and optimizes its beam or plate thickness based on the desired maximum allowable stress and/or center of mass properties that the user specifies. Experts will discuss this analysis-workspace tool as well as considerations for running studies and tests on lattice structures to optimize performance.
Office-Friendly 3D-Printing System
Desktop Metal, Inc.
Booth 1530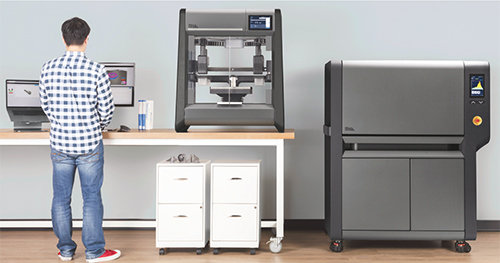 The Studio System, an office-friendly 3D-printing system, is designed as an end-to-end solution for printing complex metal parts inhouse. Tightly integrated through Desktop Metal's cloud-based software, the three-part system delivers a seamless workflow for printing—from digital file to sintered part. The printer uses a technology called Bound Metal Deposition, where bound rods are heated and extruded to shape the part layer by layer, similar to fused-deposition modeling. Lasers and powders have been eliminated and there are no requirements for third-party equipment or special facilities—just power and an Internet connection.
SAAM for 3D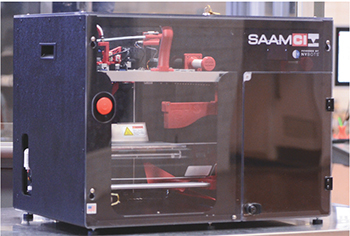 Cincinnati Inc.
Booth 604
Cincinnati Inc. showcases its SAAM (Small Area Additive Manufacturing) equipment, which uses fused-filament fabrication technology to build affordable, high-performance 3D parts. Cloud-based programming allows for programming from anywhere, and automated part removal facilitates continuous lights-out printing.
Partnership for AM Digital Factories
Siemens PLM Software; Stratasys, Inc.
Booths 2224; 1104
Learn how Siemens and Stratasys intend to integrate Siemens Digital Factory solutions with Stratasys AM solutions. The companies have been collaborating on multiple projects, including the direct link from Siemens NX software for CAD/CAM/CAE to Stratasys GrabCAD Print platform, enabling a seamless design-to-3D print workflow, and the recently previewed Stratasys Robotic Composite 3D Demonstrator that incorporates Siemens product-lifecycle-management software and its motion control and CNC automation technologies, to produce strong, lightweight performance parts.
www.plm.automation.siemens.com
Metal Powders and Powder Management
LPW Technology
Booth 804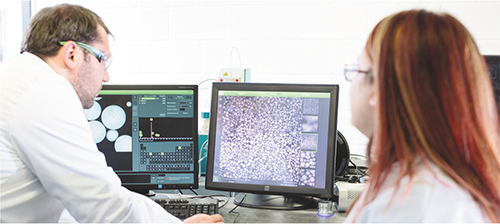 LPW Technology, a manufacturer and processor of metal powders and developer of powder-management solutions for the metal-AM industry, showcases its PowderLife powders and products that deliver a metal-powder lifecycle-management system. The fully auditable system strictly controls risk for manufacturers, adding reliability and traceability through repeated AM builds.
AM-specific metal powders from the company's PowderRange series of off-the-shelf materials are available for shipment within 24 hr. of ordering. LPW Technology's quality-management processes assure the integrity of its metal-AM powders, which are supplied to safety-critical sectors worldwide.
Service Bureau for Low-Cost, High-Volume AM
3DEO, Inc.
Booth 1642

3DEO, which launched a service bureau to offer its low-cost metal-AM technology for high-volume production, displays a variety of parts made with its Intelligent Layering process. The repeatable and predictable technology achieves prototype parts and end-use components exceeding MPIF Standard 35, while hitting tight tolerances—±0.005 in. as printed, ±0.001 in. with secondary operations.
Compact, Fully Integrated DED System
BeAM Machines
Booth 1730
Ideal for repairing components, adding features to existing parts or building near-net-shape parts with minimal post-processing, the Modulo 400 direct-energy-deposition (DED) machine fits into compact manufacturing facilities or even a shipping container for operation in remote locations such as an offshore oil rig or military-conflict zone. The reason it requires less floor space than traditional DEDs? The machine integrates all required peripherals—laser, chiller, fume extractor, etc., has a build volume of 650 by 400 by 400 mm in continuous five-axis motion, and features the company's standard suite of options, including a 2-kW fiber laser, multiple deposition heads, fully controlled atmosphere system, touch probe and a powder distributor with as many as five hoppers.
Simulation Software for AM
MSC Software features its Simufact Additive software for the simulation of metal-based AM processes. The simulation provides information about distortions and residual stresses in the component, and helps develop suitable countermeasures before the first part is printed. Simufact Additive covers AM for powder-bed-fusion processes, including the influence of the base plate to the component, and also covers subsequent processes such as heattreatment and hot isostatic pressing and cut-off of the base plate and removal of support structures.
3D-Printed Heat Exchanger via Ultrasonic AM
Fabrisonic discusses 3D-printed heat exchangers developed for NASA using ultrasonic AM (UAM) and meeting the agency's lightweight and performance requirements for harsh environments (think Mars). Printing heat exchangers allows the metal tubing to become integral to the surrounding structure, enabling conduction from the heat source (electronics package) to the cooling fluid in the most efficient path possible. Lead time for these components has decreased from 9 months to 9 weeks using UAM.
AM Advisory and Manufacturing Services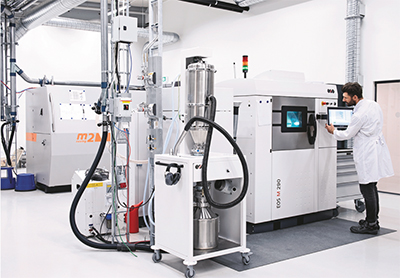 Sandvik Additive Manufacturing
Booth 818
Sandvik Additive Manufacturing, manufacturer of Osprey gas-atomized powders, provides expertise in post-processing methods such as metal cutting, sintering, heattreatment and hot isostatic pressing, and offers AM advisory and manufacturing services. With more than 150 years of metallurgy experience, the company is heavily invested in research and development to advance AM process technologies. It also can provide customized small batches of AM materials.
Software-Driven Automated Post-Processing
PostProcess Technologies
Booth 631
PostProcess Technologies, provider of automated products for post-print processing of parts, demonstrates an enhanced version of its AutoMat3D software platform, powered by the company's proprietary agitation algorithms. It reportedly is the only software-driven post-processing system on the market that incorporates specially engineered hardware and chemistry for AM processes and materials. The new software release will demonstrate additional functionality that accommodates the direct digital thread used in smart manufacturing. Software features include analysis of support and build structures, resulting in adaptation of post-printing recipes for optimized support removal and surface finishing.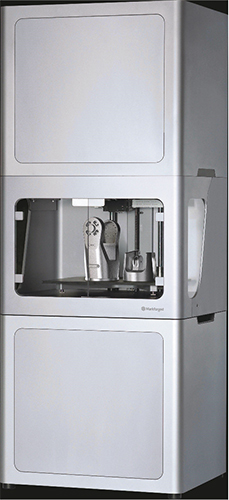 Safe Printing and Closed-Cell Infill
Markforged
Booth 2118
By printing metal powder bound in a plastic matrix, the Markforged Metal X 3D printer reportedly eliminates the safety risks associated with traditional metal 3D printing while enabling closed-cell infill for reduced part weight and cost. Features include an all-aluminum unibody, fully enclosed build chamber, quiet motion system and environmentally controlled material storage.
Variety of Feed Materials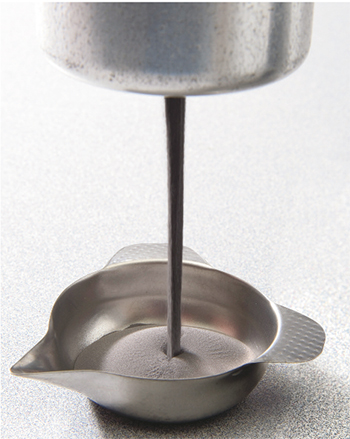 Global Advanced Metals
Booth 235
Global Advanced Metals provides a variety of products to produce AM parts from refractory metals, particularly tantalum and niobium. These include spherical powder, nanopowder and wire forms. Spherical powders offer good flow, purity to 6N (99.9999 percent) and full density. Nanopowders offer low oxygen and ultra-high purity, and are available in a variety of alloys that are difficult to produce by traditional methods. Wire forms offer high purity and low oxygen.
New Aluminum-Alloy Material Boasts Rapid Print Speed
Elementum 3D, a metal-AM materials and parameters-development company, presents AL6061-RAM2%, its newest 3D-printable material. The company's unique reactive-additive-manufacturing (RAM) technology has enabled introduction of an aluminum alloy that achieves properties comparable to wrought 6061-T6 on existing laser-powder-bed-fusion equipment.
Reported advantages of this material include rapid print speed with low production costs, excellent surface finish, a desirable combination of properties and the familiarity of 6061.
Multiple-Laser AM System
Renishaw, Inc.
Booth 718
The RenAM 500Q, Renishaw's new four-laser AM system, focuses lasers into a single, thermally controlled galvanometer mounting, which houses four pairs of digitally controlled mirrors. These guide the lasers over the entire powder bed. An inert-gas-recirculation system preserves filter life and provides clean processing conditions throughout the build. The new system develops the safety and usability features of the single-laser RenAM 500M, incorporating dual SafeChange filters with automated changeover. Powder condition, maintained for maximum reuse, further reduces costs.
Portable 3D Scanning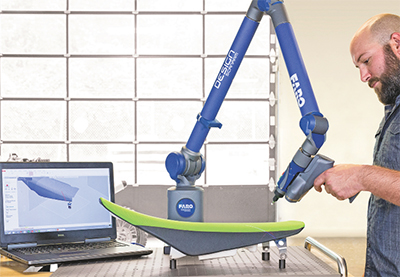 Faro Technologies, Inc.
Booth 1618
The Faro Design ScanArm 2.0, a portable 3D-scanning unit, is tailored for 3D modeling, reverse engineering and CAD-based design applications across the product-lifecycle-management process. It is ideal, according to company officials, for users that may need to manufacture parts without existing CAD models, develop aftermarket products that must fit tightly with existing products, reverse engineer legacy parts for design changes or replacement, and create digital libraries to decrease inventory and warehouse costs. Also, use it to design freeform surfaces or leverage the power of rapid prototyping.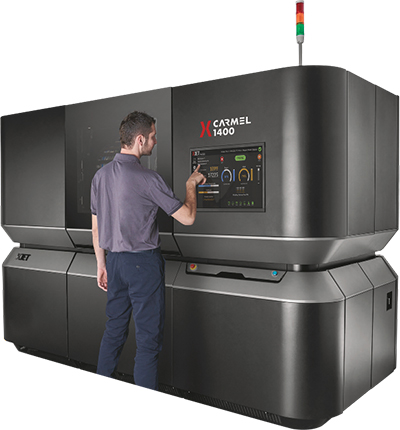 Printer Achieves Complex Geometriesvia Nanoparticle Inks

XJet, Ltd.
Booth 1604
XJet debuts its Carmel 1400 AM production system for printing ultrafine layers of nanoparticle inks. The system reportedly produces metal and ceramic parts with the ease and versatility of inkjet printing. The system can accurately produce parts with details as small as 100 µm and smooth surfaces. It features a build tray size as large as 11 by 19.7 in. and a maximum build height of 7.9 in.
Hybrid System Combines SLS and High-Speed Milling
Matsuura Machinery USA, Inc.
Booth 318
Matsuura Machinery USA, Inc., features Lumex, a hybrid AM system that combines selective laser sintering (SLS) with high-speed milling. It can be used to produce parts and molds to 256 by 256 by 300 mm. The system's capabilities enables dies and molds with complex geometries to be fabricated in one piece with high accuracy, according to company officials.
Automated Support Generation
Materialise showcases e-Stage for Metal, its automated solution for creating metal support structures. The software package automates the support-generation process for metal parts, resulting in a significant cost reduction, according to company officials. The software's algorithm reportedly reduces data-preparation time for metal builds by as much as 90 percent and finishing time by 50 percent. Also, the support-structure design allows removal of nearly 100 percent of powder from the support structure.
Range of Resins
Formlabs, Inc.
Booth 918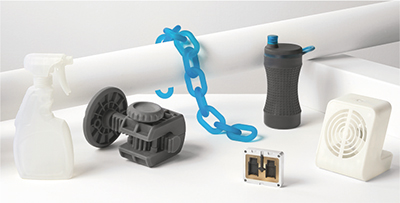 Formlabs discusses its newer resins: Color Kit, Rigid and Grey Pro. Color Kit is the company's first color-mixing solution for resin, not filament, and enables 3D printing in a range of colors without the manual work of finishing and painting. Grey Pro resin has high-precision and versatile material properties, including moderate elongation and low creep, making it ideal for concept modeling and functional testing. Rigid Resin is Formlabs' first glass-reinforced resin and offers high stiffness and a polished finish.
Gas Technologies to Boost Part Quality
Linde LLC
Booth 1347
Linde LLC showcases new gas technologies designed to advance the reproducible quality of 3D-printed metal parts. Linde offers the ADDvance powder cabinet, which purges the storage atmosphere with inert gas while tightly controlling temperature and humidity. The ADDvance O2 precision atmosphere-monitoring system precisely controls O2 and humidity levels by continuously analyzing the powder-chamber atmosphere. And, ADDvance Cryoclean cleaning technology uses CO2 snow as well as blasting abrasives to remove difficult residues economically and without water.
www.lindeus.com
3DMP
See also: Faro Technologies Inc., Cincinnati Incorporated, TRUMPF Inc., Renishaw Inc., Siemens Industry, Inc.
Technologies: Management