RAPID + TCT: Materials, Machines, Software Galore...and More
August 16, 2019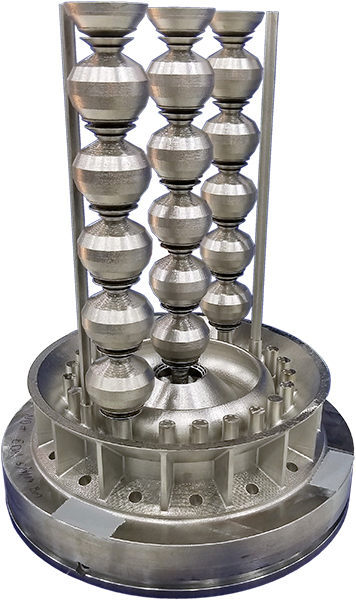 Velo3D had on display an impressive array of parts produced via its Sapphire 3D print system and Flow print-preparation software, with Intelligent Fusion technology optimizing the process by combining thermal process simulation, print prediction and closed-loop control during print execution.
Many showcased parts (including the pictured full-height factory-test specimen) provided examples of the Sapphire's support-free capabilities—it reportedly provides the unique ability to print low angles and overhangs below 10 deg., as well as large diameters and inner tubes to 40 mm without the need for supports. This not only eliminates the need for post-processing, but overcomes the "45 deg. rule," as described by Velo3D officials and referring to a boundary requiring supports at angles of less than 45 deg.
Designed for production manufacturing, the system includes tools for support generation, simulated print predictions, per-surface process application, slice composer and process review. The reported result: 3D printed production of complex metal components with high levels of quality control.
To deliver part-to-part consistency, Sapphire's integrated in-situ process metrology enables closed-loop melt-pool control, and the system contains a module that enables automated changeover with offline unpacking.