Bestselling author Bill Taylor, cofounder and founding editor of Fast Company, uses his keynote on Tuesday to share lessons and case studies from industry's most successful digital disruptors and the world's most effective leaders.
Naomi Murray, director of advanced operations and additive technology solutions for Stryker, delivers the Wednesday keynote on AMagine, the company's proprietary approach to implant creation using AM, which makes possible revolutionary design freedom.
The final keynote on Thursday, from BMW Group's Dominik Rietzel, head of AM at BMW Group, addresses how automation and artificial intelligence will help increase the implementation of AM in or near assembly lines, while looking at future developments expected to impact digital-production technologies.
Myriad education sessions cover a range of topics, including:
Additive Manufacturing (AM) of Turbine Blades;

Update: Boeing's AM Activities;

Simulation-Driven Design and Manufacturing;

Deformation Correction;

AM at Caterpillar;

Quality Metrics;

Superalloy for AM; and

Leveraging Software Workflow.
This year's workshops begin on Monday, May 20, from 8:30 a.m. to 2 p.m., and feature eight seminars:
Fundamentals of 3D Scanning and 3D Modeling;

Casting Processes and Materials;

Fundamentals of Additive Manufacturing;

Assessing the Economics of Additive Manufacturing Across the Product Lifecycle;

Metal Part Fabrication using Additive Manufacturing Technologies;

Regulatory & Quality System Considerations for 3D Printed Medical Devices;

3D Printing in Hospitals: What You Need to Know; and

Biomaterials and Bioprinting Fundamentals & Applications.
Additional complimentary presentations for expert, intermediate and novice attendees, held near the show floor, include:
History and Philosophy of Additive Manufacturing (Expert);

Automotive Industry and Metal 3D Printing (Intermediate);

Scaling into Mass Production with Metal 3D Printing (Novice);

Surface Finishing of Additive Manufactured IN-625 Components (Intermediate);

Art of Additive Manufacturing and Industrialization (Intermediate);

3D-Painting: A Materials-centric Approach to Additive Manufacturing (Intermediate);

Machine Learning to Link Processing Parameters, In-Situ Data, Material Properties and Performances in Powder Bed Fusion AM (Expert);

Additive Manufacturing of Spinal Implants—A Clinical and Manufacturing Perspective (Intermediate);

Metal Additive Manufacturing for Aerospace Components (Novice);

Additive Manufacturing Part Redesign in the Aerospace Industry (Novice);

High Dynamic Range Imaging and Line Scanning Data Fusion for Laser Powder Fed Additive Manufacturing (Expert);

New Filament Composition Enables High Speed, Accurate Polypropylene FDM Printing (Intermediate);
Technical Challenges in Scaling Binder Jet 3D Printing (Novice); and

Technical Analysis of Additive Manufacturing Execution Systems (Intermediate).
Also complimentary, Thought Leadership Panels that convene each afternoon in the Grand Ballroom, where well-known names in AM discuss industry trends, the impact of marketplace demands on AM, and AM advancements in automotive and aerospace. Topics include:
Trends that Will Impact Your Future Panel Discussion, moderated by Terry Wohlers, principal consultant and resident, Wohlers Associates, Inc.

Leveraging Additive Manufacturing for Enhanced Productivity: The Manufacturer's Perspective, moderated by Vyomesh Joshi, president and CEO, 3D Systems

Additive Manufacturing: What's Real, What's Not, What's Next, moderated by Lonnie Love, PhD, group leader—Manufacturing Systems Research Group, Oak Ridge National Laboratory.
Additional details, including pricing, conference times and topics, and exhibitor lists, along with the opportunity to register are available at www.rapid3devent.com. Also, check out the following booth previews here and online at www.3dmpmag.com.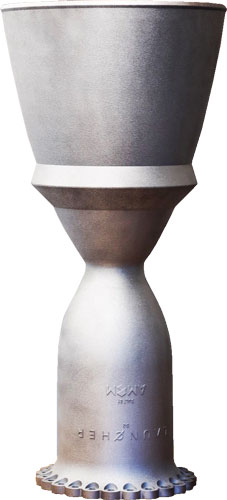 AM Rocket Engine
EOS North America
Booth 1027

EOS features a result of its work with aerospace startup Launcher, Inc.: a low-cost liquid rocket engine that supports the delivery of small payloads. Using a machine from AMCM GmbH, an EOS Group company, Launcher reports that it built the world's largest AM single-piece rocket engine. Also at the EOS booth: the EOS M 400-4 metal system; LaserProFusion technology, a polymer laser sintering method that reportedly achieves productivity to 10 times faster than traditional CO2 lasers; and the Integra P 400 polymer system.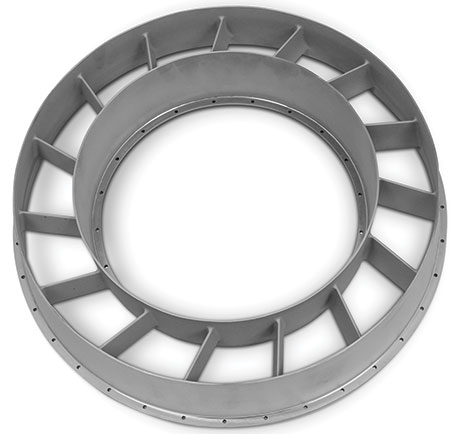 Workflow Solutions to Ease Design and Build
3D Systems
Booth 1227
3D Systems showcases application workflows that reportedly transform manufacturing by helping customers achieve greater productivity, durability, repeatability and lower total cost of operation. The company's solutions demonstrate success in the aerospace and industrial gas turbine markets, where its metal AM platform provides an efficient, cost-effective alternative to investment casting of super alloys, according to company officials. Attendees will have the opportunity to view finished parts, including a turbine rear vane produced in LaserForm Ni718 (A) material on the company's DMP Factory 500 system, comprised of function-specific printer modules.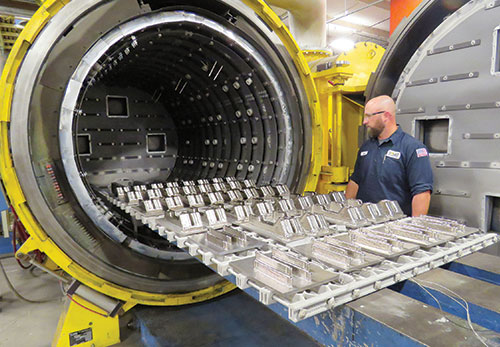 Vacuum Heat Treating Services

Solar Atmospheres
Booth 949
Solar Atmospheres provides commercial vacuum heat treating services for 3D metal printing technologies. Its vacuum furnaces can produce critical temperature uniformity (+2 F) when needed. Additionally, the vacuum heat treating process has the ability to attain vacuum levels of 1 by 10-6 Torr, necessary for clean, oxide-free results. Solar operates plants in Pennsylvania, South Carolina and California.
Steel Alloys for AM
Formetrix
Booth 345
Formetrix specializes in the design and manufacture of 3D-printable steel alloys. Its steel-alloy powders, designed to deliver previously unmatched performance characteristics, print easily on a variety of commercial powder bed fusion platforms, according to company officials. Formetrix representatives will be on hand to discuss how the company works closely with its customers and strategic partners to develop optimized workflow solutions that enable the repeatable production of 3D printed metal tools and components.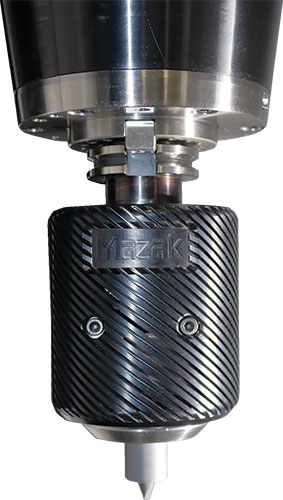 Hybrid-Manufacturing Technologies
Mazak
Booth 2165
Mazak highlights its hybrid multitasking technologies, including hot wire deposition and laser metal deposition, and its Auto Gear (AG) technology. Hot wire deposition technology uses an arc torch to melt metal wire directly onto workpieces, creating sealing coatings as well as near-net-shape part features. Laser metal deposition uses heat from one or more lasers to create coatings and build intricate micromachined part features. The AG package integrates solutions for skiving, milling and hobbing of OD spur, spline and helical gears to make those processes more affordable. To combine joining capabilities with those of subtractive machining, friction stir welding through Mazak MegaStir uses frictional heat and forging pressure to create full-penetration, defect-free welded joints with minimal heat-affected zones.
Quality-Management Software
3Degrees, LLC
Booth 1573
3Degrees, LLC, a 3D printing consultancy, showcases newly announced Trace software for logistical challenges, including how to track, warehouse and validate key information about 3D printed items. The software provides an intuitive system for quality management and documentation of key production and technical data for AM, eliminating the need for companies to build their own systems. It also maintains all required information for the safe and compliant operation of AM facilities.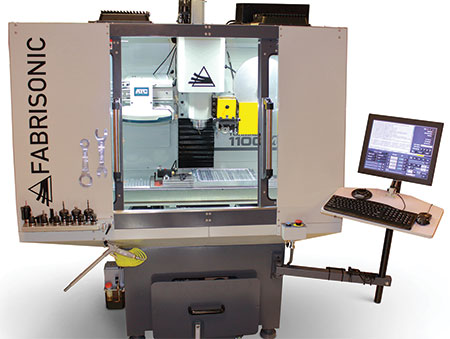 Ultrasonic AM Enables Smooth Internal Channels, Embedded Sensors
Fabrisonic
Booth 216
Fabrisonic LLC highlights its SonicLayer 1200, which features affordable ultrasonic additive manufacturing (UAM) technology. The machine features a build envelope of 9 by 9 by 16 in. The UAM process combines solid-state bonds at low temperatures (<250 F) with the ease of traditional CNC milling, according to Fabrisonic officials. Features include complex arrays of smooth internal channels and embedded sensors.
Advanced Materials and Customer-Specific Services
Voestalpine AG
Booth 757
Voestalpine AG's High Performance Metals division focuses on producing and processing high-performance materials and customer-specific services, including heat treatment, high-tech surface treatments and AM processes. The company provides tool steel as well as high-speed steel, valve steel, and other products made of special steels, in addition to powder materials, nickel-based alloys and titanium, Voestalpine's customer segments include automotive, oil and natural-gas exploration, mechanical-engineering industries, aerospace, and consumer goods.

CNC-Machine-Simulation Software
CGTech
Booth 430
Developed by CGTech, Vericut CNC-machine simulation, verification and optimization software simulates CNC machining, additive and hybrid manufacturing processes. Vericut 9.0 includes several advancements for AM. Users can add material and cut via any traditional machining operation, in any desired order. Enhanced graphics provide sharper views of the additive processes and flexibility to rotate or zoom while simulating. The ability to simulate all machining setup, including post-process finishing, enables users to verify the entire manufacturing process. Analysis tools include the ability to section and measure additive parts, and report on build times and volumes of material used.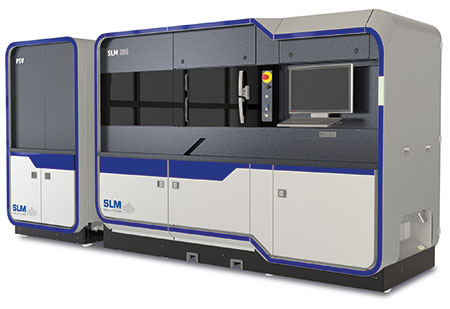 Third-Generation Multi-Beam Laser Technology
SLM Solutions
Booth 1003
SLM Solutions highlights its new SLM 280 Production Series multi-beam laser printer featuring a permanent filter module. The machine provides a 280 by 280 by 365-mm process chamber and achieves build rates said to be 80-percent faster than single-laser machines. This third-generation system comes in several configurations: single (1 by 400 W or 1 by 700 W), dual (1 by 700 W and 1 by 1000 W) or twin (2 by 400 W or 2 by 700 W) optics.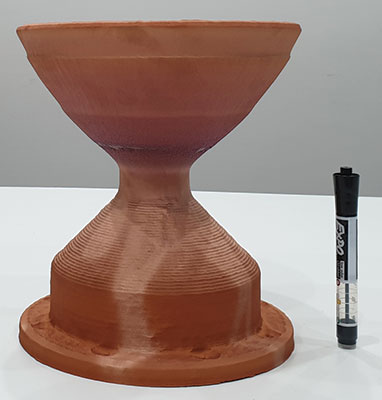 Rapid Production of Aerospace Parts
Spee3D
Booth 1941
Spee3D, which uses supersonic 3D deposition to accomplish 3D printing at production speeds, displays for the first time a 44-lb., 12-in.-high pure-copper rocket nozzle produced in its Warp Spee3D printer. The part was produced with a significantly reduced lead time—from 6 months to 7 hr. and 48 min.
Laser-Based Systems Bring Unique Capabilities

Trumpf
Booth 1017
Trumpf showcases its laser metal fusion (LMF) and laser metal deposition (LMD) systems. With LMF, the laser builds the workpiece from a powder bed, layer by layer, and allows usage of a variety of metal-powder forms, such as steel, aluminum and titanium. LMD technology combines with laser welding and cutting and enables application of 3D structures to existing, uneven surfaces, resulting in easy changes to a user's part geometry.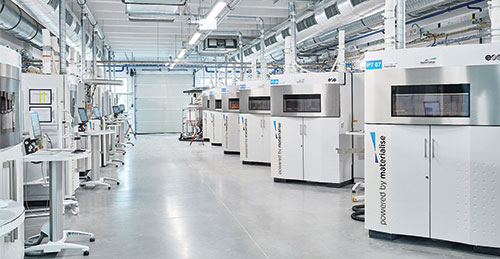 Software Suite for Design and Printing
Materialise
Booth 1417
Materialise showcases new releases within its 3D printing software suite and announces various partnerships. Representatives will discuss the company's ability to track new developments in materials, machines, processes and automation, enabling it to advance 3D applications and create new business opportunities.
Benefits of Electronic Beam AM
Sciaky, Inc.
Booth 621
Sciaky will highlight its electron beam additive manufacturing (EBAM) technology, a 3D printing solution with approved applications for land, sea, air and space. EBAM produces parts to 19 ft. long, with deposition rates to 25 lb. of metal/hr., using the Interlayer Real-time Imaging and Sensing system, an adaptive control system that senses and digitally self-adjusts metal deposition with precision and repeatability.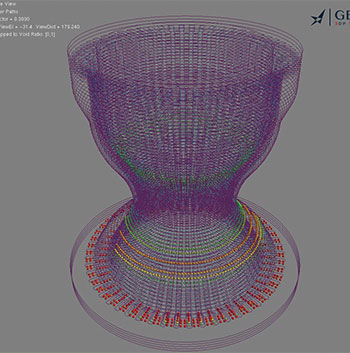 Simulation-Software Suite
AlphaStar
Booth 116
AlphaStar's Genoa 3DP software suite, an AM design tool and software suite, uses multi-scale progressive failure analysis to simulate the AM process for polymers, metals and ceramics. The micromechanical solution allows users to virtually qualify each step of the AM process from material characterization to build optimization to in-service loading. The newest features include PathCoverage and TMg, which provide virtual quality assessment of the printer path, while visualizing problematic bald spots of a printed part. It also predicts thermal history, material states and dynamic evolution of melt pool and heat-affect zones, while identifying stable and unstable zones during printing.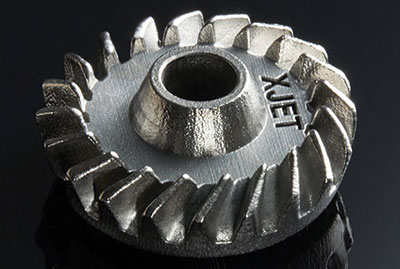 Hands-On Opportunity for Support Removal
XJet
Booth 1103
Visitors to the XJet booth may witness the reported speed and ease of XJet's soluble support-material removal by performing the process themselves. "We're showing what our NanoParticle Jetting (NPJ) technology can do in ceramic and metal AM," says Dror Danai, XJet's chief business officer. "Visitors are invited to remove the soluble support material from a metal part themselves. Also, they can see how the NPJ technology enables applications with ultra-fine features and complex geometries that have, up-to-now, been impossible." In addition, XJet will display a demonstration part, illustrating the company's vision of the future for NanoParticle Jetting technology and AM, as part of a presentation on Wednesday, May 22, in the Grand Ballroom.
3D Printing and Manufacturing Services
Forecast 3D
Booth 1550
Forecast 3D experts will be on hand to discuss the firm's myriad services and capabilities for a range of industries, including healthcare, aerospace, automotive, consumer goods and more. Services include 3D printing, short-run manufacturing and high-volume production services for prototype and production components. Capabilities: Hewlett Packard's Multi Jet Fusion for high-volume production, direct metal laser sintering for additive metal parts, fused deposition modeling, stereolithography, polyjet, CNC machining, and Forecast 3D's ProCast room-temperature vulcanizing urethane-casting process.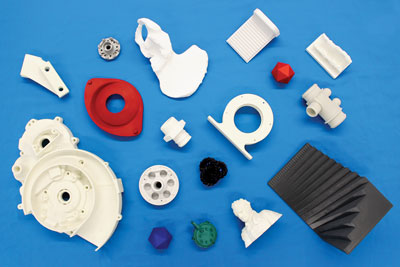 Online Marketplace for Custom Manufacturing
Xometry
Booth 2257
Xometry, reportedly the largest online marketplace for custom manufacturing, connects companies with AM solutions through proprietary artificial-intelligence algorithms. The service provides instant quotes and on-demand manufacturing of metal 3D printed parts to a customer base that ranges from startups to Fortune 100 companies.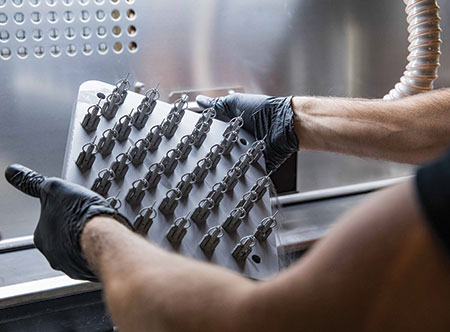 3D Printing of Complex Parts
Protolabs
Booth 603
Learn from Protolabs experts how direct metal laser sintering, an industrial 3D printing process, builds fully functional, end-use metal parts layer by layer, allowing for organic geometries, internal features and challenging passages that casting and machining cannot achieve.

Nesting-Strategy Software, Standards-Accreditation Program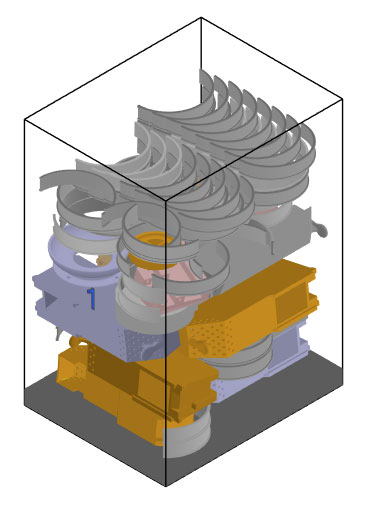 Link3D
Booth 1749

Link3D is launching True Shape Nesting as a part of its Additive Tool Set, an advanced tool that is now part of Link3D's Build Simulation solution that powers costing, production planning and machine scheduling of AM parts. Build Simulation software will estimate production time and material usage based on 500-plus industrial 3D printers across 1000 materials in relationship to their parameters.
3D True Shape Nesting enables Multijet Fusion and selective laser sintering technologies to find the best nesting strategy based on the actual shape, with 2D True Shape Nesting in use by fused deposition modeling and laser powder base technologies. Depending on the use cases, customers of Link3d can adjust True Shape Nesting to utilize any orientation for parts, allowing for parts to be oriented around the Z axis.
Also at RAPID + TCT, Link3D is launching the Standards Accreditation Program to help organizations comply with regulatory bodies and standards, namely NASA, SAE, FDA, ISO 9001 and AS9100. By standardizing AM workflows and configuring systems to include the correct checks and balances, organizations can increase their levels of compliance. 3DMP
See also: Mazak Corp., voestalpine High Performance Metals Corp., TRUMPF Inc., Sciaky Inc, Solar Atmospheres
Technologies: Management