There's plenty to report from the 2021 AMUG Conference, so let's get right to it.
AM Excellence Recognized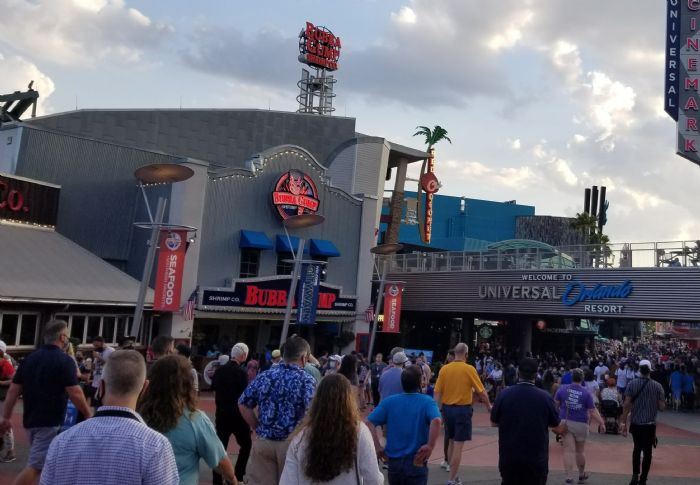 The conference afforded the opportunity to recognize excellence and achievements in the AM community, as AMUG bestowed its President's Award to two individuals, Terry Hoppe and Vince Anewenter. Only 10 individuals have received this prestigious award over its 33-year history.
Hoppe, formerly Stratasys' director of North American applications team, received the award posthumously. In part, AMUG's President's Award recognized Hoppe's years of service in the AM industry, yet it primarily recognized his role in transitioning AMUG from a supplier-specific users group to one that embraces AM users of all technologies.
"We invited Terry as a guest of our event so that he could experience what we were trying to do," says Gary Rabinovitz, AMUG chair. "From that exposure, he became a believer and advocate. Terry took that conviction back to Stratasys and championed the AMUG way."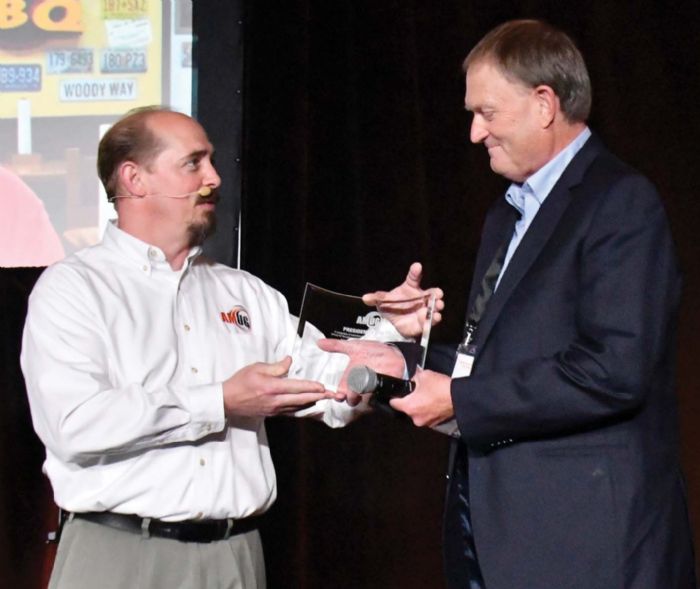 Scott Crump, co-founder of Stratasys, accepted the award on Hoppe's behalf while recounting stories that captured Hoppe's contributions as the first Stratasys employee and during the early years of the company. Crump also shared memories of Hoppe that described his approachable, likable personality. A key contributor to the company for more than 25 years, Hoppe retired from Stratasys in 2015.
Anewenter, from the Milwaukee School of Engineering, has served as AMUG treasurer for 9 yr., and it is in that capacity that he was honored with the President's Award. Through his financial stewardship, AMUG has realized tenfold growth in conference attendance while maintaining the organization's financial health.
"Starting with very little, Vince has guided and managed AMUG operations through transitions, growth, and challenges," offers Rabinovitz.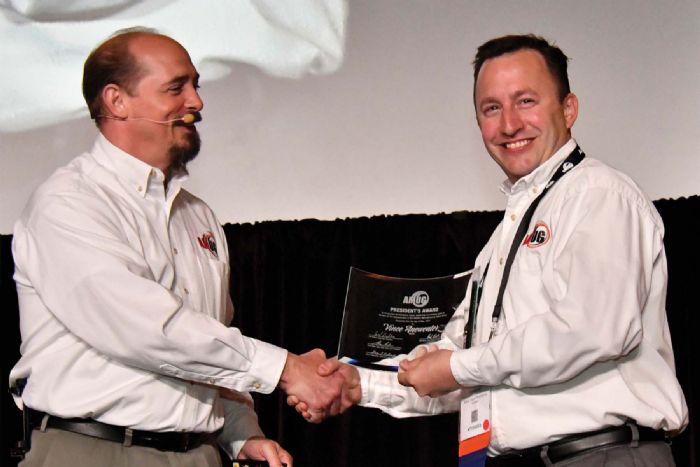 Years of service and achievements made Anewenter a candidate for the President's Award, but the pandemic made it evident that Anewenter was more than deserving, according to Rabinovitz, who noted that "because of COVID-19, we postponed our 2020 event and then moved the 2021 conference to a new location. With each change came numerous financial transactions, negotiations, and problem resolutions. Vince got us through all of that and kept AMUG in a healthy financial position."
DINO Awards and Technical Competition Winners
AMUG also presented its 2021 Distinguished INnovator Operator (DINO) Awards in Orlando. The honorees: Shane Collins of ASTM, Giles Gaskell of Hexagon, Ana Neves of Ramco and Robin Van Bragt of Eagle Design and Technology.
The DINO awards recognize those "with the highest levels of additive manufacturing expertise and a willingness to share that knowledge through contributions to AMUG, its members and the industry it represents," as described by AMUG officials.
At the conference, AMUG recognized the winners of its annual Technical Competition, which rewards excellence in AM applications and finishing techniques. The winners: Bill Braune of Dinsmore, Inc. and Vito Gervasi of Cadens LLC. Braune, in the Advanced Finishing category, offered a detailed scene titled "Death: A Horseman's Journey," inspired by the Darksiders video-game series. To reflect the character's journey in the macabre scene, Braune turned to Carbon Digital Light Synthesis to print the fine details and subtle features in his creation.
Gervasi earned first place in the Advanced Concepts category for his "BAAM Dam," a one-tenth scale replica of a 3D-printed turbine system that has been in operational testing since July 2020. According to Gervasi, AM is the key to enabling a radical cost reduction, creating more opportunities for these power generation systems to be put into service. For the full-size micro-hydro system, Cadens turned to Oak Ridge National Laboratory's Manufacturing Demonstration Facility for support, with BAAM (Big Area Additive Manufacturing) used to construct 2000 lb. of large-conveyance components and composite layup tools. Cadens made the smaller, higher resolution components via fused deposition modeling.
For Advanced Finishing, Edward Graham of ProtoCAM took second place with his work, "Under the Sea with 3D." Third place was awarded to Vince Anewenter of Milwaukee School of Engineering for his nickel-plated commemoration of a victory over cancer. Melanie Lang of FormAlloy Technologies received the second-place award for her entry that embedded sensing technology within a metal-AM component in the Advanced Concepts category. Third place went to Rick Pressley of Renaissance Services for his 3D-printed ceramic molds for metal casting.
Scholarships Handed Out
AMUG also recognized two recipients of its 2021 scholarships. John Sorvillo, director for Westwood Prep Academy at New Beginnings, Youngstown, OH, earned Randy Stevens Scholarship, while Sean Dobson, pursuing a Ph.D. in Material Science at the University of Cincinnati (UC), Cincinnati, OH, earned the Guy E. Bourdeau Scholarship.
Sorvillo, a licensed elementary school teacher, is a director at the Westwood Preparatory Academy, where students are in residential care, most under court custody with no familial provisions. Sorvillo builds programs, teaches and counsels with the goal of inspiring hope through education.
Initially, the academy had one 3D printer, but struggled to incorporate it into instructional lessons. With Sorvillo's efforts as detailed in his emotional presentation at AMUG, it now boasts four printers that function as conduits for experiencing life skills, such as teamwork; acquiring technology skills, such as CAD design; and gaining 'soft skills' needed to function in society.
"Our 3D printing program has played a huge role in creating inspiration," Sorvillo says. "We're able to show at-risk students a whole new way of learning."
Sorvillo has extended classroom education through partnerships, collaborations and grants where the students' actions benefit others and themselves.
As an undergraduate student in Mechanical Engineering at the University of Louisville, Louisville, KY, Dobson's introduction to AM occurred during an internship in Gulfstream Aerospace's 3D Printing Laboratory, and he also has discovered an affinity for sharing that passion with others through training, tours and collaborations.
The interest in AM discovered during the internship led Dobson to become an undergraduate research assistant in the University of Louisville's Rapid Prototyping Center (RPC), working on RPC projects for NASA, the U.S. Navy and others.
Dobson's senior project—creating an affordable, modular desktop machine for fused filament fabrication (FFF), CNC milling, laser cutting and injection molding—spilled outside of the lab when he and two colleagues founded ModMan Technology. After receiving his bachelor's degree, Dobson earned a master's degree in Mechanical Engineering from the University of Louisville. During that pursuit, he continued his research for the U.S. Navy's project as a graduate research assistant.
Currently pursuing his Ph.D. at UC, Dobson also works for Vertex Manufacturing as an additive and material engineer.
"AMUG is a place where the titans of our industry meet to discuss the current state of AM year after year; a place where individuals come to learn and share," says Dobson, explaining his plan to take full advantage of 2021 AMUG Conference attendance as part of his scholarship. "I want to learn from those who have experience far beyond my own, and to share what I have learned with those who may just be starting out."
Technology Galore
Read on for some exciting new AM-technology developments presented at the 2021 AMUG Conference.
Stainless-Steel Composite Metal Filaments for FFF Printers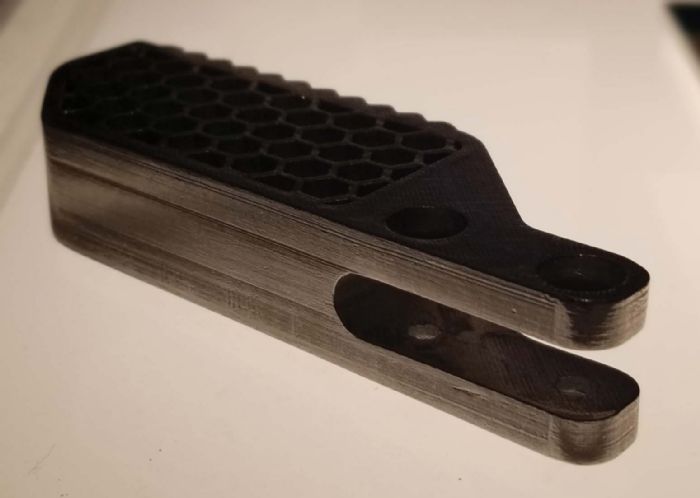 Forward AM, a BASF 3D Printing Solutions brand, showcased a variety of materials, including Ultrafuse stainless-steel filaments for use in conventional FFF 3D printers. The filaments combine greater freedom of design with a lower total cost of ownership, according to company officials.
Newly introduced, Ultrafuse 17-4 PH enables FFF-printed stainless-steel parts (including the pictured part) that require high hardness and mechanical strength. This stainless steel reportedly is able to be heat treated to high levels of strength and hardness, offers good corrosion resistance, and is ideal for petrochemistry, aerospace, automotive and medical applications. Another Forward AM filament on display at AMUG, Ultrafuse 316L, features uniform particle distribution that enhances mechanical properties.
These filaments obtain their final properties through a post-printing catalytic debinding and sintering process.
New AM Build Manager Promises Universal Adaptability and Scalability
Dyndrite highlighted its Accelerated Geometry Engine, leveraged in HP Inc.'s Universal Build Manager, which leverages proprietary HP software and data processing as well as Dyndrite's engine to simplify and automate build preparation across AM technologies at high speeds, according to company officials. The new product reportedly benefits from GPU-accelerated processing and Python-programming-language scriptability inherent to the Dyndrite Corp. engine, and is designed to improve the AM technician's efficiency, productivity and quality, thus enabling mass-personalization, complex workflow automation, and scalability and extensibility in both manually driven and automated workflows.
Speaking to the product's "Universal" tag and its ability to function across a variety of AM technologies and processes, HP and Aconity3D, Aon3D, Aurora Labs, EOS, Essentium, ExOne, Open Additive, Photocentric, Plural AM, Renishaw and SLM Solutions have committed to exploring ways for the HP Universal Build Manager to support their 3D print systems. Additionally, the open-architecture platform is designed to support interoperability with complementary solutions from software vendors, including Ansys.
The Universal Build Manager includes universal support for a variety of AM processes; support for industry-standard CAD and vendor-neutral formats; a GPU-accelerated geometry engine that reportedly accelerates computational tasks such as support generation, slicing and tool pathing; and scalable architecture designed to support high-part density builds to optimize throughput and minimize cost.
And, its plug-in framework aids in accessibility to every user, machine manufacturer and software vendor, according to officials, who note that this facilitates the creation of process-specific solutions without having to share potentially sensitive IP.
HP officials report that Cobra Aero and Cobra Moto, a family of companies specializing in the design and manufacturing of propulsion systems for racing, aerospace and other vehicles, are deploying HP Universal Build Manager to simplify and automate workflows across HP Jet Fusion and Renishaw AM systems.
New Binder-Jetting Printer, Furnace Through ExOne, Rapidia Partnership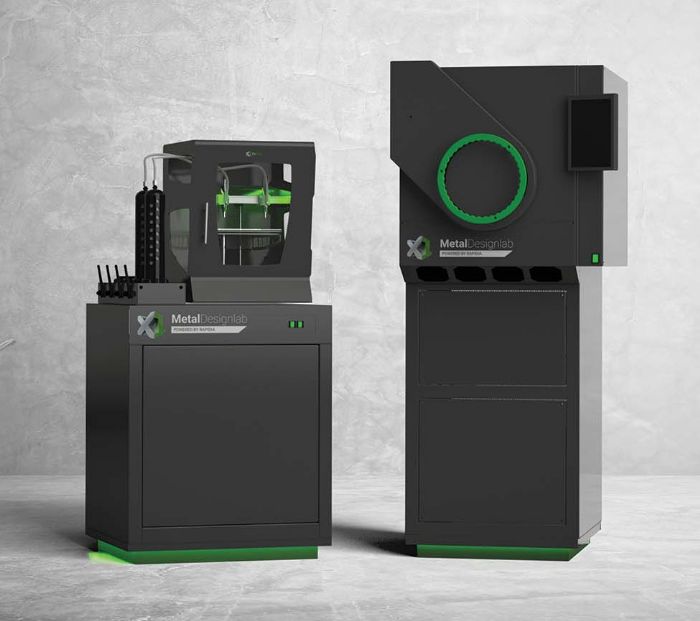 ExOne showcased its Metal Designlab binder jetting printer and X1F furnace, offered through an exclusive partnership with Rapidia, a Vancouver, Canada-based technology company. Under terms of this partnership, ExOne has a right of first refusal for majority ownership of Rapidia, and Rapidia founder Dan Gelbart becomes a technology advisor to ExOne.
The Metal Designlab evolves from Rapidia's two-step 3D-printing technology—reportedly the first to allow water-bound metal and ceramic parts to travel directly from a printer into a furnace without a debinding step. Bound-metal 3D-printing technologies typically require either three steps (print, debind and sinter) or 3D printing followed by time-consuming thermal debinding in the sintering furnace, explain ExOne officials, noting that either method usually takes three to five days to produce a final part. This, in turn, reportedly places limitations on part thickness (to 10 mm) in order for polymer binders to be properly burned off.
By contrast, the Rapidia-developed water-based HydroFuse paste, containing metal or ceramic powders, replaces 98 percent of the binder with water, which evaporates while printing. This technology, which does not require debinding prior to final sintering, also removes the limitation on maximum part thickness, enabling the ExOne Metal Designlab to print 100-percent-solid metal of any thickness. Two materials currently are offered using this technology―marketed as Print Today, Parts Tomorrow―in the Metal Designlab: 17-4PH and 316L stainless steels, with other metals and ceramics reportedly to follow.
The new X1F advanced furnace, with about 10 l of usable volume, is offered across ExOne's binder jet lineup.
Fabrisonic Leveraging Multiple AM Processes to Optimize Components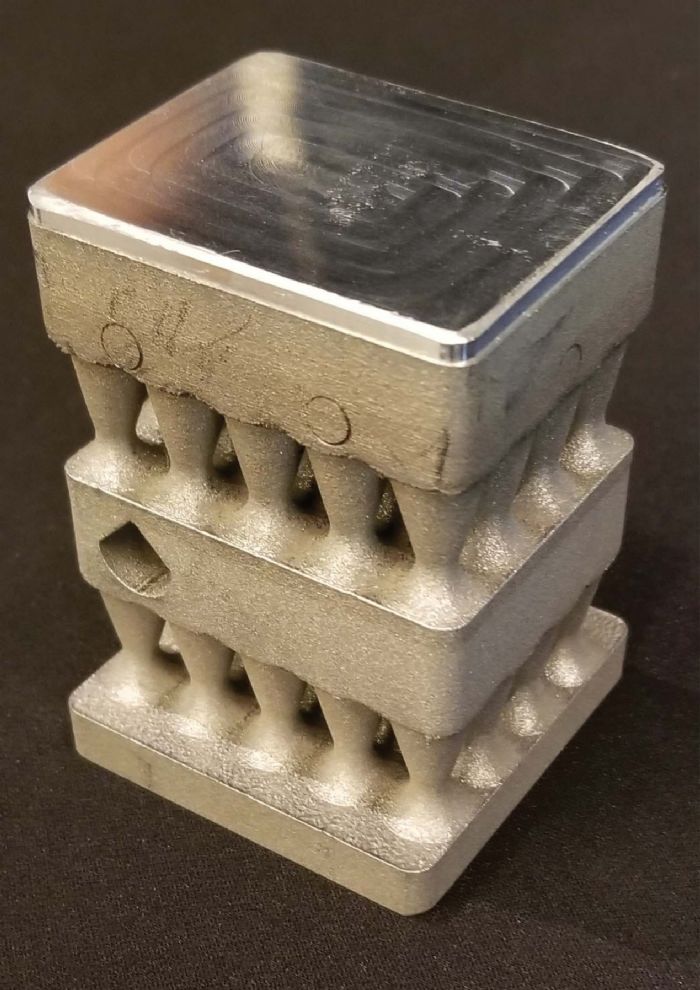 A block displayed by Fabrisonic represents the company's efforts to combine multiple AM processes to produce parts and components that deliver the inherent advantages of particular processes, according to Mark Norfolk, Fabrisonic president and CEO.
"We see AM evolving to take advantage of the many available processes, much like traditional part producers employ milling and other machining, forming and fabricating processes to produce a part," Norfolk told 3D Metal Printing editors at AMUG.
In this pictured part, a laser powder-bed process produced the organic shape followed by Fabrisonic's Ultrasonic AM (UAM) process (top portion) for embedding of electronics using a different metallic material.
"Laser powder-bed processes are very effective for printing organic shapes, while our UAM is ideal for embedding circuitry and sensors as well as for applying dissimilar metals," Norfolk explains. "We think that multiple processes can be employed effectively to take advantages of each process' strengths."
This approach also holds promise, Norfolk noted, for incorporating sophisticated cooling channels—via laser powder-bed processes—into UAM-produced heat sinks.
Hexagon, Authentise Partner to Develop Open-Source End-to-End AM Software
Hexagon's Manufacturing Intelligence division and Authentise announced a partnership to develop open-source software that reportedly provides end-to-end AM coverage, uniting information from design, materials, manufacturing and quality assurance. The software, according to partner officials, extends the AM control loop from the machine level to connect design, manufacturing operations and quality assurance to make AM more predictable, repeatable and traceable.
Data from shopfloor manufacturing operations, engineering data from the design phase, and materials properties and quality data from validation and inspection processes hold the key to automating serial production improvements and enabling design improvements, explain the officials. However, they offer, the technical challenge of connecting these silos and applying these data have inhibited the ability to consistently apply AM to new designs. New solutions delivered through the Hexagon-Authentise partnership will apply statistical process control with machine learning and artificial intelligence, with the goal to mitigate waste and quality issues during the design phase and improve the repeatability of AM processes within a site or between global locations.
The partnership reportedly will build solutions to industrialize AM technology by digitizing each workflow step to connect the digital thread of a part and trace its pedigree. This is made possible through a shared commitment to open architectures that integrate data and automate workflows between Hexagon's AM applications and third-party equipment and software manufacturers.
Authentise is a key partner in Hexagon's open AM ecosystem, having built an open manufacturing execution system tailored to the specific needs of AM methods.
Development of Single Cloud-Based MES Software Keys Materialise Buying Option for Link3D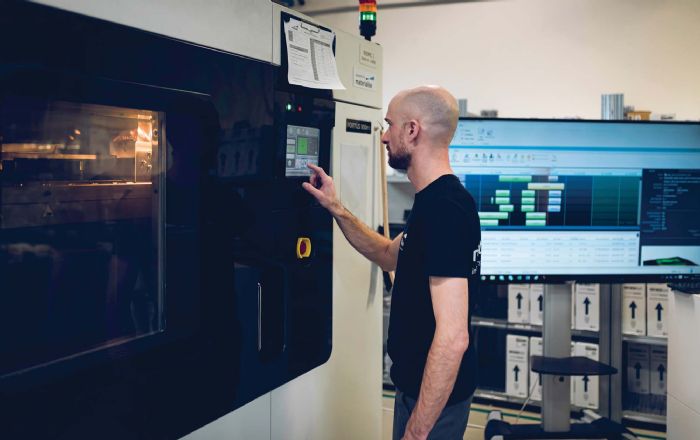 Materialise and Link3D announced a collaboration that leverages both companies' software capabilities to develop a single cloud-based manufacturing execution system (MES) software program for AM. The collaboration is the key component in Materialise acquiring an option to acquire Link3D (expected to be exercised by the end of this year), a provider of AM workflow and company MES programs.
The acquisition will extend Materialise's ability to help companies gain control of their manufacturing floor as it scales its AM capability into volume production, according to company officials, who further note that it will allow Materialise to accelerate its roadmap to offer cloud-based access to its integrated software platform. Other expected benefits: broadening Materialise's industrial customer base across North America, Europe and Asia Pacific, and offering Link3D customers a seamless connection to Materialise's Magics 3D print suite.
"We want to connect the printers with the rest of the production environment," explains Bart Van der Schueren, Materialise chief technology officer and executive vice president, after noting that, traditionally, AM machines have been 'walled off' and not sufficiently integrated into such environments. (Development of this software will) "allow users to run the most efficient, controlled process to effectively produce high volumes."
He sees Link3D as an ideal fit in this effort, with its offerings of additive MES workflow software to help companies scale digital manufacturing operations across complex supply chains and IT environments.
"By teaming up with Materialise, we expect to be able to offer our combined user base access to a robust and comprehensive manufacturing suite of solutions, enabling them to take AM to the next level," says Vishal Singh, Link3D co-founder and chief technology officer.
Bryan Crutchfield, Materialise vice president and general manager, notes that the challenges posed by the COVID-19 pandemic pushed the company to "accelerate its exploration and development of digital-transformation opportunities and evolution of Materialise's software suite to Software as a Service (SaaS)."
"The option to buy Link3D, with its digital platform, allows for scaling across complex supply chains" adds Stefaan Motte, vice president of software for Materialise. "It will help with volume production in AM, and enable meaningful applications of AM at scale."
Throughout 2021 and 2022, Materialise and Link3D will be integrating toward a cloud-based SaaS platform, according to Motte, and share platform developments with customers along the way. 3DMP

See also: Hexagon Manufacturing Intelligence, Fabrisonic LLC, ExOne, Materialise USA LLC, Link3D
Technologies: Management