The new machine can process a variety of materials, and SLM Solutions officials report the expectation of significant jumps in build rates for nickel-based alloys and steels as well as higher aluminum build rates. It also offers reduced support needs, with reported reduction or elimination of supports starting at the base plate and extending to a height of nearly 800 mm, short-range overhangs without supports down to an angle of 5 deg., and without supports for long-range overhangs of several centimeters down to an angle of 10 deg.
The machine also features a user-friendly control system that boasts reduced training time for operators and a multi-user account option to ensure tailored workflows.
Sintavia Achieves ISO 14001 Approval
Sintavia LLC announced that it has achieved ISO 14001 approval for its environmental management system at its Hollywood, FL, location. The new accreditation represents the third ISO certification attained since 2015 by Sintavia, a Tier-One AM provider supporting the aerospace and defense industries.
The environmental-management-system certification includes the scope of metal additive design and manufacturing as well as metrological and metallurgical testing. Sintavia also holds AS9100 and ISO 17025 certifications, and claims to be the only company in the world with Nadcap approvals for laser AM, electron beam AM and inhouse heat treatment. In 2018, the company joined the Green Business Bureau (GBB) and has since earned the GBB Platinum Level of certification.
"Since co-founding the Additive Manufacturer Green Trade Association in November 2019, Sintavia has defined itself as a leader in improving, via AM, the industrial ecology of precision metal manufacturing," says Brian Neff, Sintavia's CEO. "The ISO 14001 certification not only continues this focus, but also allows Sintavia to measure sustainable manufacturing efficiencies and monitor progress toward sustainability goals."
3D Systems Develops Nine-Laser AM Machine for U.S. Army Research
3D Systems reported the first test print completed on a nine-laser AM machine for the U.S. Army's Combat Capabilities Development Command Army Research Laboratory (ARL). The 3D printer, resulting from a $15 million contract awarded in 2019, features a 1 m by 1 m by 600-mm build chamber and unique material deposition processes, and is expected to help propel supply chains associated with long-range munitions, next-generation combat vehicles, helicopters, and air- and missile-defense capabilities.
"When we embarked on this project, we needed a faster way to produce critical components for major ground-combat subsystems," says Stephanie Koch, program manager for the ARL Advanced Manufacturing, Materials and Processes program. "The progress that has been made on this project to date is monumental. We look forward to the coming months as we progress to a full-scale production solution that will enable innovative new capabilities for transformational overmatch."
In October 2020, 3D Systems completed the first test print using a selective powder deposition process. This concept limits the amount of material needed to produce large parts by depositing the material only where it is needed in the build―accelerating time-to-final-part and reducing material cost. The build chamber also includes a heated build plate to reduce thermal stress and improve deposition quality.
To create this next-generation machine, 3D Systems is leveraging key technologies from its Direct Metal Printing (DMP) platform, employed in the company's DMP Flex 350, DMP Factory 350 and DMP Factory 500 3D printers. A key DMP component applicable to this project: an optical train that provides each of the next-generation printer's nine lasers (3D Systems did not provide wattage information) with its own melt-pool-monitoring system for enhanced quality control. By employing the same optical system as used in its DMP platform, 3D Systems can leverage an existing material library that has been extensively tested and fine-tuned for optimal performance, according to 3D Systems officials. Pulling from the data associated with these materials reportedly is accelerating development of new materials for use in these systems.
3D Systems also is integrating its vacuum-chamber concept, a rapid inerting process that reportedly consumes substantially less argon than conventional metal 3D printers, to aid in part quality and repeatability. The inerting process reduces the oxygen level during processing to below 25 ppm, as compared to the 500- to 1000-ppm levels experienced in most conventional metal 3D printers, according to company officials.
The inclusion of six high-contrast single-lens reflex cameras within the build chamber delivers a comprehensive view of the build in-situ. Each camera is positioned above the powder bed with direct top-down view. This unique viewpoint eliminates the need for image manipulation, resulting in the ability to obtain build data in real time, accelerating the process. The firmware within the system captures all digital input, including sensor data, positional information, melt-pool data and powder-bed pictures, into an SQL database. This enables full insight into the build and provides for part and process validation and qualification. Additionally, 3D Systems is leveraging the AM software used within its DMP platform to optimize designs and streamline processes to accelerate print times and reduce material consumption.
According to the U.S. Army Additive Manufacturing Implementation Plan, the Army has been using AM for two decades to refurbish worn parts and create custom tools. Once developed, the Army will leverage its manufacturing experience by placing the new large-scale systems in its depots and labs. Subsequently, 3D Systems and its partners plan to make the new 3D printer technology available to leading aerospace and defense suppliers for the development of future Army platforms.
"Development and demonstration of this first-of-its-kind technology has far reaching implications across our industrial base as it shapes and transforms the supply chain around it," says Lisa Strama, president and CEO of the National Center for Manufacturing Sciences, which is working with the ARL to advance AM. "This project has also provided the unique ability to concurrently plan for and address a complex ecosystem for maximizing the benefit to U.S. manufacturers' competitiveness from the outset."
New Depowdering Station Reduces Manual Work, Improves Safety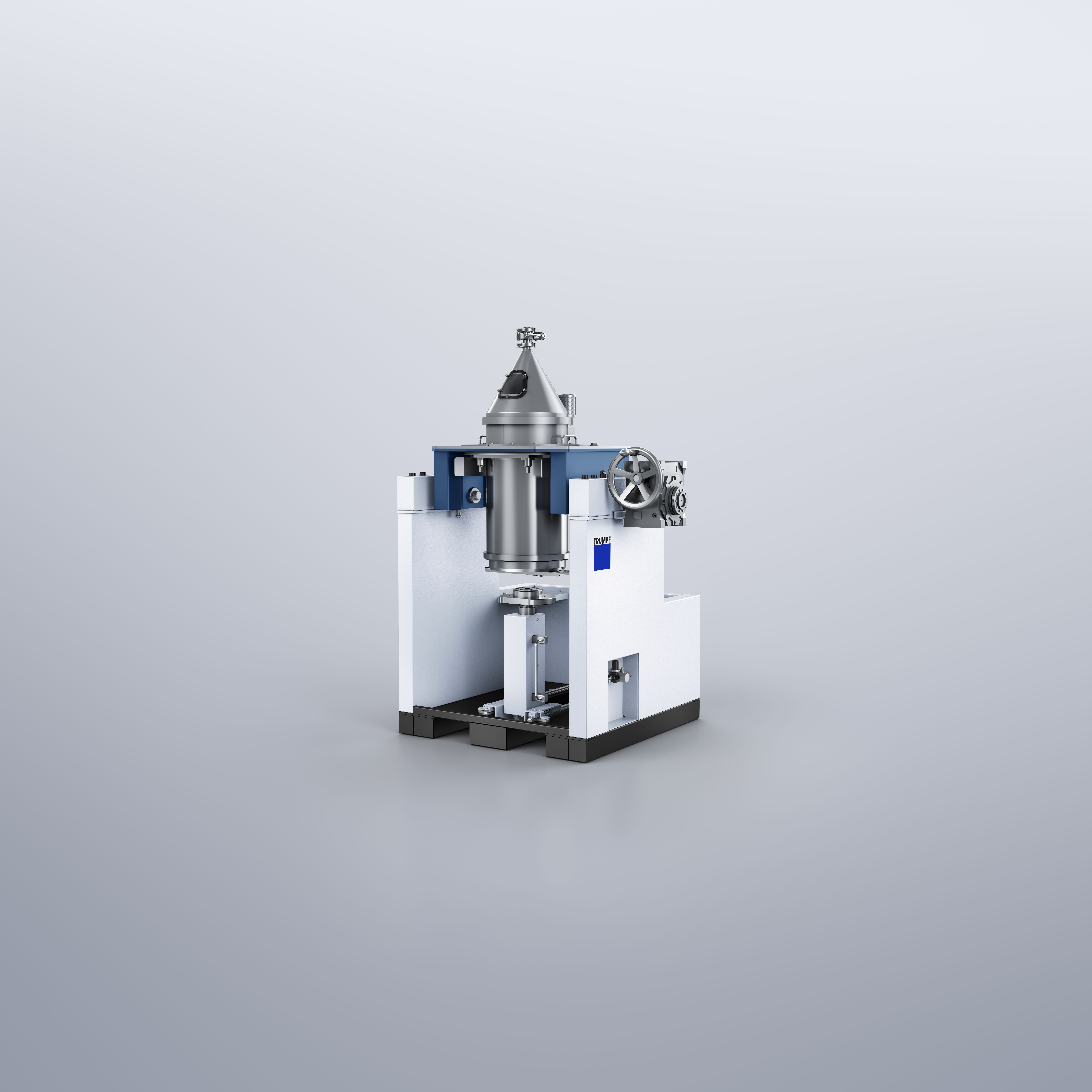 Trumpf's new depowdering station unpacks 3D-printed metal components and also performs powder removal, all, whille protecting operators from hazardous dust.


Trumpf introduced a new depowdering station for its laser powder-bed fusion metal-AM process that combines two process steps in one system: the unpacking of 3D-printed metal components and powder removal.

What an operator used to perform manually with the help of suction nozzles and brushes now can be done more easily and semiautomatically with the new powder-removal station―especially true for complex components, note Trumpf officials. The system turns the printed component upside down and, if necessary, begins to vibrate until the component is almost completely freed from the residual powder. This powder-removal process reportedly results in a significantly higher degree of component cleaning as compared to manual operations. Another stated advantage: The machine operator is protected from hazardous dust, as the component remains in the inert chamber, flooded with protective gas until it has been freed from the residual powder.

Thirteen Advance Orders for New Velo3D Large-Format Metal-AM Machine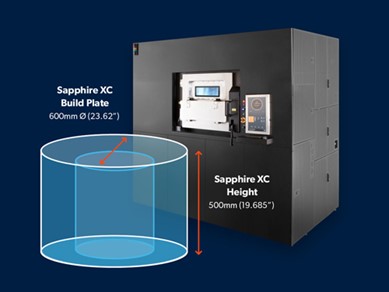 The Sapphire XC large-format 3D metal printer from Velo3D, featuring a larger build volume, reportedly can increase production throughput by five times and reduce cost-per-part by as much as 75 percent as compared to the standard Sapphire system.

Velo3D debuted its Sapphire XC large-format 3D metal printer and announced 13 advance orders for the system, with delivery beginning in fourth quarter of 2021. The XC, with the term denoting "extra capacity," reportedly can increase production throughput by five times and reduce cost-per-part by as much as 75 percent as compared to the standard Sapphire system.

The company also announced plans to roll-out Sapphire Gen 2, a software and hardware upgrade to the current system that can drive productivity and part-cost improvements of 10 to 50 percent, according to company officials, who note that the Sapphire Gen 2 upgrade will be available to retrofit on all installed systems starting in Q2 2021. With the addition of the new machine, the Sapphire product family now includes Sapphire Gen 2, the 1-m-tall Sapphire 1MZ and Sapphire XC—all using the laser powder-bed fusion process with capabilities to print without the need for support structures.

Sapphire XC features a build volume of 600-mm dia. by 550 mm height, as compared to 315-mm dia. by 400 mm height in the Sapphire, and employs eight 1000-W lasers, as compared to two 1000-W lasers in the Sapphire. It utilizes the same optical-train design, recoater technology, gas-flow technology and metrology as the current Sapphire and is fully integrated with Velo3D's Flow pre-print software and Assure quality-control software.

Qualified material alloys compatible with the Sapphire XC include aluminum F357, titanium 6AI-4V, Inconel 718 and Hastelloy X.

"Printing larger parts without the additive manufacturing constraints of support structures is highly attractive to many industrial end-users," says Benny Buller, founder and CEO of Velo3D. "For the first time, customers will be able to 3D-print uncompromised geometries, with the highest confidence in part quality, in a large-format system. Quality assurance with large scale components is critical because the economic impact of failed builds is very significant."

3DEO Earns Gold Medal in the 2020 LEAP Awards for AM

3DEO won a Gold Medal in Additive Manufacturing from Design World's Leadership in Engineering Achievement Program (LEAP) Awards for its ability to integrate CNC milling into the AM process and scale metal AM to better compete with traditional manufacturing methods such as CNC machining and metal injection molding, according to one of the judges.

The annual competition, recognizing the most innovative and forward-thinking products serving the design-engineering space, drew more than 100 entrants. LEAP winners were chosen by an independent judging panel of 14 engineering and academic professionals.

"Recognizing the nonexistence of high-volume production in the industry, we founded the company specifically to break into high-volume production," says Payman Torabi, Ph.D., chief technology officer of 3DEO. "The entire 3DEO team is honored to receive such a prestigious award and be recognized for our hard work over the years."

A high-volume metal-AM manufacturer, 3DEO, Los Angeles, CA, has shipped more than 300,000 production parts to date, including 35,000 parts shipped in a single week this past October. Many of 3DEO's production customers receive more than 50,000 pieces/yr.

"While it is true that we are shipping a lot of parts, we are really just getting started on the path to production," says Matt Petros, Ph.D., 3DEO CEO. "Expect to see very big things from us in 2021. We are breaking into new industries, taking down larger and larger orders, and starting to compete head-on with metal injection molding from a cost and quality perspective."

New Company—Alloyed—Offers Alloys, Process Control and Digital Production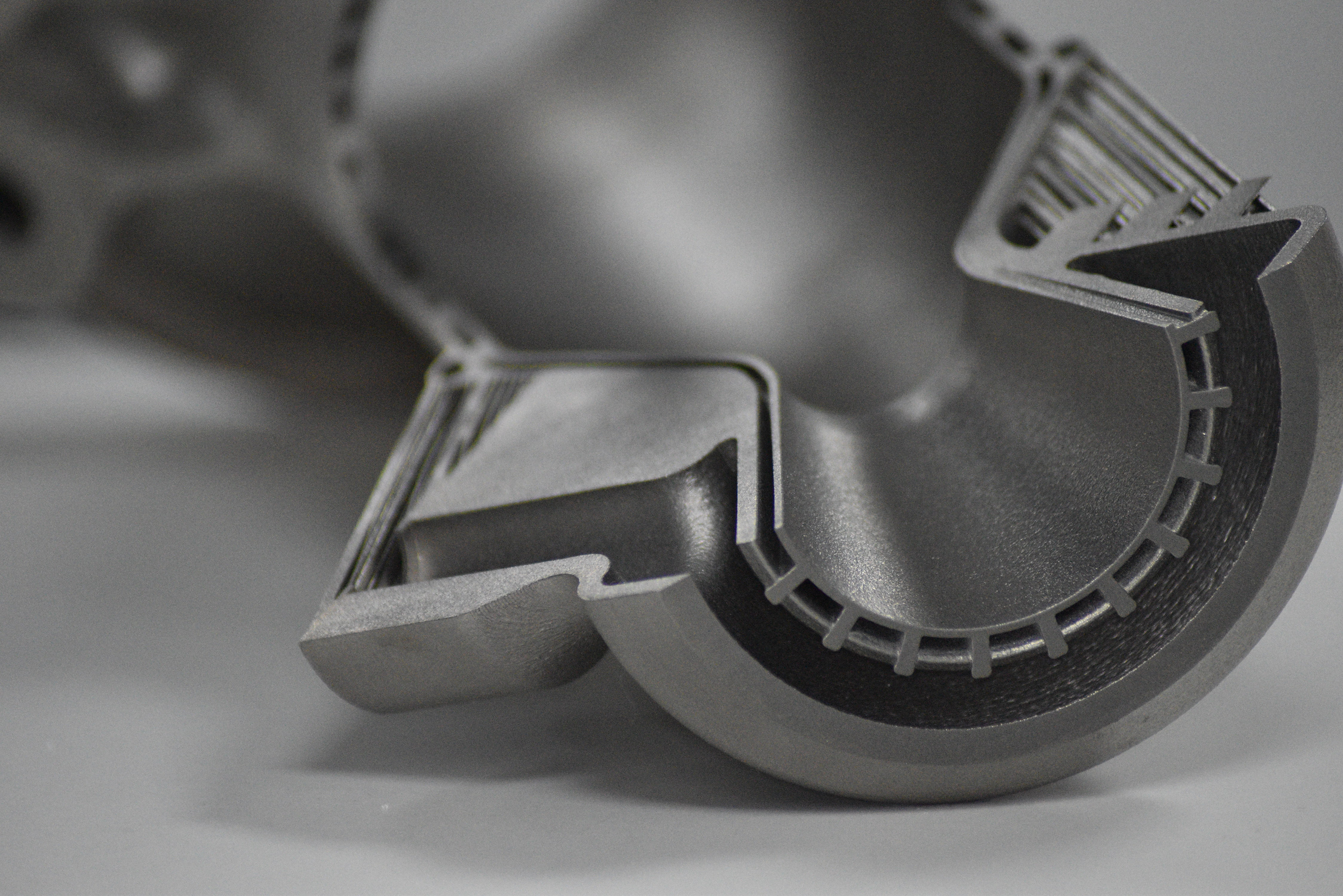 A newly formed company, Alloyed, focuses on production of multi-scale materials and multi-physics modeling, prediction and analysis of fatigue and failure, and optimization of complex manufacturing processes such as AM. The company also manufactures metal-AM parts.

The previously announced merger of Betatype and OxMet Technologies was formalized with the legal naming of the resulting company, Alloyed, with its stated purpose to optimize the production of metal parts through digital manufacturing. The new company brings together technology brands Alloys-By-Design (ABD), Betatype and Alloyed Digital Manufacture (ADM), with Alloyed able to offer development of customized alloys via ABD, advanced process control via Betatype and metal-AM production capabilities from application development through to pilot production via ADM. Overall, the company focuses on multi-scale materials and multi-physics modeling, prediction and analysis of fatigue and failure, and optimization of complex manufacturing processes such as AM.

Alloyed's ABD rapid alloy design and optimization platform applies data and advanced physical models to simulate the performance of millions of different potential alloys across a large space simultaneously. This allows optimization across a full range of performance, manufacturing and economic parameters for any application, according to company officials, and can be used to choose the right alloy for an application, to optimize an existing alloy or to design customized.

The Betatype suite of additive technologies includes Engine, a processing platform which uses voxel-by-voxel control of the laser to increase machine productivity and enhance microstructural control, and Architect, an application design platform which takes advantage of the wealth of data involved in this level of laser control.

To complete the digital metal manufacturing process, Alloyed provides the AM production of metal parts. The company reports that its team encompasses more than 50 years' collective experience of advanced and high-volume manufacturing, design, process development and materials engineering. ADM offers a dedicated state-of-the art metal-AM facility set up to run an extensive range of metal materials including titanium, aluminum, steel and nickel alloys. ADM can support application development and deliver pilot production and a manufacturing blueprint for customers.

"We know that we have a unique stack of technologies for the manufacture of advanced metal components both by additive and traditional means," says Michael Holmes, CEO of Alloyed.

ExOne Joins AM Consortium to Develop Oil-and-Gas and Maritime Quality Standards

ExOne announced that it is one of 16 companies participating in a consortium led by DNV GL, a global risk-management and quality-assurance society, with the goal of developing AM quality standards in the oil & gas and maritime industries.

In February, the consortium released a new standard, Additive Manufacturing of Metallic Parts for the oil and gas sector, focused on wire-arc and laser powder-bed fusion AM processes. Now the group is expanding its efforts to incorporate more AM technologies, such as binder jetting technology.

ExOne provides AM machines based on metal binder jetting, including the recently introduced concept for its InnoventPro.

"As manufacturers around the world move to new AM technologies, it's important that they have standards to ensure the quality of their AM parts and products," says John Hartner, ExOne CEO. "Binder jetting technology already delivers many benefits to the oil and gas and maritime industries, and we're eager to expand that reach with new quality standards."

In addition to ExOne, the consortium, founded in 2018, includes Equinor, Saudi Aramco, Siemens, Kongsberg Maritime, Voestalpine, Guaranteed, IMI CCI, Kongsberg Ferrotech, Addilan, BMT Aerospace, FIT AG, Howco Group, ImphyTek Powders, Intertek and XDM3D.

Protolab's E-Commerce Platform Offers Design Engineers Speed, Flexibility

Protolabs, a digital manufacturer of custom prototypes and low-volume production parts, has launched a new e-commerce platform for the United Kingdom, responding to the need for reduced product-development time and evolved project-management tools required for the growing shift towards on-demand manufacturing. And, the UK launch will be followed by a rollout of the platform across the Americas, planned for early 2021.

Says Rich Baker, Protolabs chief technology officer: "Speed in testing parts, in getting products to market, and in manufacturing throughout product life cycles have always been vital elements in any project. And they are even more pressing now."

Protolabs' new digital-manufacturing platform allows users to easily manage their prototyping and on-demand manufacturing requirements—for AM, CNC machining and injection molding. Like the previous platform, it still offers quotes for parts with design for manufacturability analysis, but now has a more intuitive, user-friendly and faster interface. Users can create projects with multiple uploads, share quotes with colleagues, and view real-time pricing based on project specifications.

Makino and Additive Industries to Develop Integrated Process Chains

3D metal printer manufacturer Additive Industries and Makino, a manufacturer of milling machines, signed a letter of intent to conduct a joint project to develop integrated process chains. The agreement comes as the two companies anticipate the upscaling of industrialized AM. Rather than treat AM of metal parts and then post-processing as separate processes, the two companies aim to develop a process chain where their technologies seamlessly work together, say company officials.

Specifically, the two companies will work on developing and commercializing hybrid process chains supported by their in-depth process knowhow and machine-design experience.

"Our engineering teams have established capabilities in complex five-axis machining applications involving adaptive machining, scanning of components and high-accuracy machining," says Neo Eng Chong, CEO and president of Makino Asia. 'We are pleased to be working with Additive Industries to accelerate the industrialization of 3D metal printing."

Mark Vaes, CTO of Additive Industries, adds, "We will jointly work with Makino on total process solutions for high-end and demanding markets."

Automated Finishing System to Finland-Based Crimping-Machine Maker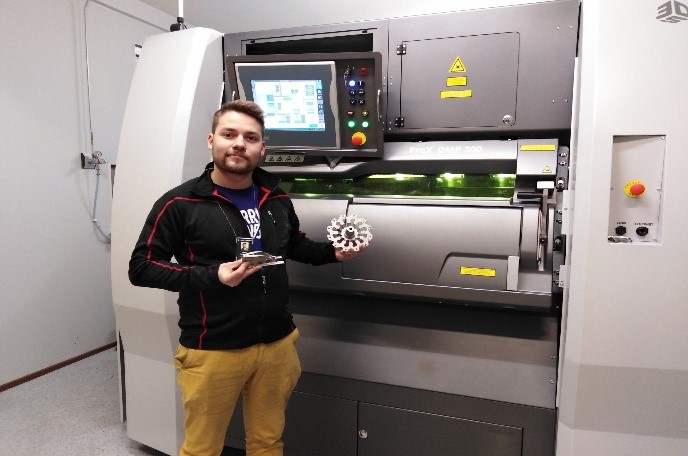 Finding traditional blasting procedures to be too time-consuming, Finland-based Lillbacka Powerco Oy, a manufacturer of crimping machines, selected a Rador automated surface-finishing system from PostProcess Technologies Inc.. Masi Tammela, AM manager at Lillbacka Powerco, is pictured with the new machine.

PostProcess Technologies Inc. announced the selection of an automated surface-finishing system by Finland-based Lillbacka Powerco Oy, a manufacturer of crimping machines.

Lillbacka Powerco will employ the PostProcess Rador system to provide its international customers with customized end-use parts created via the direct metal laser sintering (DMLS) AM process. The company employs DMLS to produce the crimping dies used in its machines as well as custom tooling. Lillbacka Powerco officials had found traditional blasting procedures to be too time consuming.

Rador uses PostProcess' Suspended Rotational Force technology to consistently finish metal and nonmetal AM parts via optimized energy as well as vertical motion and proprietary consumables, according to PostProcess officials. It includes noise-reducing features to prevent disruption in nonproduction environments.

"As we further implement digitalization within our product portfolio, we have come to realize the power in leveraging intelligent solutions in our own manufacturing processes," says Masi Tammela, AM manager at Lillbacka Powerco. "Bringing the automated Rador into our additive workflow will allow us to broaden our additive capabilities, from prototyping and custom tooling to serial production of customer-specific crimping dies."

Compact DED Printers Include Automation for Batch Processing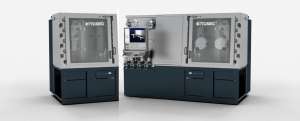 Optomec debuted two metal-AM machines at Formnext, the CS250 (left) and the HC-TBR (right), with both based on directed energy deposition (DED) and designed around 250 by 250 by 250-mm build volumes.

Optomec debuted two metal-AM machines, the HC-TBR and the CS250, based on directed energy deposition and designed around 250 by 250 by 250-mm build volumes. Both are suitable for small-part production and repair, including batch processing, and are available in three- or five-axis versions capable of simultaneous five-axis coordinated motion for full free-space printing, according to Optomec officials.

They each are equipped with an advanced-generation print head capable of automatically changing the laser spot size and output power on the fly, enabling rapid material application to larger areas of a part while still creating fine features with lower heat input to thinner areas. An optional inert-processing capability is optimized for printing reflective and reactive alloys such as copper, aluminum and titanium, in addition to a variety of steels, nickels and other common materials.

The HC-TBR, designed for high-performance, high-volume production applications, can automatically move and process titanium parts into and out of an inert atmosphere―a feature critical for high-quality metallurgy and plant safety, according to Optomec officials. The enabling automation module allows for continuous operation without the need for manual loading into and out of the controlled environment work area. For AM-repair applications such as production turbine-blade restoration, the HC-TBR also includes an integrated vision system with proprietary AutoClad software that scans each part individually and uses pattern recognition to create a custom tool path and additive-repair recipe for the part, compensating for part-to-part variation while minimizing the heat input into the component. The HC-TBR is designed for simple integration into automated work cells and includes automatic antechamber doors that can be loaded and unloaded robotically.

"The HC-TBR is the first machine capable of high-volume production for reactive metals such as aluminum and titanium," says Mike Dean, Optomec marketing director. "We've seen quite an increase in demand for these materials from our customers and expect the trend to continue as manufacturers move to lighter-weight designs."

The CS250, designed for research, is an all-in-one system―compact enough to fit through a standard doorway―with as many as four integrated powder feeders, enabling rapid alloy development and graded-material part creation. 3DMP

See also: TRUMPF Inc., Makino Inc, 3D Systems, Optomec Inc., ProtoLabs Inc

Technologies: Directed-Energy Systems, Management, Metal Powders