At formnext, the company revealed that the first Production System would be delivered early in 2019 to a Fortune 500 company, with additional installations at major automotive and other metal-parts manufacturers throughout 2019, and broad availability beginning in 2020.
Featuring Single Pass Jetting technology, the Production System reportedly prints at speeds four times faster than competing binder-jet units and offers 100-times speed improvement over laser-based systems. Advancements to the technology and capacity of the Production System include accelerated printing speeds to 12,000 cm3/hr.; an expanded build volume of 750 by 330 by 250 mm; two full-width print bars, advanced powder spreaders and an anti-ballistic system that work to spread powder and print in a single pass across the build area; and the use of 32,768 piezo inkjet nozzles that enable printing of an array of metals, including tool steels, low-alloy steels, titanium and aluminum, at a rate of 3 billion drops/sec. As a result, the Production System reportedly prints more than 60 kg/hr. of metal.
And, the binder-jet system uniquely features an industrial inert environment, including gas recycling and solvent recovery, to safely print reactive metals in mass production.
Automated-Finishing Provider Launches in Europe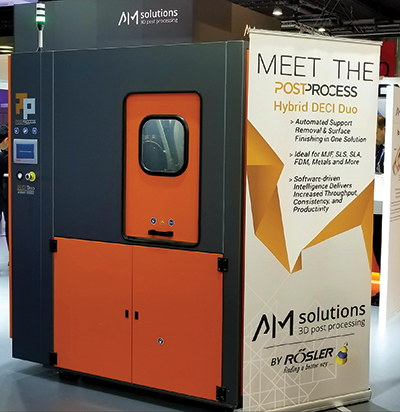 Buffalo-NY-based PostProcess Technologies displayed its finishing solutions at formnext for the first time, and used the event to promote the opening of its first international office and the launch of its product line in Europe.
A provider of automated post-processing technology for AM support removal and surface finishing, the company opened a location, PostProcess Technologies International, in Sophia-Antipolis, near Nice, France.
"While we have an immediate solution to automate post-printing for support removal and surface finish, the real power of the PostProcess technology is its capability to enable digital manufacturing in a factory 4.0 environment," says Bruno Bourguet, who heads the new office. "There is high interest from companies in Europe in our solutions and the role that automated post-printing plays in unleashing the power of 3D printing."
Dovetailing on the new-office announcement, PostProcess also revealed that Rösler has been chosen to provide PostProcess' support-removal and surface-finishing solutions for AM to the European market.
PostProcess provides software, hardware and chemistry designed specifically for AM. The software operating intelligence has been built by benchmarking more than 500,000 parts of all print technologies, and it continues to learn from its growing installed base of machines. The ability to automate the final stages of 3D printing (support removal and surface finish) allows for automated production of customer-ready 3D parts, which is fundamental to scaling 3D printing for mass customization, according to company officials. Because PostProcess solutions are automated, digitized systems, the officials note, they enable full digitization of AM for the Industry 4.0 factory floor.
AM Process Simulation Predicts Distortion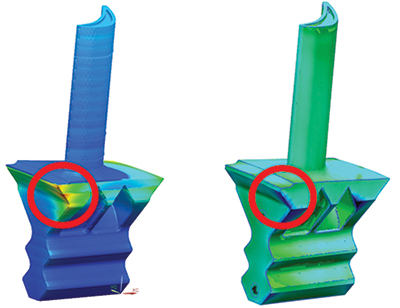 Siemens debuted AM Process Simulation, a solution for predicting distortion during 3D printing. As layers build during 3D printing, residual heat from fusing the layers can cause parts to warp inside of the printer, causing various problems, from structural issues within the part itself to print stoppage. Simulation of the printing process via AM Process Simulation helps alleviate many of these problems. The product uses a digital twin to simulate the build process prior to printing, anticipating distortion within the printing process and automatically generating the corrected geometry to compensate for these distortions.
At formnext, Siemens presented its entire portfolio for industrializing AM, tailored to specific industries. The company reportedly offers a seamless development process chain for all common 3D printing processes and printing systems, from design to creation of the exposure paths on an associative database. The new, integrated process simulation for powder-based laser application complements the process chain. The management of the entire process data and control of the print jobs in production rounds off the portfolio. And, for printing-system manufacturers, Siemens offers a range of products from control software to automation and drive components.
Volume-Production Printers Set for Shipment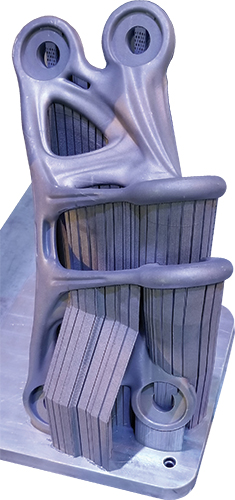 GE Additive announced at formnext that its first Concept Laser M Line Factory systems will be delivered to customers in Q2 2019. Since GE Additive's acquisition of Concept Laser in December 2016, company officials say that the M Line Factory's design architecture, system and software have undergone extensive review and redesign. Four 400- or 1000-W lasers provide power to build in a 500 by 500 by 400-mm envelope (development work is focusing on increasing the 400-mm Z-axis range).
Existing standalone machines barely allow for economical series production, according to company officials, but the M Line Factory modular machine architecture offers automation and reliability that drive economical, scalable series production on an industrial scale.
Following detailed testing, GE Additive incorporated a number of improvements as the systems are readied for delivery. These include improved in-machine architecture and automation; enhanced serviceability, scalable, modular system design and ease of service; increased build volume; modularized software architecture; and improved process control and thermal stability.
With the M Line Factory, part production, as well as setup and dismantling processes, take place in two independent machine units. The units can be physically operated separately from one another or combined, depending on customer preference. This enables production processes to run in parallel rather than sequentially, which reduces downtime and, in turn, increases the availability and output quantity of the process chain.
The GE Additive booth also featured the Concept Laser M2 cusing Multilaser, featuring two 400-W lasers and a build volume of 250 by 250 by 350 mm. Pictured is an aluminum jet-engine support bracket constructed on a Multilaser.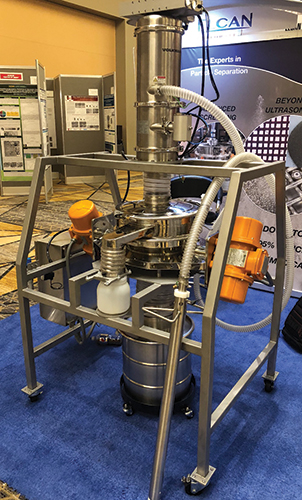 Reclaiming System for Dense Metal Powders
Elcan Industries highlighted the Hi-Sifter powder-reclaiming system, designed for dense metal-AM powders. It employs a high-energy approach to make fine separations, and can screen to 10 microns at higher rates than comparable systems, according to company officials. Constructed using polished stainless steel, the system is an ideal fit for aerospace and biomedical applications. The Hi-Sifter can remove oversized splatter while maximizing potential yields and removing bottlenecks related to reclaiming, without the need for ultrasonic deblending systems. For users of powders such as titanium and aluminum, the system comes with explosion-proof and inert-gas capabilities.
Tight-Tolerance Binder-Jet Metal Printer Geared Toward Higher Volumes
HP Inc. highlighted its metal-printing capabilities via the HP Metal Jet, designed to enable high-volume manufacturing of production-grade metal parts. Initially, Metal Jet printers will produce stainless-steel finished parts, delivering isotropic properties upon post-print sintering that meet or exceed ASTM and MPIF Standards.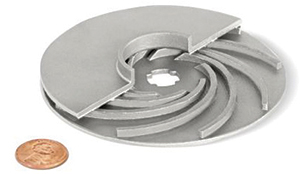 Offering a build size of 16.9 by 12.6 by 7.9 in., the binder-jet Metal Jet printer boasts voxel-level 1200 by 1200-dpi 3D printing accuracy, producing in single layers from 50 to 100 microns thick. Inkjets deliver an HP binding agent to a powdered-metal bed and industry-standard metal-injection-molding (MIM) metal powders. The inkjets spray in a layer via a print head traveling side to side, with another print head alternately traveling in a perpendicular direction and spraying the next layer. This enables speeds that company officials claim are 50 times greater than other presently available binder-jetting and selective-laser-melting metal-AM machines. Density after sintering is greater than 93 percent, similar to densities achieved via MIM.
The printer reportedly can produce multiple parts simultaneously, and parts can be arranged freely in multiple levels within the bed to optimize packing density, productivity and cost. And, no build plate is required.
Company officials attribute speed, density and accuracy in part to inkjet-nozzle redundancy. The Metal Jet reportedly features four times the number of nozzles and two times the number of print bars as presently available systems.
HP plans to ship printers industry-wide by 2020. And, in 2019, the company will unveil its Metal Jet Production Service, where users can upload design files, receive design-compatibility checks from HP and receive parts from HP's manufacturing partners.
Green-Laser Printing of Pure Copper and Other Precious Metals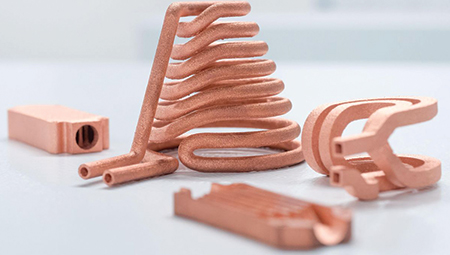 At formnext, Trumpf showcased the ability of its AM technology to process a range of materials, including pure copper and precious metals, via a new green laser with a pulse function.
"This makes it attractive for use in mechanical and plant engineering, as pure copper can be used to print particularly conductive inductors and heat exchangers," says Tobias Baur, Trumpf's general manager for additive manufacturing.
To achieve printing success with pure copper and precious metals, the developers connected Trumpf's new TruDisk 1020 disk laser with the TruPrint 1000 3D printer.
"Conventional systems use an infrared laser as the beam source, but its wavelength is too long and it can't weld highly reflective materials such as copper and gold—this can be done with laser light in the green wavelength spectrum," says Thomas Fehn, Trumpf's general manager-additive manufacturing with responsibility for sales. According to Fehn, this will open up new possibilities for 3D printing—for example, in the electronics and automotive industries.
The green laser also holds potential for gold printing in the jewelry industry, according to company officials, enabling individual unique pieces to be produced on demand while simultaneously saving expensive material.
"The 3D printer doesn't waste expensive gold and silver," Fehn says. As a result, printing often is more economical than milling or casting a piece of jewelry, which inevitably entails a loss of material.
AM Design and Rapid-Simulation Software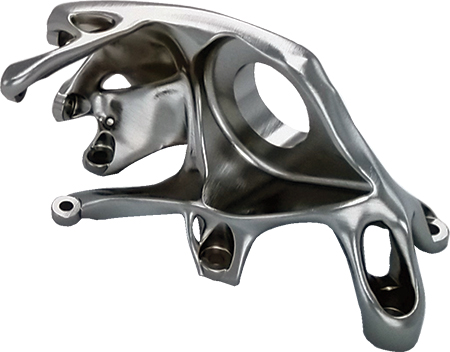 Altair Engineering described the features and benefits of Altair Inspire 2018, the latest version of the company's generative design/topology-optimization and rapid-simulation software, and displayed various 3D printed parts using the Inspire platform. The software includes overhang shape controls, helping to reduce overhangs to create more self-supporting structures—important when designing for AM.
Enhancing the concept-development process by enabling simulation-driven design, the new version allows users to generate optimized lattice and mixed solid/lattice structures, visualize simulation results in 3D, and export lattice designs in a .STL file format for 3D printing. Users also can generate dynamic motion of complex mechanisms, thus automatically identifying contacts, joints, springs and dampers. Forces obtained from a motion analysis automatically are applied as inputs to a structural analysis and optimization, or can be used to determine initial requirements for motors and actuators. The software also enables viewing and interactively assigning loads to load cases and the importing/exporting of design loads in .CSV file format with the new Load Cases Table.
One item on display, a redesigned aerospace kinematic bracket (pictured), produced by M&H CNC Technik and employing the Inspire software, reduced material waste by 91 percent and improved the buy-to-fly ratio from 17 to 1.5. 3DMP
See also: TRUMPF Inc., Siemens Industry, Inc., Altair Engineering, Inc., Desktop Metal, Inc., Materialise USA LLC
Technologies: Directed-Energy Systems, Management, Metal Powders