AMUG Announces 2019 Scholarship Recipients
February 27, 2019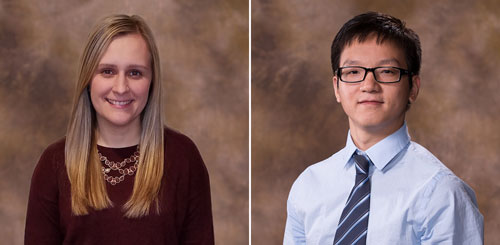 AMUG's 2019 scholarship recipients: Victoria Sears and Dr. Wenchao Zhou.
The Additive Manufacturing Users Group (AMUG), Milwaukee, WI, announced today its scholarships recipients:
Wenchao Zhou, Ph.D., assistant professor in the Department of Mechanical Engineering at the University of Arkansas, received the Randy Stevens Scholarship.

Victoria Sears, a graduate student pursuing a master's degree in bioengineering at the University of Michigan, received the Guy E. Bourdeau Scholarship.



Sears' research on bioink for AM aims to optimize bioprintability and enable studying the resulting regenerative properties. While interning at 3D Systems and Ford Motor Company, she acquired firsthand experience with several AM processes; compounded her own filaments; and developed post-processing techniques to improve color and surface finish of power-bed-fusion parts. While interning at SME, she helped with the Medical Additive Manufacturing/3D Printing Work Group.

Zhou, developed an AM course at the University of Arkansas, and was selected winner of the AM Curricula Challenge sponsored by America Makes. He founded, and now directs, the university's AM3 Lab, and helps K12 students learn AM through EAST (Environmental and Spatial Technology) Initiative, a community-service-oriented and project-based organization.

The Guy E. Bourdeau Scholarship, founded by Guy's wife, Renee Bourdeau, and financially supported by Cimquest, Inc., goes to one student annually. The Randy Stevens Scholarship, founded by Randy's employer, In'Tech Industries, honors one educator annually.
Zhou and Sears will be recognized for their achievements at the
AMUG Conference
in Chicago, March 31 - April 4.
See also: Additive Manufacturing Users Group (AMUG)
Technologies: Management