Keynotes/Sessions: Challenges, Innovation and Decisions
Formnext 2019
Messe Frankfurt
November 19-22
For information on formnext 2019 events, exhibitors and conference sessions, and to register, visit www.mesago.de/en/formnext/home.
Conference Hours
The exhibition is open to trade visitors at the following times:
Tuesday, November 19
9 a.m.–6 p.m.
Wednesday, November 20
9 a.m.–6 p.m.
Thursday, November 21
9 a.m.–6 p.m.
Friday, November 22
9 a.m.–4 p.m.

November 19 features keynote presentations by German automaker BMW Group and Diehl Aviation, a German Tier One, with both speakers addressing the challenges they face with metal AM. Following the keynotes, attendees can choose sessions from a dual-track program on transport and business/economic conditions, and explore topics such as automotive, aerospace, the rail industry and much more.
November 20 kicks off with a keynote by Carbon Inc. on the future of product innovation using digital manufacturing, followed by a dual track of programs on 3D printing trends and challenges in healthcare and materials/processes.
November 21 offers a keynote by T.A. Grimm & Associates serving as a checklist for buying AM equipment, followed by a dual track on industrial challenges and applied research.
November 22 provides two keynotes on innovation by German appliance maker Miele and the British sailing team Ineos Team UK, followed by design-focused sessions.
And the Winners Are…
Winners of the formnext Start-up Challenge 2019 will be on hand offering fresh insights on the future of AM. Meet the winners:
AdditiveLab (Belgium) has developed simulation software for metal AM components. AdditiveLab's powerful mechanical analysis utilizes multi-scale simulation approach to predict residual stresses and distortions in a layer-by-layer fashion. This enables users to identify and address problematic regions, which compromise the manufacturing process and the end-quality of the manufactured part.

Exponential Technologies Ltd. (Latvia) develops materials and utilizes advanced artificial intelligence and machine learning algorithms to determine the most suitable machine configurations for laser machining, AM and CNC machining.

Glassomer GmbH (Germany) specializes in 3D glass printing technology using stereolithography. With its Glassomer silica nanocomposite, the company aims to develop new additive technologies for the mass production of glass. Glassomer allows the structuring of pure quartz glass, which is fully compatible with the requirements of optics and photonics.

Laser Melting Innovations (Germany) German start-up Laser Melting Innovations (LMI) impressed the formnext panel with its low-cost metal printer for at small and medium-sized enterprises. LMI has been able to eliminate costly printer components while offering a compact design, durability and cost-effective diode laser, according to the judges.

Spectroplast (Switzerland) Switzerland-based Spectroplast is a Swiss Federal Institute of Technology spinoff specializing in precision silicone 3D printing. The start-up provides its silicone AM technology service for silicones in all colors.
Best Designs, Seminars, Tours and Career Day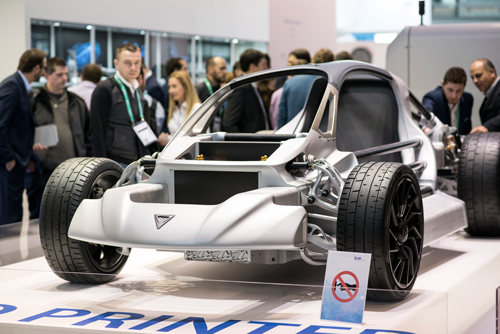 Once again, the Purmundus Challenge promises to spur design innovations. This year's theme, Beyond 3D Printing, encourages forward-thinking product ideas. Judged by academia, researchers and industry professionals, the best of the best will be honored during an awards presentation on November 21. Winning entries, as well as the finalists, will appear in a special showcase during all four days of formnext.
Throughout the show, the additive4-industry showcase demonstrates examples of industrial application of AM by members of the Additive Manufacturing Association working group of the German Mechanical Engineering Industry Association. Examples shown highlight the steps and technologies used in development and manufacturing, and provide relevant background information.
For those new to the world of 3D printing, the Discover 3D Printing seminar (to be held multiple times) features specialists from the Aachen Center for Additive Manufacturing discussing these topics:
Sifting Through the Hype: Benefits and Business Cases

Technology Overview: What's Possible?

Applying AM profitably: Successes and Failures

AM for Your Sector: Concrete Approaches and New Ideas.
On November 20, the BE-AM | Built Environment—Additive Manufacturing symposium take place, with speakers exploring the status and potential of AM for construction and architecture.
3DMP staff will be onsite, reporting on the latest metal AM technologies and developments. We invite you to follow our posts on Twitter, Facebook and at https://www.3Dmpmag.com. See you in Frankfurt!
Also on November 20, a first-time exclusive dinner event for potential investors hosted by Wohlers Associates, Inc., a Fort Collins, CO-based consulting firm, with support from Mesago Messe Frankfurt GmbH. The event provides an opportunity investors to learn more about AM's current status and its future prospects.
For those in search of new career opportunities, fornmext offers its Career Day on November 21. Participants have the opportunity to meet recruiting experts and potential employers, and to view current job positions.
Finally, to help you connect with exhibitors serving specific industries, formnext, in conjunction with Messe Frankfurt, provides guided tours for automotive, aerospace, mechanical, and plant engineering and medical sectors.
For more on any of these events, visit www.mesago.de/en/form-nexthome. 3DMP

Technologies: Management