Jennifer Milne, applications engineering lead, Formlabs
FABTECH 2017 Hours
Monday, November 6—10 a.m.-6 p.m.
Tuesday, November 7—9 a.m.-5 p.m.
Wednesday, November 8—9 a.m.-5 p.m.
Thursday, November 9—9 a.m.-3 p.m.
3D printing has crossed a threshold, with reliable machines, advanced materials and wide adoption of the technology by CAD users across industries. As we enter a new chapter in 3D-printing history, moving rapidly toward a digital, highly customized manufacturing landscape, what's next? This presentation takes a look at where we're heading.
2-3 p.m.
Expert Panel Presentation
Hybrid Additive Manufacturing: The Future of Metal Parts Production?
Moderator: Debbie Holton, vice president of events and industry strategy, SME
David Fischer, lathe product specialist, Okuma
Frank Geyer, product manager-additive manufacturing, Trumpf
Jason Jones, Ph.D., co-founder and CEO, Hybrid Manufacturing Technologies
Since its inception, a gap has existed between AM and traditional subtractive manufacturing. In recent years, many machining companies have opened their minds to the idea of integrating these two processes together, enabling designers to make product enhancements, increase production time and make cost-efficient machines that do both. Panelists will discuss the development of hybrid additive machines and how it will impact manufacturing in the future.
Tuesday, November 7
10:30-11:30 a.m.
Featured Presentation
Evolution of Additive Manufacturing and What it Means for the Fabrication Industry
Todd Grimm, president, T. A. Grimm & Associates, Inc.
What does 3D-printing technology mean for the manufacturing industry? How should we prepare for the future? Industry expert and 3D Metal Printing contributor Todd Grimm will explore these questions and describe the impact that AM has, and will continue to have, on manufacturing in general and how companies can embrace AM in their operations.
11:30 a.m.-Noon
Presentation Showcase
3D Printing at a Crossroads: How Metal Printing at Scale Will Change the Manufacturing Landscape Over the Next 5 Years
Greg Mark, CEO, Markforged
3D printing has for many years helped speed innovation across multiple industries with prototyping and modeling. Its ability to remove inefficiencies in production-line turnover, decrease costs and reduce time to market for new products are well-known and understood. Still, solid investment returns from widespread adoption come when printing disrupts traditional manufacturing. By creating customized products and parts in a range of industries from medical to aerospace, 3D printing can solve a range of diverse and particular industry challenges in a way never before possible.
The speaker will share both his current perspective on the industry and examples of 3D printing's power to improve our lives and world.
Noon-1 p.m.
Presentation Showcase
Designing for 3D Printing & the Complexity Paradox

Greg Paulsen, director of applications engineering, Xometry
To best design for AM, you must know a bit about how parts have been designed and made in the past. Paulsen will present an overview of the most common additive and subtractive custom manufacturing technologies, how they are used and some best practices when designing for manufacturability.
2-3 p.m.
Expert Panel Presentation
Effectively Incorporating Additive Manufacturing into Your Business
Moderator: Todd Grimm, president, T. A. Grimm & Associates, Inc.

Carl Dekker, president, Met-L-Flo
Jon Riley, senior vice president of technology, National Center for Manufacturing Sciences
Federico M. Sciammarella, Ph.D., interim chair of Mechanical Engineering Department, College of Engineering & Engineering Technology, Northern Illinois University
So AM is a technology you seek to incorporate into your operations. Now what? Expert panelists discuss resources available during this journey for training and for collaboration with other AM producers and technology developers. From funding to workforce development, get a complete guide to the best route for your business.
Wednesday, November 8
10-11 a.m.
Featured Presentation
Accelerating Innovation in 3D Printing: Practical Tools You Can Apply Today
Rick Neff, additive manufacturing product and sales manager, Cincinnati Inc.
Learn how several organizations, through collaboration, accelerated AM development to levels never seen before. The principles learned can be applied to all kinds of advances and provide a competitive advantage for organizations.
11-11:30 a.m.
Presentation Showcase
Big Data Is the Next Frontier in Additive Manufacturing
Ludovico Camarda, chief business development, OR Laser
From cloud manufacturing to distributed production environment, how can data generate additional value by empowering the end user? What synergies can be exploited? Carmarda explores these issues.
11:30 a.m.-Noon
Presentation Showcase
The Benefits of HIP and Heat Treatment for AM Components
Ron Adams, director of strategic business development-AM, Bodycote
AM components do not exhibit the mechanical properties required for robust service in industrial applications. But thermal treatments can improve their properties, allowing use in demanding environments. This is especially true for two commonly used alloys, titanium 6-4 and Inconel 718. Data are presented on how HIP (hot isostatic pressing) and heattreating can improve the mechanical properties of both alloys to achieve results very close to those of wrought-component properties. Post-processing also is addressed.
2-3 p.m.
Feature Presentation
Optimization, Preparation and Simulation Software for Additive Manufacturing
Duann Scott, business development and strategy-additive manufacturing, Autodesk
Scott provides an overview of some of the latest tools to optimize geometry, and build and process parameters for AM using simulation of part properties and the manufacturing process itself.

For the latest on presentations slated for the 3D/Additive Manufacturing Pavilion and an updated listing of exhibitors, visit www.fabtechexpo.com. And, read on for some of what pavilion exhibitors will have on display.
Automated Powder, Waste Handling in Laser-PBF System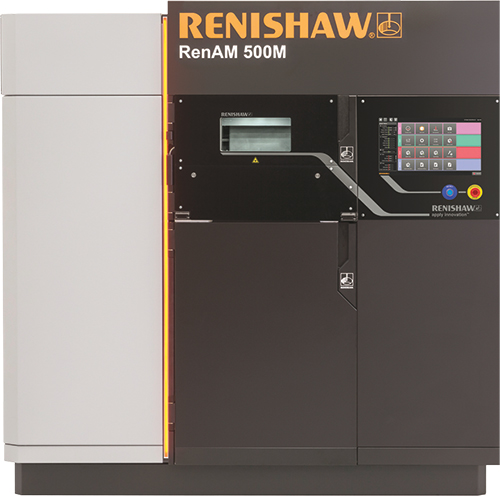 Renishaw Inc.
Booth B85
The RenAM 500M from Renishaw Inc. is a laser-powder-bed fusion AM system designed for the production of metal components on the factory floor. It features automated powder and waste handling, enabling consistent process quality, reduced operator touch times and high system-safety standards. Build volume is 250 by 250 by 350 mm. The RenAM 500M uses a Renishaw inhouse-designed and manufactured optical system and control platform.
Renishaw, Inc.: www.renishaw.com
Parts and Tools for AM Applications
Met-L-Flo Inc.
Booth B63
Met-L-Flo Inc. will exhibit parts and tools for AM applications. Use of these AM parts and tools enables low-volume custom production of specialty products. Parts are applied for prototyping, tooling, quality assurance, and preproduction sales and marketing samples. Visitors can speak with company experts to learn how to advance their manufacturing capabilities by engaging these technologies.

Met-L-Flo Inc.: www.met-l-flo.com
3D-Data Capture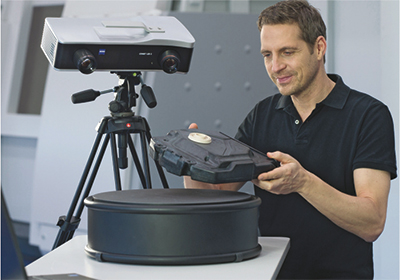 Zeiss Industrial Metrology
Booth B73
The Comet L3D 2 from Zeiss Industrial Metrology offers the latest sensor technology and project-orientated software for simple and reliable 3D-data capture. Users can map the 3D data of components quickly and accurately and gain increased scope for a multitude of measuring tasks. The unit's high-performance software platform, colin3D, ensures an efficient and project-oriented procedure during the measuring process, according to company officials.
Applications include quality control and inspection, mold and model making, design, rapid prototyping, reverse engineering, and more.
Zeiss Industrial Metrology: www.zeiss.com/metrology
Room-Temp. Ultrasonic Printing and Improved Support Structures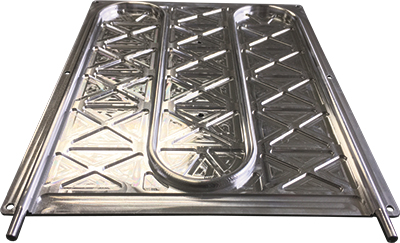 Fabrisonic
Booth B303
Fabrisonic, a provider of 3D metal-printing services, employs a room-temperature ultrasonic printing technique that allows printing of multiple metals in one part, embedding sensors/electronics in solid metal parts, and making complex internal shapes.
Fabrisonic recently worked with NASA to print complex heat exchangers. Through this work, two new support materials were developed. Support materials have always been important in 3D metal printing to enable printing complex overhangs and intricate internal features. The company's newest support is water-soluble and allows complete consolidation above internal voids.
Fabrisonic: www.fabrisonic.com
Contract Manufacturer, and Equipment and Software Reseller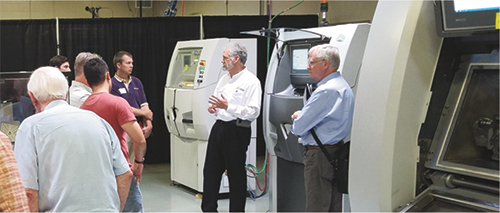 BasTech
Booth B403
BasTech, showcases its capabilities as an AM contract manufacturer and its offerings as a reseller of 3D-printing equipment and design software The company provides 3D printers, scanners, haptic devices, design and inspection software. It uses AM technologies to design and produce rapid prototypes, investment-casting patterns and tooling, and provides low-volume production for industries worldwide.
BasTech: www.bastech.com
3D-Printed Jigs, Fixtures and End-Use Parts

Cideas Inc.
Booth B505
Cideas Inc. highlights 3D-printed jigs, fixtures and end-use parts that aid engineers in design and manufacturing. Since 1998, the company has provided 3D-printing and AM services. With more than 30 machines inhouse, Cideas offers all major AM processes including SLA, SLS, FDM, PolyJet and DLS as well as a variety of part-finishing options and urethane castings.
In early-2017, the company expanded its capabilities with two 3D Systems ProX800 machines, a Stratasys J750 and a Carbon M1.
Cideas Inc.: www.buildparts.com
Composite 3D-PrintingTechnology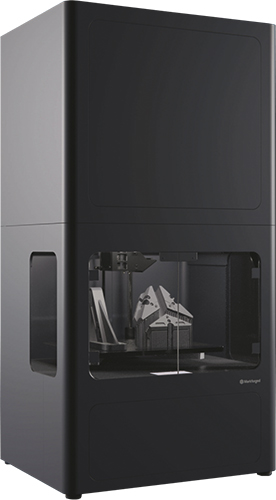 Markforged
Booth B305
Based on its fourth-generation composite 3D-printing technology, Markforged offers its Metal X, touted as a brand-new kind of 3D printer. By printing metal powder bound in a plastic matrix, the technology has eliminated the safety risks associated with traditional 3D metal printing while enabling new features such as close-cell infill for reduced part weight and cost.
Markforged: www.markforged.com
Industrial-Grade Desktop FDM Printer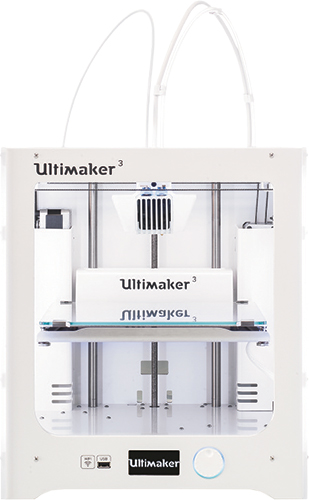 Ultimaker
Booth B92
Ultimaker has on display its Ultimaker 3 desktop FDM-material 3D printer. The industrial-grade printer, featuring a dual-extrusion print head with an auto-nozzle lifting system and swappable print cores, offers a build volume of 200 by 200 by 215 mm. In addition to 3D printers, the company also offers related software and build materials.
Ultimaker, founded in 2011, has more than 250 employees in offices in the Netherlands, New York and Boston.
Ultimaker: www.ultimaker.com
Laser Systems for AM Applications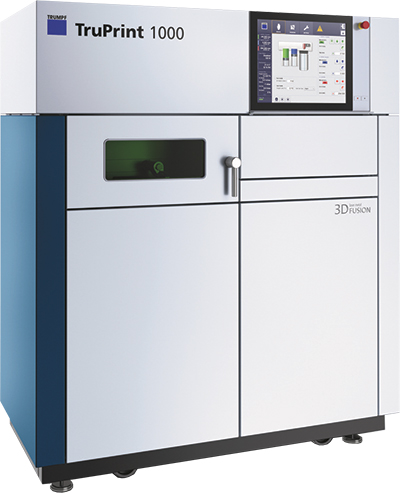 Trumpf Inc.
Booth B103
Trumpf Inc., showcases its TruPrint 1000 for AM, which enables users to build metal components layer by layer using any laser-weldable metal in powdered form. This laser-metal-fusion (LMF) process is ideal for parts that are complex in their geometry, such as those with internal channels and hollow spaces; short production runs; and individual parts; according to company officials. All components, including the laser, optics, process enclosure, filter unit and control cabinet are found within the TruPrint 1000's compact housing.
Also on display, the TruLaser Cell 3000 featuring the laser-metal-deposition process. The five-axis laser equipment offers variable laser-beam forming; rapid changeover between processes such as welding, cutting, LMD, etc.; and numerous other benefits.
Trumpf Inc.: www.trumpf.com
Filament-Printing Machines Ideal for Prototypes and More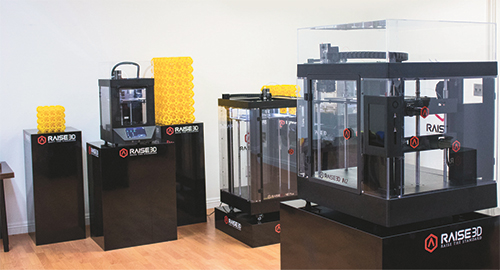 Raise3D
Booth B95
Raise3D showcases its N1, N2 and N2 Plus 3D printers, with respective print volumes of 8 cu. in., 12 cu. in and 1 by 1 by 2 ft. The user-friendly N2 Plus, ideal for non-metal prototypes, jigs and fixtures, features dual printheads, allowing for printing with two filaments at one time. Monitor the print process and control the printer via a simple touchscreen, which can be accessed through WiFi, LAN, USB and SD-card connections. The printer also features print-saving after power interruption.
Raise3D: www.raise3d.com
Manufacturer Partners to Showcase New HP 3D-PrintingTechnology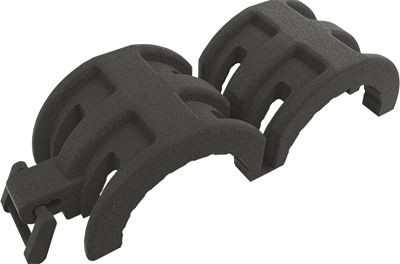 Proto Labs, Inc.
Booth B501
With its industrial 3D-printing expertise, Proto Labs, Inc., Maple Plain, MN, has been selected by HP as a foundational partner for HP's launch of Multi Jet Fusion technology. The collaboration is part of HP's efforts to establish a global network of 3D-printing service providers.
Multi Jet Fusion technology uses an inkjet array to apply fusing and detailing agents across a bed of nylon powder, which then are fused by heating elements into a solid layer. The technology's unique approach to binding powder reportedly results in more isotropic material properties, faster build speeds and, ultimately, lower costs compared to other powder-based 3D-printing processes.
Proto Labs, Inc.: www.protolabs.com
High-Precision Laser Technology for AM and Other Manufacturing
OR Laser
Booth B106
OR Laser will showcase its range of high-precision laser systems for manufacturing and production applications. Combining hardware and software expertise, the company offers comprehensive and accessible solutions for metal AM, laser welding/ cladding, and precision laser cutting and engraving.
Visitors to the OR Laser booth will be able to explore a variety of opportunities, including the latest developments in metal-AM equipment, the Orlas Creator, featuring Orlas Suite of integrated software.
OR Laser: www.or-laser.com
Fully Automated 3D Printing of PLA Material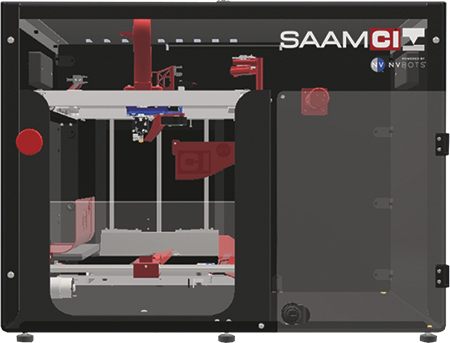 Cincinnati Inc.
Booth B70
On display from Cincinnati Inc. (CI) is the SAAM (Small Area Additive Manufacturing) machine, printing keepsakes for show attendees. The fully automated 3D-printing unit is ideal for rapidly producing prototypes, concept models and plastic tooling. SAAM reportedly offers the only automated part removal in the industry, and is paired with NVCloud software that allows users to print parts anytime, from any cloud-connected device. Printing PLA material, SAAM features a 0.16 lb./hr. feed rate and a print area of 7.9 by 7.4 by 9.4 in.
In addition, CI displays a Shelby Cobra (pictured on page 18), printed in the company's BAAM (Big Area Additive Manufacturing) machine, in the FABTECH registration area. CI's additive presence complements its laser-cutting, plasma-cutting and forming technologies located in booth A4014.
Cincinnati Inc.: www.e-ci.com/key
3D-Printed Metal Parts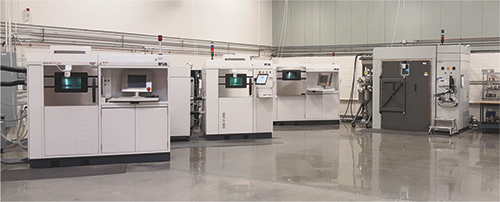 GPI Prototype & Manufacturing Services
Booth B72
GPI Prototype & Manufacturing Services will exhibit a variety of 3D-printed metal parts for industries that include medical, defense, aerospace, industrial and consumer goods. The company also will showcase its alloys, which include aluminum, stainless steel, titanium, inconel and cobalt chrome. GPI currently has nine metal AM machines at its Lake Bluff, IL, facility for prototype metal parts and short-run production. Machines include: two EOS M270s, two EOS M280s, two EOS M290s, two 3DS ProX 200s and one 3DS ProX 320.
GPI Prototype & Manufacturing Services:www.gpiprototype.com

3DMP
See also: Carl Zeiss Industrial Metrology, LLC, Cincinnati Incorporated, TRUMPF Inc., Renishaw Inc., GPI Prototype & Mfg Services
Technologies: Management